VIVIAN EJIKE'S A PRIVATE STORM, STORMS CINEMAS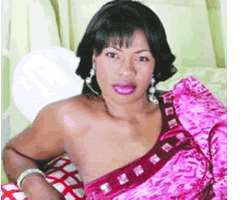 •Vivian
After wowing Nigerians, especially movie buffs at a classy and well-attended world premiere, which held at posh and pristine Four Points, Lekki, Lagos, Vivian Ejike's latest film, A Private Storm, is poised to storm and rock cinemas nationwide.
The big budget production from the stable of the multiple awards winning top female film producer, will sensationally saunter into cinemas on Friday, February 11, amid glitz and razzmatazz.
The fascinating and suspense-filled flick was also written by Mrs. Ejike with the duo of Lancelot Oduwa Imasuen and Ikechukwu Onyeka, as directors,
Shedding more light on the nationwide cinemas invasion, which movie buffs are eagerly awaiting, pretty Ejike, a French graduate of the University of Port Harcourt, disclosed that her latest offering was a movie that is bound to take movie buffs on a roller coaster ride of emotions and spell binding experiences. 'It will make you laugh, cry, sad, mad, happy, love, hate, and then… you'll want to love all over again,' she enthused.
Speaking further on the thematic value of the movie, which was shot with the best technical equipment, the boss of Purple  Pine Production, disclosed that it was an expose on domestic abuse and violence, an unspoken evil which ravages our society today and the silent acceptance by victims.
Among the notable Nollywood and Ghollywood stars in the heart-wrenching flick that was shot in several choice locations within the Lagos metropolis are: Omotola Jalade-Ekeinde, Ramsey Noah, John Dumelo, Ngozi Ezeonu, Ufuoma Ejenobor and several others. Amazingly, A Private Storm which premiered elaborately in Ghana on November 19, also commenced showing at the Silverbird Cinemas, Accra, same day, amid applause and plaudits.
While revealing a bit of the movie's synopsis, Ejike, who also runs Nollywood Distribution Company and had recorded tremendous success with films like: When The Heart Lies, Silent Scandals and others said:
'Handsome, young, suave and successful, Alex is a total package… with a massive grudge!!  On the other hand, pretty, young and sassy Gina is living every girl's dream. Engaged to the most eligible bachelor, she does seem to have it all…
However, beyond the picture-perfect lives of Alex and Gina, lie a huge ego, a massive insecurity, a monstrous rage, a fierce passion, an unconditional love and a determination beyond reasonable limits, all of which set in motion, the rapid wheels of an impending storm, whose rage could destroy all in its path.'
Meanwhile, elated Ejike, has also called on Nigerians to storm the cinemas nationwide with their loved ones, especially now that Valentine is approaching and watch the film, which she equally promised will definitely put them in the mood for the season.