Nobody gave me N50m as compensation ... I Go Dye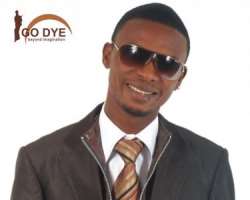 Francis Agoda, the comedian fondly called I Go Dye is understandably peeved at the moment. After being assaulted by military men at a political rally organised by the Delta State Governor, Dr. Emmanuel Uduaghan, at the Warri township stadium on January 4, the comedian had demanded a public apology from his assailants, the state government and the campaign team of Uduaghan which contracted him to perform but allegedly failed to provide security for he and his colleagues.
Speaking to E-Punch after his ordeal, I Go Dye confessed that but for the fact that he is a peace ambassador in the Niger Delta, it would have taken him absolutely nothing to instigate the teeming youths at the stadium against his assailants. "But I chose to toe the path of peace. I am a peace ambassador and should not be found to be inciting violence whatever the case maybe," he said.
Early this week, rumour made the rounds that the multiple awards winning comedian had been compensated to the tune of N50m by a political stalwart in the state. Repulsed and shocked at the groundswell of the news, I Go Dye, in a chat with E-Punch says, "I don't know where this came from. Nobody gave me N50m. I am not in need of money from anybody, all I demand is public apology from the authorities, including the Nigerian Army, the Delta State Governor, Dr Emmanuel Uduaghan and his campaign team who failed to protect me after inviting me to the occasion. I am giving them two weeks after which I would instruct my lawyers to take legal action."
He disclosed that he is being forced to take a legal action at this juncture because in recent time, the military has been carrying on as if they were at war with harmless Niger Delta indigenes in the name of searching for militants. He says, "The Nigeria Army has been attacking innocent villages in the Niger Delta. For instance, Gbaramatu and Ayakoroma communities have been attacked lately, but I am amazed they could come out in the open to attack me for no just cause."