Ruling On Zoning 'Is A Wake Up Call To Jonathan' – Atiku Campaign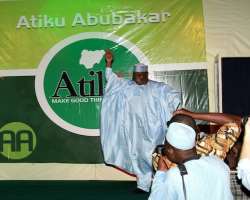 PHOTO: FORMER VICE PRESIDENT AND PRESIDENTIAL ASPIRANT, ALHAJI ATIKU ABUBAKAR.
SAN FRANCISCO, Jan 10, (THEWILL) – The campaign organization of former Vice President and Presidential aspirant on the platform of the Peoples Democratic Party (PDP), Alhaji Atiku Abubakar has said the judgement of an Abuja Federal High Court on zoning 'is a wake up call to President Goodluck Jonathan to walk the path of honour and integrity and drop out of the Presidential race.'
Justice Ishaq Usman Bello had earlier ruled that the party must respect its zoning principle as enshrined in Article 7.2 (c) of its constitution but added that it was too early to seek to disqualify President Goodluck Jonathan or anyone as the PDP has not chosen a flagbearer. He thereafter struck out the suit filed by Atiku's political associates and okayed President Jonathan's preliminary objection.
A statement by Atiku Campaign Organisation in Abuja 'hailed the judgement saying that the court has once again affirmed the existence of zoning in the Peoples Democratic Party (PDP).
The Campaign said it 'hailed the court for acknowledging that the PDP was bound to observe its own rules and constitution and by extension the zoning arrangement as enshrined in Section 7 (2) (C) of the ruling party's constitution.
The Campaign thereafter advised 'those still in denial of zoning to take heed of Justice Ishaq Bello's exhortation that political parties must abide by their constitutions, the Electoral Act and the Constitution of the country.'
The demise of President Umaru Yar'Adua last year opened up the zoning controversy, having been elected in 2007 to serve for a four-year term with an option to seek reelection. Umaru Yar'Adua hailed from Northen Nigeria. His then deputy, Goodluck Jonathan assumed office as President and has since declared his intention to contest for the Presidency in 2011.
The PDP had earlier said President Jonathan, who is from Southern Nigeria is free to contest its primaries as the constitution of Nigeria allows him to.