WHO WINS BAYELSA PDP GUBER TICKET?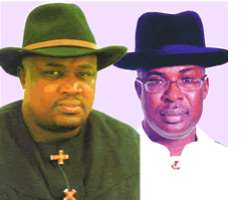 Ebebi, Gov. Sylva
A glance at the report of the gubernatorial screening panels of the Peoples Democratic Party (PDP) for states in the South- South revealed that Bayelsa State has the highest number of aspirants Governor Timipre Sylva's job.
 While Liyel Imoke of Cross Rivers State is unopposed, Godswill Akpabio of Akwa Ibom has Imo Edet Udo to contend with, and their River State counterpart, Rotimi Chibuike Amaechi would face challenges from his arch-rival Celestine Omehia and Ben- Fiabema D-Feberesima. In Bayelsa, Sylva has 13 aspirants to beat if he wants to fly the flag of the party in April.
 Indeed, critics of the Sylva administration including members of the opposition have argued that for 13 members of the party to come out to contest against the incumbent is a sign that the party itself believes it has not performed up to expectations in the state. According to them, it is evident that the PDP is disenchanted with itself as it has failed Bayelsans.  However, supporters of Sylva have punctured the argument, explaining that their principal is a democrat who believes every Bayelsan who is a member of the party has the right to aspire to be governor, and is free to exercise his democratic right to contest.
To them, many of those in the race are jokers who have benefitted immensely from the Sylva administration in terms of contracts and are contesting so that they can have some political leverage to negotiate their political future.  In the midst of these arguments, a major deduction is that the battle line has been drawn and all aspirants are prepared to slug it out in the final push for the control of the soul of the PDP in the state.
The aspirants, strengths and weaknesses
Timipre Sylva
He is the incumbent Governor.  Sylva is from Okpoama in Brass local government area.  From Bayelsa East Senatorial district like President Goodluck Jonathan , Sylva has shown over the years that he is a political marksman as he hardly misses his targets. First elected in 2007 and had his election annulled in 2008, he was re-elected in 2008. Just like his predecessors, Chief Diepreye Alamieyeseigha and President Jonathan, Sylva has had to fight major battles to retain his seat within the PDP.
 Not only did he have to contend with National Assembly members who were bent on wresting the machinery  of the party from him, he also faced stiff opposition from other members of the party led by Mr Ndutimi Alaibe. His name constantly featured in the media as having a rift with Jonathan when the latter was Vice-President, over the control of the PDP in the state.
Having worked to dismantle the party executives led by Mr. Fred Agbedi and installed Chief Rufus Abadi as Chairman, Sylva faced another challenge when Abadi turned against him and ran into self political exile complaining of death threats from the governor's camp. He also had a running battle with the Economic and Financial Crimes Commission (EFCC) and his deputy, Peremobowei Ebebi took up arms against him.
In all these battles, Sylva remained unwavering, an attribute that has continued to endear him to his loyalists. First his relationship with Jonathan is no longer subject of speculations as it is now in the open that he is in full support of the President by being one of the first state executives to kickstart Jonathan's  campaign to be President. The National Assembly members antagonizing him have retraced their steps, and are fully in support of him. Abadi who fled into exile has come back crawling, seeking his blessings to be anointed the central senatorial district candidate of the party.
Ebebi, who was famed to be a major political force, had his strength tested and was crushed with impeachment by the House of Assembly. Sylva's major political triumph was the decision of the Independent National Electoral Commission (INEC) to respect the court judgment obtained by his loyalists in the party, insisting that the a fresh congress is out of the way since it is only after the expiration of the tenure of the current executives that another congress can hold.
As it stands, the party machinery in the state is in the tight grip of Sylva. This was what forced Alaibe out of the party, as he is convinced that no candidate can defeat the incumbent with the control he exercises on the party. With the backing of Jonathan who wants all first term governors to come back, Sylva remains the candidate to beat in the primaries. But the snag is that he must ensure his loyalists do not intimidate people and allow due process to be followed in the picking of candidates to avoid litigations that could further polarize the party.  He also needs to work hard to secure the delegates votes from the East so that they are not divided by Biemo Rufus Spiff, his kinsman who is also contesting.
 Fred Yeitiemone Agbedi
 He is a former member of the House of Representatives and Chairman of the PDP in the state. Agbedi is from Ekeremor in Bayelsa West Senatorial District.  A dogged fighter, who has continued to attract followership since his entrance into the race, Agbedi is one of the aspirants who would give Sylva a good fight.
One of the arrowheads of opposition against Sylva style of governance, he has shown that his politics is that of conviction and principle. He was the party chairman in 2005 that ensured that the cohesion in the party was not shattered as the House of Assembly moved to impeach Alamieyeseigha. His absolute loyalty to Alaibe in the build-up to the 2007 elections, however, cost him his position as he was suspended by the national secretariat.
Initially, he was not tipped to contest as he was among those who were piling pressure on Alaibe to contest. But when efforts to convince Alaibe to contest failed, a coalition of Alaibe's New Vision, Goodluck Jonathan Committee of Friends and Green Movement zeroed on him to contest as an alternative to Sylva for the PDP governorship ticket.
He is one of the aspirants who has never benefitted anything from the Sylva's administration and has remained consistent on his position on the government. Known to be fearless in action and speech, Agbedi's support base swelled when he refused all entreaties to step down for Alaibe when the latter initially made up his mind to contest on the platform of PDP before eventually dumping the party.
 Though not very rich, Agbedi has had his campaign boosted by goodwill donations especially from those who believe power must shift to Bayelsa West. As a consummate grassroots politician, Agbedi would rely on the network of political alliances he has built in the past to clinch the ticket. The obstacle is that from Ekeremor alone he has opponents in Ebebi, Dimaro Deyanbofa, Hinks Dumbo, Enai Christopher, Ombeh George and in Bayelsa West, Doukpola Francis to contend with for delegates votes. Unless some of the aspirants from Ekeremor step down, his chances would be dimmed with the splitting of the delegates' votes.
 Francis Amaebi Doukpola  
 He is an elder statesman and a veteran in electoral contest in Bayelsa. He had contested elections against Alaimieyeseigha and Jonathan. In the 2006 gubernatorial primaries, he emerged a distant third, while Sylva was the runner-up. Surprisingly, his name was submitted as governorship candidate when Jonathan was requested to nominate someone after he was elevated to be late President Umar Yar' Adua's running mate. He was a breath away from the Government House until the table turned with the emergence of Sylva as the candidate.
 At the beginning of Sylva's government, Doukpola was one of his supporters and as the Chairman of Bayelsa Elders Consultative Forum (BECF) he did not play hide and seek by defending the Sylva's administration when critics were picking holes in government policies.  Their relationship has, however, turned sour with both ready to square up against each other in the primaries. Sylva loyalists have accused Doukpola of being an opportunist who benefitted from heavy contracts running into billions of Naira awarded to his company.
He has fired back that as senior citizen of Bayelsa who fought for his creation, he deserves to be given contracts if his company is found worthy. In his defence, he said his company which has received award from the builders association tendered for the contract and got it, adding that nobody told him it was a bribe for him not to contest.
 Doukpola's entry into the governorship race is said to have been inspired by elders who believe they need to wrest power from the youths. He is counting on support from them in all the senatorial districts as they believe he is a politician with a iron cast integrity and principle.   His major problem would be the many number of aspirants coming from Bayelsa West as votes that could have been for him would be shared. Also most of the elders who are nudging him on are not card carrying members of the PDP and cannot influence anything in the party. He would also face a challenge from the PDP card carrying members of BECF with Chief Thompson Okorotie campaigning for Sylva.
Ebebi Peremobowei
Until recently, the deputy- governor Ebebi's entry into the race is to launch a final onslaught against the continued governorship of Sylva. Accused severally by his former boss for being disloyal and over- ambitious before he was eventually impeached, Ebebi's decision to contest is viewed by many as a way to show that he is still popular in the state.
Initially disqualified by the gubernatorial screening committee, Ebebi had his petition upheld by the Tunde Ogbeha appeal panel and has stepped up campaign to slug it out with Sylva in the primaries. Ebebi would be counting on the political friendship he has cultivated since 1999 when as House of Assembly member he rose to become Speaker twice and deputy-governor twice.
Known in political circles as 'Odudu', Ebebi still has some loyalists who would do his bidding as automatic delegates. But a major problem is the number of aspirants from Ekeremor. He has also lost a rabid loyalist, Chief Alex Okoteine to Sylva's camp.
Beimo Rufus Spiff
He is from the same local government area as Sylva. He is also a fighter who does not give up easily. Though confined in a wheelchair since 2003 after a motor accident, this was not enough to diminish his political stature in Brass as he continued to call the shots. But with the beginning of the Sylva's government, his political clout has been greatly cut to size with Sylva's loyalists taking over the political leadership of the area.
To make matters worse, Beimo economic interest has become under serious attack and he needs political power to regain control. Unlike before his influence within the PDP in Brass has waned and one of his pillars of support, King Alfred Diete Spiff is not a card carrying member of PDP. Not only that, Spiff's wife, Josephine is contesting the House of Representatives primaries and she is counting on Sylva for endorsement.
Tebepah Tarila
He is a  bosom friend and political associate of Alaimieyeseigha and Jonathan. Tebepah is from Kolokuma/Opokuma local government area in Bayelsa central senatorial district. He was a former commissioner in the cabinet of Alamieyeseigha and later emerged party secretary when Jonathan became governor.  Sources said he was encouraged to contest by Jonathan. He would rely on network of Jonathan's friends to garner delegates' votes.
Enai Christopher Fullpower
Aside the fact that he was former House of Representative Member, nothing can be said about him. Also from Ekeremor, He is one of those being accused of benefitting from contracts given to Bayelsans by Sylva.
Hinks Dumbo.  
He is a politician and a successful businessman. Dumbo from Ekeremor has repeatedly said that funds are no problem to oil his campaign machinery. But he is relatively unknown in the politics of the state.
Dimaro Denyanbofa:  He is the former political adviser to ex-gov Alamieyeseigha.  He is also one of those who courted the friendship of Sylva while contracts were being awarded to indigenous contractors in the state and they fell apart later. He is not considered a serious candidate.
George Ombeh, Kalango Youpele, Obuma Samuel David, Fred Ekiyegha are also in the race. Among the lot, Ekiyegha is known in political circles in the state. Though Obuma and Kalango have in the past held legislative positions but they have been out of circulation for long that their relevance in Bayelsa politics can be taken for granted. Many consider Ekiyegha a man of ideas but his support base in PDP is weak. Ombeh was a lawyer with oil giant Chevron until recently when he retired to go fully into politics. Having participated in the late Sani Abacha transition programme, Ombeh is moving into a familiar turf but with different actors. His chances of having high delegates' votes are slim considering the experienced politicians contesting from Ekeremor and Bayelsa West.