People believe I'm not educated though I've a first degree – Charles Inojie, comedian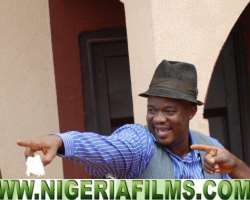 Charles Inojie won renown in Nigeria's movie industry with his roles as a comic. In this interview with 'NONYE BEN-NWANKWO, he explains how his journey to stardom started. You are a comedian, an actor, a script writer and a director; how do you combine all this?
I am actor by orientation and by training.
One might say you are an archetypal actor since you play mostly comic roles.
That might not be correct. Maybe I've played so many comic roles; otherwise, I think I'm an all-round actor. One of the major roles I played in Nollywood was Isakaba, where I played the role of Man of God. MOG was a leader of a dare-devil robbery gang. To the best of my knowledge, I played the role very well to the extent that people still call me MOG today. I think a good actor is a good actor. But being a comedian is probably an added advantage. Being a comedian goes a little more than having a training in acting. You would require a natural propensity to become comical. Whereas you can be taught acting, you may not be taught to be a comedian.
How do you combine your role as an actor with writing and all the other things you do?
I actually started as a writer. I studied play writing in the university. I'm a director and I also act. Sometimes when I see myself on the screen, I still say, 'Ol' boy, na me de mumu like dis?' I've that problem at times. But Charles Inojie is a very serious person. I try to indulge in intellectual exercises.
Some people think you are not educated or cannot even speak good English…
I know that for a fact. People think I'm not educated. I've had such issues many times. I try to defend myself every time. I was an MC at an event in Port Harcourt. One of the guests was very uncomfortable. I noticed the way she was looking at me. At a point, she called me and asked me if I had a brother who acts. I told her no, but that I was the one that was acting. She said it wasn't possible. She said I look like one actor that featured in Corporate Maid. I told her I was the one. She couldn't believe it. She asked me if I really went to school. I told her the school I attended was not too far from where we were. I attended the University of Port Harcourt.
Don't you feel bad that people look down on you because of what you act in movies?
No. That is a reflection that I do my work well.
But don't you get embarrassed at times?
Of course there are some embarrassing moments. Sometimes, I will be in church and people will not concentrate; they will be looking at me. I also would want to seek the face of God like every other person. But instead of people concentrating, they would be looking at me. There are certain things you will like to do, but people will not take you seriously.
Things like what?
Maybe, you would want to testify the goodness of the Lord like every other person, but you can't come out in front of the church to do that because nobody would believe your story. I can't imagine myself coming out to give a testimony, though God has been faithful. I can only call my pastor aside and tell him what the good Lord did for me. The congregation wouldn't believe me. They would think I'm joking. Instead of them to listen and see what they can learn from my testimony, they would be laughing. So my acting comes with its own price. Sometimes you go to a serious function and you try to dress well like every other person, people will start mocking you even in that serious environment. I wonder if I'm supposed to be clowning about everyday simply because I'm a comic. There are moments like that, but beyond that, it is very profitable to be the industry. Being an actor has opened many doors for me.
Why did you decide to take up acting as a profession?
There was never really a time that acting took the back seat in the course of charting a career course for myself. Rather, what happened was that because of the way Nollywood was as at the time I entered, it wasn't easy to introduce new people and give them roles. I hatched a coup with my friend Lancelot Odua-Imasuen. We agreed that it would be easier for me to come in through directing. He adopted me as his assistant director. In almost all the movies we directed then, sometimes a character might not show up or another character might not be playing his role well, Lancelot would tell me to pick up the costume and play the role. It might just be one or two scenes. But with time, those one or two scenes began to add up. People started asking me why I wasn't acting full time. At times, when I would be directing a movie, I would just keep one small role for myself. I thought I could keep it like that but within a short time, I started acting full time. I've always enjoyed being behind the camera, being in charge. As an actor, I've very little to do. I don't concern myself beyond trying to understand the requirements of the character I'm meant to play.
Which movie brought you to the limelight?
That would be difficult for me to answer. But then, since Corporate Maid, the story hasn't been the same. The commendations I've received since the movie came out are unprecedented. I think the movie has been a turning point.
Going down the memory lane, why did you decide to go into acting?
I always tell people that my going to the theatre was a product of 'creative accident' that happened to me some time ago.
How do you mean?
In my secondary school days, I always loved literature. I tried to read novels a lot. In those days, there was this competition among my peers on how many books we had read. I was in love with literature. The late Prof. Bode Osanyin of UNILAG had a centre in Ogun State. Every last Saturday of the month, he invited writers to interact with the audience. One Saturday, he had the late Ken Saro-Wiwa as his guest. We decided to do a small sketch for Saro-Wiwa since he was somebody who loved drama. I was among the people that performed in the sketch.
Did you act before then?
No. I used to be a very shy person. I didn't want to be a part of the sketch. But I was encouraged. I told them I wouldn't want to be the reason the drama flopped. But they still told me to be a part of the drama. Prof. encouraged me. That was how I joined them to perform. Immediately after the play, I ran backstage to hide. But somebody came backstage and told me they were asking of me. 'Ha I talk am. I didn't want to be a part of the drama. See now, they are calling me to tell me I had spoilt their show.' That was just the way I felt. But to my utter amazement, when I got there, Saro-Wiwa told me I was a good actor. He asked me if I had acted before. He asked me what I was doing. I told him I was a Jambite. I told him I wanted to study to be a lawyer. He told me that while I was waiting for my JAMB result to come out, I should enrol in a certificate course in Theatre Arts in UNIPORT. I discussed with my friend and I went to Port Harcourt. It was only when I got there that I discovered I had come face to face with my destiny. After the one year certificate course, I went in for the degree programme.
You won some awards recently…
Oh yes. I won the ZAFA award. The nominations came to me as a surprise. I got two nominations. I was surprised particularly when I looked at the other nominees. They where big names as well. Who I bi? Anyway, I went to London for the award ceremony. I didn't know the surprise was yet to come. I ended up picking the awards I was nominated for. It is a major height in my career. See acting wey I de use de play? It has turned to another thing. Each time I got the opportunity to act, I always felt it was another opportunity for me to go and play. Look at what I was doing to enjoy myself has now started bringing in awards and recognition. Before now, one award that touched me was when UNIPORT gave me a distinguished alumnus award. I no go fit lie to you, that award turn my head.
Are you married?
No, I am not.
Is it by your choice or it just happens to be like that?
There are a lot of things people would want to do, but they ended up not doing it. I'm not married yet.
So how do you cope with women?
It's not like you people think. Being an actor doesn't strip me of my background or strip me of my sense of decency. I don't think there is anything I can't handle when it comes to women's admiration.
What do you hope to achieve in the nearest future?
I always tell people that I would want to be recognised as one of the people who would take Nollywood to the Oscars. I want to be involved in that process. I want to be among the people that will make Nollywood the envy of the movie industry in the world.