COMMUNITY TO BANISH MAN FOR IMPREGNATING 18 YEARS OLD DAUGHTER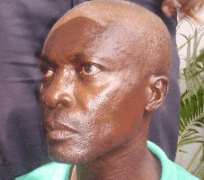 Suspect
A commercial motorcyclist, in Lagos, who subjected her daughter to rounds of sex, is now in trouble, as he has been nabbed by the police.
Daily Sun also gathered that his community in Ohafia, Abia State, has concluded plans to banish him over the abominable act.
But the 50-year-old man has made a passionate appeal to the traditionalists to carry out what he called, 'spiritual cleansing' on him, instead of throwing him out of the community.
The suspect, John Awa, who spoke to Daily Sun said: 'I am from Ohafia, I was told my community is making plans to banish me for sleeping with my daughter. I know it is an abomination but banishment is not the solution. Instead, they should appease the gods.'
Another reason he adduced for his appeal for mercy was, 'because of my wife and children.'
He continued: 'They should not ostracize me. I'm not the only one that committed such act. Appeasing the gods remains the best solution.' Ironically, the father and daughter were seen trading words, arguing over the number of times they committed the illegal act and, who seduced each other to commit the offence. While Awa claimed having canal knowledge of her six times, his daughter is insisting that he did it eight times.
He maintained that it was his daughter, who seduced him, by appearing nude before him. The daughter, on the other, alleged that her randy father hypnotized her. Narrating how the journey to the abominable act started, the 18-year-old girl (names withheld) said it began late last year, when she compelled her mother to re-unite her with her biological father.
According to the victim, her parents were separated for the past seventeen years, when she was just a year old.
She disclosed that she did not know him until they were re-united. 'I was the happiest person on earth when I met him for the first time. Though, he re-married, he still permitted me to live with them,' she said. She narrated how her stepmother and her siblings traveled outside Lagos 'and the devil used my father to bring shame on me.'
She continued: ' One day, I was sleeping when somebody started caressing me. I later found out that it was my father. I warned him and tried to break the silence but my father started begging me. He said it was the only way he could express his love for me. I was confused, but before then, he had had his way. I started weeping but my father still begged me not to expose him.'
But the victim who could not continued concealing her father's shameful act later told her uncles. Her reason was that he allegedly continued the love advances. 'It was my uncle who reported the matter to the police,' she further disclosed. The victim narrated how her father had in the past, procured abortions for her.
Meanwhile, a medical examination conducted on her revealed that she is a month old pregnant. The suspect has, however disowned the pregnancy, saying it was the handiwork of her daughter's jobless boyfriend.
He said: 'I can't deny making love to her. I only did it six times. I disagree putting her in a family way, because the medical report indicated that she is a month old pregnant. I had stopped making love to her since.' The suspect, who later blamed his action on the devil, said he only realized himself after making love to his daughter.