NIGERIA DOESN'T HAVE ENOUGH EVENT PLANNERS – OMOHINSEREN, CEO, ADORABLE EVENTS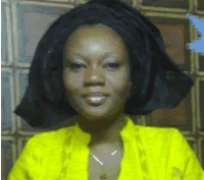 Omohinseren
Right from her undergraduate days at University of Lagos, Fehintola Omohinseren never wanted to take paid employment. Yet the soft-spoken and elegant lady saw wisdom in gaining practical experience from working for an established organization. But that desire ran into a hitch, as companies didn't exactly reckon with her plans.
After graduating in 2000, she spent a good number of years pounding the streets of Lagos in search of the elusive white-collar job that would enable her gain useful experience, until an oil field services company gave her the opportunity she wanted. Predictably the pay was peanuts and yet she was required to close late from work.
Then one day she woke up from 'nightmare' job and rubbed her eyes clean and gave 'birth' to Adorable Events. In this interview she talks about her journey to becoming the Chief Executive Officer of Adorable Events.
Experience in event planning
It has been a wonderful and nice experience. At the beginning I used to bake cakes. I still bake cakes for very special clients. As a person, I have always had a flair for combining colours. Someone once invited and I became with Naturally, I'm used to combining colours. The person invited me and I became fascinated about events.
Apart from planning, I also decorate. So far, so good, my clientele list is increasing by the day both in the social and corporate bodies. Through referrals I get new contracts to render services. Planning events entails sourcing and coordinating other people who offer associated services that would make the event memorable for the guests and leave the client satisfied. These people include: ushers, caterers and models. I don't force anybody on my clients. It will be nice to work with people that you are used to. I had an event where the clients gave me people to work with; it didn't turn out well. They refused to listen to me because I wasn't the person that got them and the job didn't get turn out perfect because of these hiccups.
It is beginning to look like event planning is getting 'crowded' with more practitioners seeing it as an income source. So how do you cope with competition?
Even if you have 5,000 events planners, the business is very far from being saturated. Take the United States for instance: do you know how many events planners they have in that country? They have so many. Here in Nigeria, we are not up to 5,000 yet. Even if we have 5,000, the number is not even enough to adequately cover half of the 120 million Nigerians. So with patience and prayers you'll have your clients.
What was it like growing up?
I'm the 6th born of 10 kids - nine girls and a boy. Growing up was fun. My dad is Yoruba while my mum is from Edo State. It was a close-knit family despite the infantile fighting among the children. We have a wonderful mother. She has been there for us, through thick and thin. She is always praying for us and encouraging each of us.
Though she went through a whole lot but she's been steadfast. In a family setting like mine with nine girls staying under the same roof, it was not easy; everyday we had fights and arguments, but we thank God that we have all grown up now and understand each other better. My sisters have been very wonderful and supportive. We are extremely close, we are each other's best friends; and I think maturity and marriage have changed a lot of things. The first five are married and that has calmed and changed everybody.
Vision
I prayed to God that when the top 10 events planners are mentioned in the world Adorable events would be one of them.
Challenges.
There has to be a difference between you and the local decorators. But clients don't have such beliefs. They want you to be yourself and accept the price of a local decorator. If you want something good, it doesn't come cheap. I'm a very reasonable person; I can't say because you can't afford me I will dump your job. I won't do that, I always try to cut across and thank God. I have worked with fantastic families, fantastic brides, wonderful corporate bodies that never stressed me. When someone approachesed you and later found someone else, courtesy demands that they should at least call to let you know that your service would no longer be required, rather than just keeping you hanging and not calling to let you know. Aside from that I don't have any problem.
Fashion sense
I don't wear dresses so often. Most of the time, I wear a pair of jeans, lovely jacket, nice heels, lovely bags and I'm out.. That's what I wear almost all the time. Am sure people keep asking, don't you have a dress, but am more comfortable in a pair of jeans. You can never go wrong. I wear jeans or joggers which is more comfortable for me but if am planning, I have to put on an African attire or English wear depending on my mood and the event.
Planning for Weddings
At times, I plan weddings for free. It depends on who you are dealing with. I have had fantastic brides and you can't chase them away with the cost. I have had few girls that come to me to tell me they can't afford to pay for my services; what do I do? I just chip it in for them. Some nice ladies could walk up to you and you decide to help them. I am not saying I do things free of charge but sometimes, when your spirit speaks to you, you just let it be. So, I have done some events planning without collecting a dime from them. It depends on the person's spirit. You meet some girls and you just tell them, I can't go that low in price, you can get another person to do that for you.
Disappointments
They are bound to come. You go out on their behalf and then they won't pick up the phone. It is annoying. Most times, I don't go out to meet with the clients. If you want me, come and look for me, am in my office at Idi-Iroko Maryland. I have moved out for clients and at the end of the day, you will call them and they won't pick up the calls. That is another hitch.
Why I left white-collar job
The truth is that I am extremely hyperactive. I have never seen myself wearing skirts and just sitting in a chair and being ordered around. Also, you have someone that will complain about your attire; I don't have time for all that. It's something that I have actually vowed. For instance, I can't work in a bank. My sister works in a bank and there are times she would come home crying because of harassment in the corporate world, especially when she goes out marketing. The time when I graduated was the era of telecoms, which was very tight for employment. Everyone wants to work in an oil company and since they refused to employ me, I ended up in an oil services company.