IBB CHICKENED OUT…ASSAILED BY HISTORY?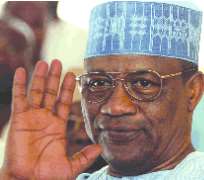 IBB
Did you read the interview by the volatile Hassan Sani Kontagora, erstwhile publisher of defunct Hotline? Well, if you did not, here is the gist: He said that former military president, Ibrahim Babangida, couldn't have been defeated by Atiku Abubakar in the just-concluded consensus contest. His coming second was make-believe.
Alhaji Sani said that the entire result of the exercise had the imprimatur of IBB's dribbling, especially when the former strong man had realised that he was going to face the greatest challenge on the Nigerian scene. He said that against the background of possible hot blows and eventual disgraceful defeat, the retired general had instructed the so-called northern wise men to let Atiku have it, so he could have his peace.
If you remember that IBB chickened out in similar fashion in 2007, you will begin to consider that the man, Kontangora, may not have relapsed into his old volatile self. He may have been very close to the truth.
Also, if you consider the body language of former Senate President, Ken Nnamani, who, a few days after standing directly behind IBB at the formal declaration was rumoured to have moved on, some said in the direction of Action Congress of Nigeria (ACN), others claimed in the direction of Congress pf Progressive Change (CPC), you will understand that Kontangora could not have been rabble rousing.
Something was certain. Ken Nnamani was no longer as close as he used to be, but as the statesman he is, he kept the secret of his would-have-been boss.
Well, the real poser in this is, why IBB would always try to come on tentative steps and as has been the case on two occasions, he had quickly withdrawn to his shells to avoid heat?
Do not forget that this was a man, who, in all the days of his heady government, took all the heat, acted as if it was never getting to him and planned to sit tight even as Nigerians demanded that he quit the stage. Now, he flees from whispers.
And here was also a man who may have had the greatest opportunity to be the greatest Nigerian of his time, but who lost everything, including the many good he did, because of his attempt to sit tight on the throne, while he struggled to stifle popular view.
The other time, a regular respondent to my column had reeled out all he said were the achievements of IBB, including the building of Abuja, its airport, Third Mainland Bridge, etc. His list was long, impressive and intimidating. It was what should be ascribed to a visionary leader.
But when you place these side by side with the material values of strong actions in the wrong direction, such as June 12 and chains of deceptive acts, you see that his good efforts came to naught in the minds of the native Nigerian who has remained inconsolably bitter and unforgiving.
In a way, I think that what IBB goes through, each time he ventures to the public arena, has much to deliver in form of good lessons to our aspiring leaders. This life is short. But far shorter than life is your time or season of rein over others, which can come, either by well plotted drive at power or luck; but which eventual assessment, in the fullness of time, will leave you bare, unprotected and at the mercies of writers of the contemporary history if you did not throw your steps properly.
Yes, you can say that post-contemporary history may be more objective, shorn of emotion, some tiny details of fame and infamy; yet, it shall derive so much from elements of contemporary history.
Even, the guaranty of niceties of post-contemporary history can hardly reduce or terminate the pains of immediate post-regime peer assessment and conflicting generational arguments on the quality of the time under review.
In other words, the lesson of IBB and the repeated humiliation each time he ventures out is so important in the study of power in Nigeria as it has come to be the indication of the shape of what you get after you may have ignored so much of what is regarded important by the people. It is even worse if you have acted in ways that suggested that you considered yourself far above the small men and women of your country.
When you now place this alongside the situation of OBJ, post-1979, which saw to his hilarious return 20 years later, on one hand, and his forays and rages, 1999 - 2007, on the other, you can confirm that Nigerians are never short of the right understanding of the regimes they encountered in their perilous lives.
This lesson is so sweetening that if the question is posed on which past head of state can look at a crowd of Nigerians in the face and shout that he has bided to return to power, it is unlikely that there would be any beyond the persons of Muhammadu Buhari and pre-1999 Obasanjo.
In a situation where we have a harvest of ex-heads of state, but only one or two can stand before a crowd of Nigerians, is indicative of the extent of misdirection suffered by the country since the 1970s.
So, as IBB quickly dives under the bed each time his face elicits wild emotion among Nigerians, he, like any such leader who took wrong steps will always provide us with a combination of rage and amusement, and we would have yelled hoarsely that, we have had the last laugh.