LESSONS MARRIAGE TAUGHT ME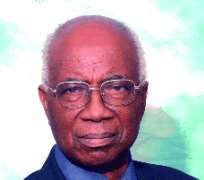 To become a professor in any university, is no mean feat. And to become a professor within three years of teaching in the university is even a bigger feat. That is the story of Emeritus Professor Oladipo Akinkugbe, a renowned medical practitioner and seasoned academic. He became a professor of medicine just within three years when he started teaching in the university.
This rare accomplishment by Akinkugbe did not just come by the snap of the fingers. He has practised and taught medicine in various reputable universities across the world. He was the pioneer vice chancellor, University of Ilorin. Also, he was pioneer vice chancellor, Ahmadu Bello University, Zaria. He was instrumental to the opening of the famous hypertension and renal clinics at the University College Hospital, Ibadan.
In this interview, Akinbugbe, who also taught at Harvard, told his story, including family, career and other issues.
Could you tell us about your education, from primary to university level?
I was born in July 1933 into Akinkugbe family. My paternal grandparents are from the chieftaincy traditional families in Ondo, the same community where my maternal grandparents are from. I grow up in very happy circumstances. I am the third in a family of six. My parents got married in 1928 and we thank God that all the children are still alive. I am 77 this year and I have just published a biography, which contained everything about me. My early years in pre-primary and primary schools were spent in Ondo, until 1946 when I moved to Government College, Ibadan. In that school, the population was 144, meaning that we were 24 in each class. In our class, there were interesting characters, like Wole Soyinka, Christopher Kolade, Abel Guobadia, Muyiwa Awe and quite a number of us. Some were quiet and others were troublesome. I don't know which category I belonged. However, it was a very active class, with a sense of achievement and competition. It was lively. And I enjoyed every minute of my stay in GCI.
In those days, writing school certificate exams was interesting because we took Grade One for granted. Out of the 24 students, perhaps, about 18 or 20 got Grade One. So, there was this sense of competition in the various sciences and the arts. I think, in fact, even at that stage, people, like Soyinka and Kolade showed remarkable talent in the arts, English and Literature. Therefore, in a way, morning showed the day.
From there, we came to University College, Ibadan, U.C.I, of those days, which was really like an appendage of the University of London. And we were at the temporary site at Eleyele. There was no UI then on Oyo Road. It was all bushes. We then started medical course there and in my class we were less than 20. Now, the intake runs to hundreds. We were at the temporary site for about two years before we then moved to the present permanent site of the university. It was still University College before it transformed to a full-fledged university in 1962. But in my time, as a medical student, there was no University College Hospital, UCH. So, after we did our second MB, by special arrangement, with the University of London, those of us who passed were then asked to transfer our medical programmes to London and other universities in the United Kingdom. And I was in one of the 12 London teaching hospitals.
The University of London has a dozen of teaching hospitals at the time. I then continued my clinical training at what they called the London Hospital, where I was, for three years. Later, I graduated with MBBS. And straightaway, after my house jobs, which again was in London Hospital and Kings College Hospital, I went for postgraduate work. That was how I got a postgraduate professional degree. I came back to Nigeria and was made medical officer, special grade, at Adeoyo Hospital, Ibadan. But soon after, I got a Commonwealth scholarship that took me back to England, to embark on further post-graduate studies. This time, it was more on research. Then I went to Oxford University. I did some researches on hypertension, high blood pressure under one of the most acknowledged international experts in that subject, Surgeon Pickering. After that, I got my PhD. So, having been armed with both academic and professional qualifications, I took up a job at the UCH, Ibadan as a lecturer consultant in early 1965. And within three years, that is 1968, I was promoted professor of medicine at the age of 35.
Then, I identified with the areas of high blood pressure and kidney disease, as very important clinical specialties. I started the hypertension and renal clinics in UCH. These were the first two clinics on that subject in Africa. And they have grown since then and been quite active. I held the chair of medicine in Ibadan for 30 years, after which I retired and set up my own hypertension clinic. I am still very keen on academic and every quarter, in this clinic, we hold seminars and doctors come from all over the country. We choose the subject and engage in it for the whole day, with top class lecturers making presentations. The subject could be hypertension, today and kidney disease, tomorrow, HIV, malaria and others. We have covered so many topics and it has become quite popular. So, it has been an interesting exercise.
What was your growing up like?
It was a very happy childhood, because my father was a foundation pupil of Ibadan Grammar School, which was founded in 1913. So, he knew the importance of early education. Therefore, we had that privilege of having parents who knew the importance of educating their children. So, mine was a very happy family. Also, the values of integrity, transparency and of being reliable and dependable were what my parents put on the front burner. They taught us, early enough, not to be carried away by wealth, that is, material consideration. And very religiously, they taught us to regard ourselves as fortunate because there were many who did not have the opportunity we had. I feel really very proud to have emerged from that kind of family. I have tried, all these decades, to reflect on these values in my own ways of living. And I believe that thoroughness, hard work, diligence, dedication and also to give service back to one's nation are important. The reason is that with all my modest achievements, I could have easily jumped ship and relocated to another part of the world. But I had always felt that I owe my community and society an obligation. I didn't think it was good to serve other societies while my own society is impoverished and needs uplifting. And that guided my resolve to give my services to our own national institutions and I have tried to do so, both in the areas of health and education.
In education, apart from being a head of department of medicine, I was the dean of the medical school between 1970 and 1974, and then went on sabbatical at Harvard. I left there and became the foundation vice chancellor of University of Ilorin. When we started Ilorin, I was the principal of the University College, Ilorin, which then transformed into the present status in 1977. In 1978, I was then moved to Ahmadu Bello University, ABU Zaria, where I was appointed the vice chancellor. In 1979, I went on sabbatical again, but this time to Oxford because my first love is academics. And the other appointments were administrative positions. I have served as visiting professor. Apart from Harvard and Oxford, I have also had a stint at the University of Cape Town, South Africa. I have had exposures in African, Europe and in the US. And I have taught and researched in these various positions.
Could you tell us about your immediate family?
My wife is also a medical doctor and she trained in the UK, Royalfield Hospital in London. Her main specialty is child health. She was a professor of child health at the University of Ibadan and director of Institute of Child Health for many years. And she is now retired. We have two children and all boys. They read Economics at the university. We didn't want to force our way on them that they must read medicine. We never operated that way. We had to allow them to focus on what they want to do because it is the area they would succeed in life. If you do that they may end up not doing well. But today, one is an international banker and based abroad, while the other is here and into agro business. They are married.
How did you meet your wife?
There have been many versions on how I met my wife. Someone even said that my wife's father was ill and I was treating him. Then I approached him with a big injection. At that point I said, 'I want to marry your daughter.' This, of course, is not true. The real truth is that she was a medical student in England and as I told you, I was also a clinical student. We didn't meet in England. We first met here, when I was already a medical officer at Adeoyo. And she came on holiday from Royal Field at that time.
What was the attraction in the beginning?
I won't not tell you. But the fact that I dedicated my book to her and to the children speaks volume, in terms of the admiration I have for her.
So, what has marriage taught you in life?
It has taught me a lot, tolerance, understanding, togetherness and basic trust. So, these are important ingredients. But no single couple would say they have never had ups and downs. It is the ability to overcome them that matters. There has to be spirit of compromise, accommodation and one must not have his or her way all the time if the marriage must succeed. So, it has really taught me a lot of things.
What do you think about the nation's teaching hospitals?
Well, they have tried to revamp the health facilities in these various hospitals, although the public doesn't yet know enough about what has been done. But when you visit any of the hospitals, you would see that they have really been transformed, whether it is the theatre, the intensive care, the laboratories, radiology and many others. So many things have happened. I think these hospitals have been revamped with more than N2 billion. The next thing now would be the revamping of the infrastructure. There is no use operating in the theatre and electricity goes off. I think it is the next challenge.
What is it a childhood dream?
My father was a pharmacist and he was one of the earliest qualified pharmacists, around 1920s. So, seeing him dispense drugs, even when I was a little boy, inspired me. Even before I could see the top of the counter, I knew what tablet was and the various types of medicine. And my eldest brother is also a pharmacist. He rose to become the president of the Pharmaceutical Society of Nigeria and got their fellowship. He has been in the business for so many years. So, my father and my elder brother were the foundation of the interest, which I began to take. But as I grow older, I became fascinated with accomplished Nigerian doctors, and two of them I must mention straight away. One was Sir Samuel Manuwa. He was really a legendary surgeon. He got his fellowship of the Royal College of Surgeons; I think the year I was born, in the early 1930s. He was an outstanding person and rose to become the inspector general of medical services in this country. And he held a great fascination for me, as a role model.
The other person was Prof. Adeoye Lambo. He was a world-renowned psychiatrist, who made some outstanding original contributions in the global field of psychiatry. And his works in Aro, which is the premier neuropsychiatry hospital in this country, remain a legend. So, as I began to be active in the medical profession, I was close to both of them. And in fact, that is in the 70s and 80s.
Tell us some of your experiences in the medical service
My experience in the teaching hospital was inspiring, because teaching hospital does three things: teaching, research and service. When you are teaching, you are teaching based on your experience in the service. When you are teaching, you are also researching because you are always asking why the condition is like that and what can be done to improve on it or what causes it? So, they are intertwined. I have enjoyed teaching medical students over the years. And quite often I focused on those just entering the system, the clinical years, what we called the introductory courses and early postings partly, because I always like imparting skills to them at that formative age. That is, besides teaching, eliciting signs symptoms, which is making diagnosis. That is the most important thing in medicine. Once you get into your own system, the skills of examining a patient properly, is important. It is like driving; it won't leave you. It is very important to acquire the right approach in those formative years. That is why people have been commending Ibadan students for the way they examine patients. It is because some of us have insisted that it is the proper ways to learn medicine.
So, when they go abroad for postgraduate works, they usually do extremely well. In many big hospitals now in the US, you have many Nigerian residents holding top positions. And they are sought after because they tend to examine patients from the first principles. They are not the type that when you bring a patient, they would say, 'Let's do an MRI or CT scan.' If you do that, you are taking it from the top and working backward. The well-trained doctor, when examining a patient, would first find out what the possibilities are and then investigate thereafter. But he must try and make what we call differential diagnosis. That is, after his examination, he would list the various possibilities and chase them. If you do a CT scan, the moment a patient is wheedling; sometimes it doesn't give you the job, like making the diagnosis from the first principles. Although one is not saying that you should delay these special investigations, but you must put into practice your acquired clinical skills. And a doctor who does that would fine-tune his skills, so that he would make a tentative provisional diagnosis within a short time. So, I enjoyed that teaching and, of course, service. Also, it is important to emphasize research, because in a teaching hospital, you got to be part of the international scientific community, whereby you would avail yourself with the world's leading journals in medicine. It is what we call the cutting edge of medicine. And I have more than enough of it, because every week we have update.
So, a professor of medicine must keep abreast of development. Therefore, it is important to look into research aspect of our own conditions. Nobody is going to an environment that is alien to a disease. Nobody, from Europe or the temperate country, is going to spend too much time on sickle cell disease, malaria and a number of effective diseases because they are not really affected. So, the place to do the research is where the disease is commonest. For example, Nigeria has more people with sickle disease than any other country in the world. Therefore, the best research on sickle cell should be done in this country. So, it is important to emphasise that our own salvation is in our hands. In that regard, we must identify the important diseases we have in our midst and get the teaching hospitals to play a major role in their solutions. There are schools of tropical medicine in London, Holland and some other parts of the world. I have always said that to have a school of tropical medicine in London is almost like a misnomer. But much as that is commendable, the real place to do this research is Africa and Asia, where these diseases are common. There could be linkages, so that some sophisticated scientific works can be done in London, but the major thrust should be from where the disease is commonest.
Looking at medical practice in Nigeria, what do you have to say about the idea of doctors insisting that a police report must be produced before a dying gun shot patient could be treated?
I think this is misconstrued. My experience at UCH has not been that. If you bring in a patient who is dying of bleeding of gunshot wound or whatever, it constitutes an emergency, which must be dealt with immediately. You don't then say let the patient be on the counter. Of course, you must get all the details pertaining to the injury, whether it is a road traffic accident, a gunshot wound or whatever. You must take the history, but at the same time proceed with management. However, I cannot really say anything about what is happening at the lower levels of hospital management. That is the state teaching hospitals, state government hospitals, federal medical centres or those hospitals in the rural areas. But I believe that must be their policy. I do not think any health institution would be justified in withholding treatment of an acute emergency on the basis of police report.
What do you think the government can do to ensure that our health institutions are upgraded to the level of their counterparts in the developed world?
Well, the government is always trying. You know, there is a Nigerian proverb; 'The tortoise is breathing but it is got a hard shell'. You can't notice the breathing because of the shell and it doesn't just go up and down with breathing. The government is doing and will continue to do its best, because health is one aspect of what we call the social services. And health doesn't usually generate income but it uses resources, like education. Those are the two areas that government must continue to have responsibility. But at the same breath, I must indicate that the private sector also has a major stake in health and education, because the government cannot do everything. Even if you say that 20 percent of the GDP of the budget should be reserved for health, what would happen to education, infrastructure, telecommunication, transportation and others? So, there are so many things competing for government's attention. Although I am in health, I would not delude myself in saying that health is the most important of all the institutions. Of course, it is important and we know that health is wealth. In fact, no nation can move rapidly unless it gets its health right.
You were a vice chancellor of Ahmadu Bello University, Zaria. What was the experience like?
Well, I was glad to be exposed to tertiary education in that environment because if you are in a university, year after year, decade after decade, it becomes your own little world. But if you had to go from one university to another you understand the country better. And in western society, academic moves round a lot. In the US, for example, you can be a teacher at Harvard and in the next three or four years, be moved to Chicago and another to California. That is the essence of scholarship. In fact, we must move away now from the notion that you enter a university, you become a lecturer, professor, and a vice chancellor in that university. Apart from it being boring, it is unhealthy. The circumstance of my leaving Ilorin for ABU was rather unusual because the military government then decided to post a number of vice chancellors.
To emphasise this point, I was asked to move to Zaria from Ilorin. Prof. Eze Iloh was moved from Nsukka to Kano. Prof. Shehu had to go to Nsukka. Prof. Adamu Baike went to Benin City. Onwemechili came to Ife. Prof. Etuku was to move to Lagos from Kano, but didn't go. So, you could see then what we call academic chair dance in action. But even then it was a very difficult decision because the country was probably not quite ready for that kind of movement. But I think the strong points were there. In the world of learning, in Britain, the US and Germany, you don't necessarily have to appoint people presidents of university or vice chancellors from the same institution. These days, the trend is to bring fresh blood from somewhere else. In Oxford, for example, a New Zealander was brought to be the vice chancellor of the university. He is the present vice chancellor. And I believe that after his tenure, the next vice chancellor would be from the United States. And that is important, not only at the highest level but also the lower level.
One of the weaknesses of our university system is that we do not have an international flavour of composition, in terms of the type of staff we recruit. If you go to Ibadan, Nsukka, Ife, Zaria and any university, you would find that 90 percent of the staff is drawn from local environment. They are Nigerians. Sometimes, it is 99 percent. And that is unhealthy. In the world's leading universities, you would have people coming from about 50 or 60 countries as staff, and even the students. If you go to Ibadan or Lagos, you hardly find a foreign student, unless, maybe, in the postgraduate, whereas in Oxford, Cambridge and Harvard, you have people from different countries interacting. And that has a major effect on scholarship because universities are not just for learning but it helps to stretch your mind by interacting with people of different cultures and traditions. That really helps to extend your horizon. If you are only interacting from one Nigerian to another, you would not understand the global implications to certain issues.
What were the challenges you faced as vice chancellor?
I was at Ilorin, I was more concerned with establishing a university from nothing, because everywhere was bush. I was vice chancellor, registrar, bursar, and director of works. And they all rolled into one. But fortunately, within a short time, I had very competent principal officers for those positions. And that made my job easy, because I was able to take a number of decisions that kept the university going, acquiring a permanent site and recruiting staff of the highest calibre. For example, one of the things I did to ensure that standards were high, was to say that unless you had 1st class or 2nd class; we would not appoint you lecturer. And that tradition was kept for a number of years. So, those who eventually came on board, as staff were later sent to various universities to acquire their PhD degrees. Today, many of them are back as professors, which means it was really an investment that paid off.
But one area you might be interested in was the creation of commission in this country. Just before independence, 1959, this country appointed a very important commission called the Ashby Commission. And Sir Harry Ashby was a very famous and highly respected educationist. He was a former vice chancellor of the University of Cambridge and member of board of colleges. So, he headed the commission called the 'Investment in Education' on the eve of our independence. It was as a result of this commission that the University of Lagos and Ahmadu Bello came into being, and later the University of Ife. He believed that as we advanced towards independence, it was important to build and hav e a vision with which we would train a number of scientists and also a level of manpower that would enlarge the dream of technical education. It was his dream, within the first decades that we had so many of these middle cadres because any nation that has these is guaranteed in terms of services. It may not really be hyper academics but there are people, who have the country in their hands. It could be a roadside mechanic who knows what to do than a professor of Greek in the university in terms of his relevance to the total national development.
In this country, there are more university students than there are in polytechnic and colleges of education put together. And in the early 90s, I interviewed Lord Ashby to find out his impression on the dream he had for Nigeria 30 years after. And he really was rather disappointed. As he spoke to me, he said: 'Well, I am speaking like an old man from the grave.' And he died a moment later. But he was rather surprised that 30 years after his proposition, our focus is still on university without a broad based polytechnic education. It would have been a different ball game if we had applied his principles. As I always say, the universities and polytechnics are like oranges and banana. You cannot say this is superior to the other because they are both fruits. But they perform different functions. So, if a polytechnic student always feels that he is inferior to the university student, he would not want to stay there. He would want to move, even the teachers too. If there is vacancy in the university, he would want to move there. But if their conditions of service are improved and you make them do the kind of work they should be doing, then they would have that sense of satisfaction that would make them stay in the polytechnic. So, we still have to orientate people in that area. You don't need to have a university education to justify your contribution to a country. We still don't know that. The problem is that just because you are a professor and you sent your child to a polytechnic, people would be wondering and thinking that something is wrong. It shouldn't be so because in many developed countries, they don't see the difference. So, this is the area we must change our orientation.