2011: HAVE EBONYI PEOPLE BACKED GOVERNOR ELECHI?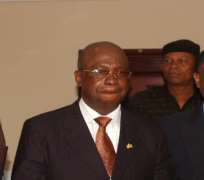 Despite the staring fact that I cannot precisely remember any way the government of Governor Martin Elechi has positively impacted on me, my profession and my people, I am one of those voices who believe the governor should continue in office till 2015 for reason clearer to insiders more than outsiders. Ebonyi state should have been one of those privileged states of the federation which by now should be reaping from the efforts of its founding fathers. This is because it is easier to identify government's achievements in rural areas than in cities. For instance, a borehole in a village will be much more recognized and its impact felt than when the same is cited in a city centre. Life in majority of our rural settings is terrible with little means of survival. But in cities, people are more civilized, buoyant and comfortable with individual amenities. Not really as comparison, a lot has been said and heard of Ebonyi just as Jigawa state where Governor Sule Lamido has made from a hamlet, a capital city that one can be proud of. It is relevant to note that, like Ebonyi, Jigawa is one of the latest created states and one of the fast developing among its contemporaries. Ebonyi is fourteen years old having been created on 1st October, 1996 from the old Abakaliki Division of Enugu state and Afikpo Division of Abia state. The birth of this young state was out of the struggle for emancipation from alleged marginalization by the Old Anambra and Imo states. However, a child of fourteen years should now be able to understand its surroundings and feature prominently in certain life endeavour, even attaining some level of independence, despite the African factors at large and the Nigerian independence and developmental challenges in particular. Is the state close to this reality? Here, let me relate an event that happened when I came into Abakaliki one evening from afar in a public transport. It took me time and effort to settle a quarrel about development in Ebonyi in the bus as we entered the capital city, though my destination was Afikpo where I was to attend a public function. We were not harassed by any security operative until we entered Enugu state. The harassment intensified when we entered Ebonyi boundaries. It became as if all the Nigerian security operatives were in Ebonyi making their livelihood on the road, apparently from the poor road users. When we approached Abakaliki, the driver of our bus gave a long despicable sigh and declared, "Is there any government here at all? Why was this state created in the first place? This is a glorified village. It should have been a local government under Enugu or Anambra state." This generated a heated argument because while some of the Ebonyi people on board the bus stood firm against the driver's observations, others supported him, arguing that other states of equal age with Ebonyi have advanced more. From the arguments, it was clear that Ebonyi people from the Afikpo axis are allegedly suffering marginalization. The journey to Afikpo and then to Akanu Ibiam Federal Polytechnic was a terrible experience because of bad roads. In short, one of the Afikpo residents in the bus said that since the creation of Ebonyi, Afikpo people have been the least benefiting components of the state, despite it is the second largest city in the state. She was particular about non-existence of developmental projects and social amenities in Afikpo. According to the elderly but quite educated woman, Afikpo has remained as it was since independence, even as the people had rejoiced that the drifting of the ancient city into Ebonyi from Imo and then Abia states would bring quick development to them. She said most of the few new things witnessed in Afikpo were from individual efforts. She added that even local governments authorities in the area were not helping matters. But another participant in the argument from Afikpo neighbourhood maintained that the leadership of Afikpo people sold the chances of development to others for selfish interests. "Maybe it would have been better for us to remain in Abia or Imo state. Although Abakaliki is closer to us than Umuahia or Owerri, Afikpo people are having it tough in the government. Egwu and Elechi have dealt with us. But our leaders are responsible for this and God will judge them", the man opined. A man who alighted at the state capital was all praises for Elechi. According to him, Rome was not built in a day and Ebonyi has attained development that is equal to its age. He said people should not expect the government to perform magic because it would be out of proportion to compare the state with some of its contemporaries which receive huge allocations from the federal allocation. Quite frankly, a candid survey of the federal allocations to states shows that Ebonyi receives the least funds on monthly basis. According to a financial statement by a journal, Economic Confidential, showcasing monies accruing to states from the Federation Accounts at least in the last six months, Ebonyi state is the lowest recipient in the list. While oil-bearing states in the South-South got the highest allocation of N386.8 billion, followed by the North-West with N162.5 billion and the South-West with N160.7 billion, the North-East got N119.7 billion, North-Central N117.2 billion while the South-East received the least with N99.4 billion. In a table that depicts the ranking of the states by the volume of allocations they receive within the period under review, Akwa Ibom state came first with N104 billion, followed by Rivers N99.1 billion, Delta N90.4 billion, Bayelsa N49 billion, Lagos N48.5 billion, Kano N31.9 billion and Cross River N18 billion. States like Ekiti got N16.7 billion, Kwara 16.8 billion, Nasarawa N16.8 billion and Taraba N17.2 billion while Ebonyi is last on the table with N16.5 billion. The story of Ebonyi in terms of governance and development is a commonplace in Nigeria. Most governors are often interested in continuing in office not because they are satisfied with what they have achieved for the people, but because of the lust to amass more wealth and enlarge their business enclaves. The constitution allows for a two term of four years each for a serving governor. And I stand to be corrected if any governor has ever willingly relinquished his seat after a single term. But in Ebonyi, Elechi should sincerely assess himself and see if he has delivered on the promises he made to Ebonyi people. Despite he was not a popular candidate as he was forced upon the will of his predecessor, Dr. Sam Ominyi Egwu, he was made the governor amidst wide protests that the former Abia state civilian governor and now national chairman of All Nigerian Peoples Party (ANPP), Dr. Ogbonnia Onu won the 2007 gubernatorial election in the state. Elechi should have been the best governor to fix the state because he relentlessly and bravely fought for its creation along side Ebonyi great men like Sir Francis Akanu Ibiam. He should have displayed his wealth of knowledge and wisdom in governance, dedication, honesty, transparency and resilience against wrong in fixing what he toiled for, a life fight that eventually succeeded, and his luck as one of the surviving founding fathers to be entrusted to take care of it for a period of time. He, therefore, has no justification to fail in this onerous duty. Elechi, undoubtedly, is quite aware of the reasons for the long struggle for the creation of the state. He should be telling the story of the Old Abakaliki and Old Afikpo Divides where there were no water, roads, medical services and facilities, electricity and education; where there was the old fashioned system of farming and fishing for which the two divides were renowned; where poverty spread like a pandemic and where there were fears over the sharing of political positions and appointments, after the initial arrangement to make Onueke the capital city of the state was defeated on frivolous grounds.
Elechi should be in the position to know whether the first democratically elected governor of the state, Dr. Sam Egwu, got it right or wrong in his eight years of leadership in the state. He should be able to know that there is need to decentralize the developmental projects, especially the social amenities, so that Ebonyi would not become a one-city state.
There are revelations that the same problems of portable water scarcity, bad road networks, insufficient and inefficient healthcare delivery, dilapidated educational facilities and precarious ethnic and religious harmony which used to prevail the state, more specifically in the rural areas are still unsettled. There are still acute accommodation problems even in the capital city and many communities are yet to be connected with good roads and national grid. Life in some communities is still a nightmare and many Ebonyians have taken up menial jobs to keep the body and soul together in neighbouring states. Not far from the truth, many Ebonyians were of the hope that Elechi would bring fortune to the state as well as consolidate on the projects put in place by the Egwu-led administration. It was hoped that Ebonyi would enjoy spectacular unity in diversity more than ever before. Elechi should not forget in a hurry the promises he made to Ebonyi people to end youth restiveness arising from high level of youth unemployment and the general threat to peace arising from communal, ethnic and religious clashes. What can he beat his chest to have achieved from his nine-point mission statement: stable and peaceful state, civil servant and labour friendly government, steady pipe-born water, roads and electricity for both rural and urban dwellers, business friendly environment as well as private entrepreneurship enhancement, private medical practitioners support, well standard school system, a zero tolerance for human right and child abuse, healthy environment, food, life and property security? What of the implementation of the SEEDs and LEEDs programmes? Have the efforts of prominent Ebonyi men and women been recognized and considered as he had pledged? One thing that is fundamentally demanding continuity is that Elechi needs to reflect on the past of the state at all times. He needs trust and political will to redeem his young daughter called Ebonyi which never than before now, needs trustworthy, honest and selfless citizens to assist him in running her affairs. There should be no empty promises, dishonest deals and selfish actions which many of our politicians and leaders have taken to be part and parcel of the system. Whatever development that has been recorded in Ebonyi state is a collective effort of some able, responsible and energetic Ebonyi patriots. The likes of the Secretary to the State Government (SSG), Chief Fidelis Mbam, the Commissioner for Local Government and Chieftaincy Matters, Chief Celestine Nwali, the Commissioner for Grant and Donor Agency, Elder Fred Udeogu and the state chairman of the Peoples Democratic Party (PDP), Engr. Dave Umahi have been in control of the state and they have tremendously assisted in moving the state forward. Yet, there are some weeds and parasites in the government who cannot help but are ever ready to suck from the government. Continuity, it is believed, assures stability. In most cases, governance, which should naturally be a continuous process is often broken because subsequent governments at all levels refuse to consolidate on the achievements of their predecessors covertly on the grounds that ways of making huge personal gains through new contracts would be sabotaged. So, my main interest in the continuity of this government is on the grounds that as a father, if Elechi after eight years in office as a governor fails his sons and daughters, then while alive, his hopes would have betrayed him. But he must not seek continuity through foul means. On October 13th, I read a story on page 9 of the Nation titled, "No vacancy in Ebonyi House" where Governor Elechi was quoted to have told a delegation of bond professionals that, "the people of Ebonyi have endorsed me to continue in office till 2015; anyone aspiring to occupy this office before then should wake up from his slumber". This statement is coming at the time allegations are rife that the governor had taken an over 16 billion Naira bond for the state but to foster his re-election campaign. His commissioner for Finance and Economic Development, Timothy Odaa, compounded issues when he claimed that the 16.5 billion Naira bond was for "elephantine" projects like Ebonyi International Market and Ebonyi 5-Star Hotel. Other projects listed for execution with the money which methink are very necessary and even urgent were water schemes and rice processing factories. But for an International Market where there pervade no or bad roads, accommodation insufficiency, poverty and unemployment calls for a rethink. It is still fresh in memory the face-off the Kogi State governor, Alhaji Ibrahim Idris, had with some members of the National Assembly from his state over his claim to have expended over eight billion naira to build an international market in Lokoja where several social amenities are lacking. Also, building a 5-Star Hotel in Abakaliki for now is surely a white-goose chase since hotels are built as a business venture. Hotels are built for visitors and first class hotels are for first class business personalities. Can Odaa take statistics of how many first class businessmen and women visit Ebonyi in a whole year? Moreover, how many hotels in Ebonyi make good turn over at the end of every year? The truth is that Abakaliki still needs a lot of primary infrastructural facilities. Big cities like Kano and Kaduna have no functional 5-Star hotels despite the huge number of business tycoons living, visiting and parading them. The governor must maintain a high standard of frugality in his fiscal expenditures. But as it is, Ebonyi is a stronghold of the ruling Peoples Democratic Party (PDP) where carry-go syndrome is the order of the day. It is undisputable that Ebonyi has the least strength of opposition if there is any at all. Recently, the leadership of the PDP in the Southeast boasted that out of the five states in the zone, Ebonyi remained solely in its kitty, avowing to continue to rule the state. However, there is hope at the end of the tunnel. Another tenure for Elechi would do and we all pray it records more good things for Ebonyi people. Muhammad Ajah is a writer, author, advocate of humanity and good governance based in Abuja. E-mail: [email protected]
Disclaimer:

"The views/contents expressed in this article are the sole responsibility of

thewillnigeria.com

and do not necessarily reflect those of The Nigerian Voice. The Nigerian Voice will not be responsible or liable for any inaccurate or incorrect statements contained in this article."
Articles by thewillnigeria.com