CALIFORNIA ANIMAL RESCUERS SEEK HOMES FOR 1,000 RATS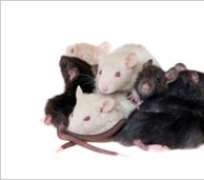 Rats breed rapidly, giving birth after a gestation period of 23 to 24 days
A Californian animal shelter is seeking adoptive homes for 1,000 rats rescued from a house they had infested and virtually destroyed.
The rats ran amok in the Los Angeles house of a man said to be receiving mental health treatment, after his daughter brought a pregnant rat home.
"You were standing in crowds of rats," a rescuer told a California newspaper.
Animal rescuers are sorting the rats in a warehouse and will make them available for new homes on 5 December.
Seeking rat food
The rats spread into the area outside the house, leading alarmed neighbours to contact producers of the reality television show Hoarders, that documents people living packed among belongings in filth, the San Jose Mercury News reported.
"He had all these rats reproducing until they had destroyed his entire house," Lauren Paul, an animal rescuer with North Star Rescue, told the newspaper.
"They chewed all the way through the walls. There were cages in the house, but the doors were all open. When you walked into the house, you were standing in crowds of rats. They were all around you."
North Star Rescue has called for donations, such as "healthy cereals to mix with rat food, dried pasta, dried fruits and nuts, dry soy beans, oats, barley, rye and other rat compatible foods", and toys for the rats.