Nigeria Supports Travel Ban For Corrupt Officials & Families – Amb. Adefuye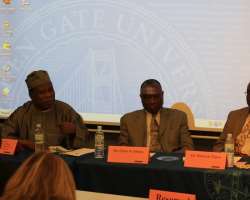 San Francisco, Nov 19, (THEWILL) – Nigerian Ambassador to the United States of America, His Excellency, Professor Ade Adefuye on Thursday in San Francisco, California said the President Goodluck Jonathan administration supports the revocation of visas and imposition of travel ban on corrupt Nigerian politicians and their families by foreign governments.
Professor Adefuye was responding to a question at the First Mini Conference to mark Nigeria's 50th Independence, which was organized by the Nigerian Studies Association and hosted by the Sompong Sucharitkul Centre for Advance International Studies of the Golden Gate University School of Law, San Francisco, California.
He said Western governments have demonstrated support for Nigeria's efforts to curbing corruption by implementing the punitive measure amongst others aimed at deterring politicians and collaborators from stealing state funds and also preventing them from having access to looted funds often stashed in foreign bank accounts.
Recall that a few months ago, the Nigerian government did not formally protest the US travel ban imposed on controversial former Attorney General and Minister of Justice, Mr. Michael Aondoakaa, who was then scheduled to represent Nigeria at the United Nations Institute for Unification of Private Laws.
The Ambassador said Nigeria would continue to partner the West in its efforts to harnessing its economic goals and cited the bi-national agreement deal between the United States and Nigeria as a cooperation that has placed Nigeria on the path to attaining greater heights and achieving its potentials.
He reiterated President Goodluck Jonathan's commitment to improving the nation's economy through the appointment of persons with relevant expertise in various critical sectors of the economy and improvements in security and power supply.
Some of those who attended the mini conference include the Director of the Sompong Sucharitkul Centre, Professor Chris Okeke; President of the Nigerian Studies Association, Professor Christiana Okechukwu, who delivered a lecture on 'Empowering the Youths in the Twenty-first Century Nigeria'; Vice President of the Nigerian Studies Association, Professor Olayiwola Abegurin, who delivered a lecture titled: 'The Development and Historical Analysis of Nigerian Foreign Policy at 50' and Professor Hakeem Tijani, who moderated the conference and Dr. Sabella Ogbobode Abidde amongst others.