HOW HARDSHIP TURNED ME TO GOD, BY UKASANYA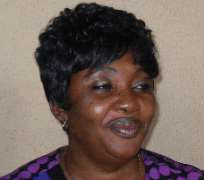 •Ukasanya

Celebrating 50th birthday was a landmark achievement in her life. After her first child, she waited nine years for the second. Eventually, she had six children. And when her husband died, the widow could not afford her children's school fees, so all the children stayed at home for one year. Here, Mrs. Edith Ukasanya, now a Pastor and Head of Food For Humanity Mission, recounts how sustained hardship forced her to look for God. She traces her ordeal from the beginning to her recent golden jubilee celebration, organized by her friends to honour her.
Excerpts:
I had my first child in 1979 and we named her Blessing. For a long time, the second child refused to come. After waiting for eight years, and no other issue, I concluded that the delay was unusual, so I left the Catholic church where I was worshipping with my husband and became a born-again Christian in 1988. When the fruit of the womb delayed at coming I decided to seek the face of God for solution.
During this period, my marriage went down. Everything collapsed. By 1992, everything came to zero. In March 1988, my fashion business crumbled. It was in a bid to put things together or get a respite that I ran to God.
So, hardship brought me closer to God. While the relationship between my daughter and me was intact, that of my husband was sour and frosty. At some point the relationship broke down completely. But I believed God that He would heal this home by solving our problems.
When I got to the pentecostal church, God started manifesting strongly in everything concerning my family.
I never thought I would be in a straightjacket like this or be in dire need to the point of being beggarly because life was good. But this time, I experienced hardship and learnt that people in need could be reached.
In response to the voice of God, I went into the ministry of taking care of the needy. So, before restoration came my way, I had already taken to the ministry, had accepted to care of the needy because I had just passed through the pains of lack.
What happened in 1992 turned my life around. When the Lord finally arrested me, giving and caring for the needy and destitute became my life pattern. That's how I came into the ministry of helping those in need of money, counseling, ministration, guidance, and fellowship.
Hardship
It was a time I remember with pains. It was like hell. In my early years, I had a fashion home, where I sold fabrics and made clothes for clients. But because I could no longer pay the house rent, I closed the business, and gave out the machines to people. This was out of frustration, because I loved fashion designing. Somebody passing through hardship would have sold those expensive machines but I gave them out and never returned to the profession again.Surprisingly, when I answered His call in 1993, by 1994, God restored me to a more glorious position, and gave me a set of twins, a boy and a girl. I started living well again. My husband became loving again and began to support my new ministry. Within a period of five years, we had children enough that we begged God that we don't want any more.
Widowhood
In 2004 when I lost my husband. I felt really challenged. It was traumatic. Few months after his death, I could not pay my children's school fees. So, we lost a whole academic session. With bills pilling up, I was so discouraged to go on with life. After that time, we were able to pay school fees and the children returned to new better schools but I was only able to cope by God's grace.
Today, we still face those challenges but from different perspectives. Although, my children are still very young, they understand the problems of widowhood. Since his demise, God has been very faithful.
Tough times
Life is full of challenges. There are times you need money to eat but you'll not have any. One day, we were not on fasting but as at 4 pm, the family was yet to have breakfast, because there was no food in the house. The Lord touched a sister who cooked a meal and brought it for us, that's how we had a meal that day and nobody outside knew what happened.
Today, when people come and say they are hungry or yet to eat after mealtimes, I know what it is. If I have anything or food I give it out because of my experience. I don't carry my challenges or wear them on my face as I go out. When you meet me, you can hardly say I have not eaten all day.
Early comfort
I never lacked anything from my family until I got married. And in the early years of marriage, I was properly cared for and fed by my husband until trials came. But God's plan also helped me because those tribulations prepared me to face challenges with courage.
Abundant blessing
Today by God's grace, I've just turned 50. I have children. My daughter has just got married and I am now a grand-mother. I thank God because I am relatively comfortable now.