Fatai Rolling Dollar drops another baby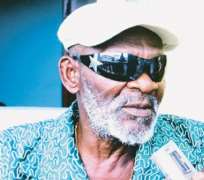 Believe it or not, 84-year-old Juju exponent, Pa. Fatai Rolling Dollars, has given birth to a baby girl. Though he says he will speak on the issue later, Rolling Dollar confirmed this on phone that a baby girl had just been delivered to him by his wife.
The veteran musician, who is heading to his nineties, has a wife who is just 40 years old and they already had two kids together.
Fatai Rolling Dollarhas continued to spring up surprises, as he seems to achieve success very late in life. After over 60 years on the music scene, he only became a success some years ago.

Rolling Dollar entertaining