OBIAGELI EZEKWESILI: A THOROUGH WOMAN SHAPING WORLD ECONOMIES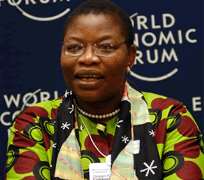 Ezekwesili
Obiageli Ezekwesili needs no introduction. She is the Managing Director of World Bank, directing world economies. Her position attests to the fact that what a man can do, a woman can do better as she is doing women proud with her distinct achievements.
She began her career as an Auditor and management Consultant. She was one of the founding members of Transparency International (TI), where she held the position Director for Africa, and also served as Special Assistant to former President Olusegun Obasanjo on Budget Monitoring, and the Price Intelligence Unit, where she spear-headed institutional reforms through the establishment of Due Process mechanisms and strategies.
From her active role as Minister of Solid Minerals Development where she reformed Nigeria's mining sector to internationally-recognized standards, to her days as Minister of Education, she brought the desired change. In her latter appointment, she was taxed with leading the country's on-going comprehensive reform strategy in education. The track record attesting to her innovative success in this area culminated with the Nigerian Stock Exchange (NSE) launch of 'Adopt-A-Public School Initiative' at that time.
Ezekwesili with her signature low cut nonetheless, represents the new African woman, who is unarguably fortified by good education. She is equally undistracted by fear and is ever ready to demonstrate that things can get done. With her wealth of experience and dedication to duty, she was one of the success stories of the Obasanjo administration. She not only had access to the ears of the former president, but those of other African leaders, who saw her contributions towards the growth of the economy as outstanding. She was the Vice President for the African Region at the World Bank, and has become a global force, dining and wining with statesmen and women, who rely on her expertise to reshape their economies. She has also served as the Chairperson for the Nigeria Extractive Industries Transparency Initiative (NEITI) since 2004 and pioneered the voluntary sign-on of Nigeria to the Principles, as well as the first ever audit of the oil and gas sector.
Ezekwesili was appointed Vice President of the Africa Region in the World Bank in March 2007, following her tenure as Minister of Education. In his speech, President of World Bank,Paul Wolfowitz said: 'Oby's life is a testament to her dedication to Africa as is the high degree of respect in which she is held by the international community. Her passion for and commitment to Africa, high degree of integrity and optimism will bring invaluable strengths to our organization. Ezekwesili holds Masters in International Law and Diplomacy from University of Lagos, as well as a Masters of Public Administration from the Kennedy School of Government, Harvard. She is also a Chartered Accountant and was selected for this position through a competitive international search.
Ezekwesili, nicknamed 'Madam Due Process', because of her acclaimed thoroughness while in the Due Process Unit of the Presidency, is also known for her anti-corruption efforts as minister. In January 2004, she was given Tufts University's prestigious Dr. Jean Mayer Award for Global Citizenship, joining that rare breed of Nobel Laureates who were past winners of this award. She was also the recipient of Harvard University's prestigious Robert F. Kennedy Award for Excellence in public service in 2000. The Nigerian Institute of Quantity Surveyors conferred on her an Honorary Fellowship in recognition of her leadership of the reform of the public procurement system. She was also cited in the publication Heroes of Democracy, in recognition of her pro-democracy advocacy roles.