I CONSULT PAST LEADERS – JONATHAN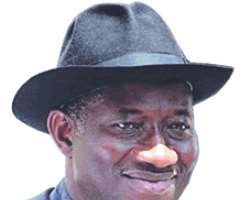 Jonathan
President Goodluck Jonathan, said last Saturday that he consults with Nigeria's past leaders before taking decisions on critical national issues, often on one-to-one basis. Speaking at the presentation of two books on the Obasanjo presidency in Abuja, Jonathan said he often did so in order to draw from their reservoir of experience, saying, however, that it did not mean those past leaders did not make mistakes.
Former president Olusegun Obasanjo was absent at the presentation for what his former aide and current Head of the Civil Service of the Federation, Mr. Steve Orosanye, described as a family emergency.
The president who was represented by the Vice President, Namadi Sambo, noted that Nigerians had the tendency to be impatient with their leaders, saying however, that 'it is left for history and posterity to allot places to such leaders.'
Noting that the challenges confronting Nigeria as a developing nation were numerous and complex, he said Nigerians must learn to appreciate the commitment, dedication, patriotism and sacrifices of all their past leaders. 'We also as impatient beings, rush to judgment about the records of our leaders. The truth is that our country has been blessed with some of the best minds in the world and with great leaders,' the president said even as he described Obasanjo as a great man, a patriot, true nationalist, pan-Africanist and global citizen.
However, Jonathan noted that as a mere mortal, Obasanjo was susceptible to errors but pointed out that his achievements and successes far outweighed his errors, hence the two volumes were very timely. The president noted that Nigeria was gradually consolidating its democratic values and practices and urged that the opportunity be used to build new leaders and new voices. 'The current leaders must deliberately set out to build a successor generation at all levels. If this fails to happen, we may live to regret this oversight,' he said.
He appealed to those who had access to the media and the public spheres to be patriotic by promoting good values, national unity and cohesion through their conduct and utterances, adding that 'we should inculcate in us, the virtues of positive statements and guard against such comments that could challenge the foundations of our democracy, unity, peace and progress that we are building together.'
Earlier, chairman of the occasion, former president Aliyu Shehu Shagari, paid tribute to Obasanjo whom he said succeeded in many of his tasks and failed in some others like other leaders. 'This is not unusual. I did not achieve all the goals I set for myself while I was president either. No one actually does, whether it is in Europe, the Americas or Africa. The real issue is to put in your best, be accountable, honest, disciplined, focused, compassionate, courageous and committed to the common good.'
He said there were few leaders like Obasanjo and that Nigerians were lucky to have him in their country.
'He has served at all levels in war and in peace, as a military man and as a civilian, as an ordinary citizen and as a traditional chief and above all, as a man who believes in God and the country,' Shagari noted. Also speaking, Minister of the Federal Capital Territory (FCT), Senator Bala Mohammed, lauded Obasanjo for the role he played in the emergence of Abuja as Nigeria's Federal Capital while he was Nigeria's military leader.
'It was during the Obasanjo's years as head of state between 1976 and 1979 that the foundation of Abuja was laid through the production of the master plan, the layout and the general survey of the territory. 'When one remembers that Obasanjo is actually an indigene of Ogun State, which is a contiguous state to Lagos, the former federal capital, then one appreciates better the magnitude of patriotism in him by not only sustaining but ensuring the realization of the Abuja dream,' Bala said.
The books, The Significant Achievements of Obasanjo's Presidency: Volumes 1 and 2, were reviewed by Mr. Ray Ekpu.
Dignitaries who graced the books' presentation included Governors of Kaduna and Nassarawa States, Patrick Yakowa and Aliyu Akwe Doma, Deputy Governor of Sokoto State, Muktar Shagari, Minister of Police Affairs, Adamu Waziri, Minister of State, Foreign Affairs, Dr. Aliyu Idi Hong, Minister of State, Information, Labaran Maku, former secretary to the government of the federation in Obasanjo's eight-year civilian rule, Chief Uffot Ekaete, former special adviser to Obasanjo on Policy and Programmes Monitoring, Professor Julius Ihonvbere and former Minister of Information, Frank Nweke (Jnr).
Also present at the books launch were former Governor of Rivers State, Mr Celestine Omehia, Director General, Federal Inland Revenue Service, Mrs Ifueko Omogui-Okauru, Special Adviser to the President on Petroleum Matters, Dr Emmanuel Egbogah amongst others.