MIATTA FAHNBULLE: AT 62, MY BODY MOVES, BUT SEX IS NOT MY PRIORITY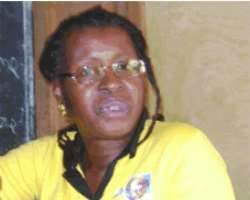 Miatta
She remains one of the finest voices that Africa has produced. Little wonder she's called the 'Diva of African Music.' Having discovered her musical talent as early as 16, Miatta Fahnbulle could not express her passion because she didn't want to offend her father, who was the Liberian Ambassador to Sierra Leone.
After graduating from one of the best schools in Sierra Leone, Miatta moved to Kenya to attend junior college. She later dropped out and moved to Liberia to work as a Dee Jay.
This angered her father who shunned and wrote her out of his will. Not a person to give up easily, Miatta re-discovered herself and started singing professionally, earning more money than an average Liberian.
Despite having a degree in Music and Drama from the American Music & Dramatic Academy in New York, Miatta's career could not take a leap in the United States due to bad advice and ill-luck. It was in Africa that she got her major break when she performed and recorded with big acts, like Hugh Masekela, Steve Rhodes, Panji Hanof, Lebo Taylor, Andre Manga, and George Lee among others. At the peak of her career in 1976, Miatta toured the United States with Masekela and the following year came to Nigeria to take part in FESTAC 77.
The 62-year-old ECOWAS Good Will Ambassador, who now resides in Liberia, where she runs her Oba Girls Educational Outreach, recently came to Nigeria for a show. Saturday Sun had an exclusive interview with her on sundry issues.
I have families in Nigeria
I am not far from Nigeria. I have my extended families here. Some of my good friends are in Nigeria. The first time I came to Nigeria was in 1975. So I have friends, sisters and we keep in touch regularly. Mrs. Ajoke Muhammed, widow of the late Head of State, General Murtala Muhammed, is my good friend and sister. We talk regularly and I keep in touch with her children. I take Precious Benson and the entire Benson family as my extended family. I knew Uncle Bobby Benson very well. I have great memories of him. The late TOS Benson was like a father to me.
This is our time
I have released some records lately. I released 'Oba,' which means woman in Twi, a Ghanaian language. The hit track, This is Our Time, was produced in Ghana. It was specially produced for the inauguration of President Sirleaf Johnson of Liberia in 2005. Yes, it would be nice to release a full album, where I can remix my popular song, Kokokoko, but I can't afford that right now. Every single penny I get now goes to the education of the young ones.
Diva of African music
Honestly, I don't know how I came about the title, 'Diva of African Music.' Anywhere I go, people just call me the diva of African music. But I think some Liberian journalists gave me the title, 'Doyen of African Music.' You know doyen means senior; so they felt I am one of the most senior artistes in Africa.
Liberian music on a swing
Liberian music is on a swing, just like Ghanaian and Nigerian music. In Liberia, we have hip-hop but it's called hip-cool or colloquial. We have some dynamic young artistes in Liberia and they are doing well. In fact, Liberian music is dynamic. But then I am not happy that hip-hop has taken over everywhere. We have to be conscious about protecting our own cultural heritage. It is our responsibility because the cultural influence out there is so great, in terms of what is fed to our young people. In fact, I always tell young girls in Liberia that they cannot dress like Beyonce and be walking the streets half-clad. Beyonce is an artiste, a creative person and what you see her wear on television is just for show business. My fear is that Western influence has permeated every single facet of our society. We all have a responsibility to promote our culture.
On Nigerian music
I love Tuface's African Queen. P-Square music is for young people, but Tuface Idibia's cuts across board, to the older generation. When you talk about African queen, you talk about an African woman of 70, who is a queen. I used Tuface's African Queen in a drama presentation of a queen in Liberia a few years ago. D'banj music is danceable but nothing to write home about. To me, none of these artistes are excellent in content, like Kodjo Entwi, a Ghanaian musician. You need to listen to him to know he's excellent. He is in the league of Youssou Ndour. I love Lagbaja. His music is an offshoot of Fela's Afrobeat but I don't get to hear enough about him. That's one unfortunate thing about African music industry. We are so close but far from each other.
On Oba Girls Foundation
Oba Girls Educational Outreach is founded to rescue young girls from gender violence and abuse. When I got back from America in 2003, I was made aware of the serious problem in the Bujumbura Refuge Camp in Burundi. I heard that young girls were not in school, but were just parading the camp and leaving themselves to abuse. So we started making sure that they got into school to have some education. When I got back to Monrovia in 2005, I felt I should do something because coming out of the war children have lost some many school years.
We had 12 years old children who have never been to school and parents were not financially capable to educate them. So, Oba Girls stepped in to give financial assistance to make it possible for young girls to go to school. After a year, we established an early learning centre for children to start school on time. Basically, we cater for underprivileged children, not middle class or wealthy children. But then funding is our major challenge. It's not an easy thing to become a surrogate mother to over 400 children. After about three to four years, people started giving us some hard time that we only accommodate girls, leaving out the boys. And now we have about 25 boys. The Liberian government instituted about 20 scholarships for about 20 girls and they also assisted in setting up our computer laboratory. In Nigeria, the Murtala Muhammed Foundation has been supporting us with funding for the past five years. We also get support from UNESCO, UNFPA, corporate organizations and private individuals as well.
Educating child soldiers
I am one of those who consistently complain that some of the Liberian warlords who made our boys child soldiers and monsters should come back and do something for them. Yes, the child soldiers have been disarmed and some sent to technical schools, but we have not been able to gainfully employ these children. They are just hanging around and getting into all kinds of mischief. I believe something needs to be done for them in terms of training and capacity building, and setting them on the right path.
No politics for me
At my age, I realised I cannot be a politician. I can't cut deals. I can't compromise. And that's all you have to do in politics. Secondly, I love music. It's my life. As an artiste I feel comfortable. I feel happy doing music and the moment I decide to go into politics, I won't have time for music. I won't be able to come to Nigeria for a show or go to South Africa to perform at Nelson Mandela's birthday. Music is my joy, my pleasure, my life and I am not ready to surrender all this for politics. Aside music, I want to continue working for the society through Oba Girls Educational Outreach. I am a member of some women organizations campaigning against gender violence and rape. I have a radio show for young people. All of these things I can do but not to run for political office.
My greatest priority
I may not be doing much for music in Liberia despite the fact that I am still performing. But the up-coming musicians can, at least, look up to me and learn. I often reach out to younger musicians, bring them home and talk to them. I have been invited to workshops, where I talked to young musicians. But the challenge, for me, is that there is such a need for my 400 children, for the Liberian children in terms of preparing them for the future. And I see this as a great priority than going to establish a music studio where I can produce five or ten artistes. My joy if I may tell you is that my son is a fantastic singer and producer in America. His music is contemporary and cosmopolitan.
Secret of my youthful look
The secret of my youthful look at 62 is that I am doing what I love to do. That's what I was telling you earlier. If I was a politician, I would have been fat and had my head totally grey. I am doing what I love to do which is music. I also love working with children, their future is more important to me. Aside this, I try to be sensible when it comes to my health and weight. I sleep well because I have not stolen anybody's money, like the politicians. I was bigger than this, but now I relax and watch what I eat. I exercise regularly. I am in show business, which is all about my visual appearance and being healthy. I thank God for everything. My mother is 81 and all my siblings are doing well. I have four grand children, two boys and two girls. I have a great grand son, which makes me a great grandma.
I can't marry again
As I told you, in Ghana a few years back, I am no longer interested in marriage. I still maintain my position. But even then, which man would want to marry me with 400 children? All my children in Oba Girls often follow me home. As early as 10a.m, I have a girl running up to me for safety and I have to deal with that. With the girls around me I don't have any privacy. But truly, body no be wood. Sometimes, my body moves, but like a friend of mine says you either live in pleasure or reality. I live in reality and it is only reality that I have time for. If you live in pleasure it's only pleasure that you'll have time for. I live in reality, but once in a while I live in pleasure.
As I said, I am enjoying my work. It occupies my time. Probably I am not giving myself time emotionally, but that's not my focus now. My focus is not about sex. I've done that. I've been there. Maybe someone will come along who will totally sweep me off my feet, but I doubt it. Oh no, it's not that I am too old for marriage, but what I want may not be easily acceptable to that man. For instance, I can say I want to get married again but I don't want to be Mrs. anybody. I am not ruling out a wonderful relationship with a man. I can have a wonderful relationship with a man; we can be good friends or lovers, but I don't want to be somebody's wife. I don't want to have a responsibility of getting up in the morning to cook a man's breakfast or wash his clothes. Excuse me, please. The man can stay in his house and I will stay in my own house with my children. However, I have a very good friend who is always there for me but there is no sex between us. Our friendship or love is unconditional; it's not based on sex. And we've been together for almost 25 years.
Problems with African men
I am not going to say that African men are not romantic. It depends on their background, how they were brought up. African men are not different from men all over the world. African men are uncomfortable seeing another man kiss their wives in movies. I think it's all about ego. But women are the cause of this problem. We nurture the boys, pamper and give them all the love while we send the girls to cook and clean the house. We treat the boys like kings and they grow up to believe that they are truly kings and princes. So when the boys become men they expect the women to pamper and cater for them. So the fault lies with the women.
My favourite city
Asking about my favourite city is not fair because I am everywhere in the world. But I think my favourite city is Freetown, in Sierra Leone. I spent my most memorable years in Serria Leone, from age 14 to 18; so I think I've got more memories there that linger into my youth. I love Accra; it's my home away from home. Lagos is my second home. I was madly in love with Jos. Of course, I was born in Monrovia but there is something about Freetown that I love. It's a very beautiful place where I have lots of friends and connections. I always tell people that Serria Leone is the California of Africa in terms of the landscape. It's a very beautiful place.