MISS WEST AFRICA TAKES AFRICAN PAGEANTS TO NEW HEIGHTS IN 2010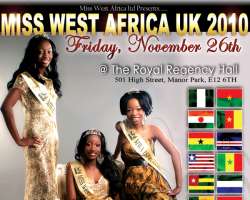 Miss West Africa UK 2010 Flier
The Miss West Africa beauty pageant started off as a fascinating beauty pageant with great contestants all of whom were originally from West Africa, competing for the title spot as Miss West Africa in the attempt to transcend national barriers in their presentation. With the first ever queen being Amina Kamara in 2008 and the second and current being Shireen Benjamin in 2009 (currently nominated for a BEFFTA Award) people all over the world are excited to find out who will follow Shireen Benjamin's footsteps in goodwill ambassador work, and more so, which country would she originate from. But if that wasn't enough, just wait to discover the international growth the organizers are taking the West African brand.
Miss West Africa UK is now set to take place in November 26th, 2010 at the Royal Regency Hall, but most will be surprised as the winner will not be the successor to the internationally known queen, Shireen Benjamin, as Shireen currently carries the Miss West Africa International crown. This was witnessed by West Africans in Canada when Nina Enharbor won Miss West Africa Canada 2010 in August. The winner of the soon to come UK event in November will be crowned Miss West Africa UK 2010, who will then travel alongside all other title holders of all other Miss West Africa beauty pageants set for all West African countries and a few countries abroad such as UK, USA, France, and more. They will then compete for the Miss West Africa International title in Nigeria, December 2010 in a battle of who has carried their title the best and who has a greater vision for West Africa. Only until this winner is crowned will we discover Shireen Benjamin's successor.
The Miss West Africa brand and franchise was ignited by Nana Tamakloe in 2007 after working with his colleague Pauline Long in her work to build Mr and Miss East Africa UK. Ever since the first event, the brand grew rapidly and now has become an international entity bringing a new light, professionalism and a breath of fresh air to fans of African beauty pageants around the world. Nana Tamakloe is working with some of the best organises around the world and still franchising the Miss West Africa name. "What I intend to do with Miss West Africa is to keep everything organised, professional, important and most of all entertaining! Many people assume we have major sponsors but the truth is all it takes is great efforts, respect for your brand, and hard working colleagues and you can be aligned with the best. I am taking Miss West Africa to the likes of Miss World, Miss Universe with the objective of letting people know about issues in the West, the beautiful women, and the amazing culture and most of all, making West Africans proud"- Nana Tamakloe.
The Miss West Africa UK will be taking place on 26th November 2010, at the Royal Regency Hall, and public voting for the top 20 finalists has already begun. The winner will join Nina Enharbor and the soon to be discovered Queens around the world, for the Miss West Africa International pageant competition, which is set to take place in December 2011, Nigeria. This will be a competition of Miss West Africa title holders at home and abroad, and will be judged based on their goodwill activities. Nigerian born Nina Enharbor is currently the only confirmed title holder and Queen to enter Miss West Africa International as Miss West Africa Canada. Nina, whose father is the pastor of Redeem Christian Church, and has already begun her good will work as a West African ambassador in Canada.
For more information on press, sponsorship, franchising, general enquiries and applications for Miss West Africa USA / America, Miss West Africa UK, Miss West Africa Nigeria, Ghana, Gambia, Senegal and more, visit www.misswestafrica.com. Organizers insist that all interested parties visit this website for the official contact in their region, and that all other Miss West Africa event are non related to Miss West Africa international. Miss West Africa ltd
+44(0)207 630 0064
[email protected]
www.misswestafrica.com
www.misswestafrica.co.uk

Nina Enharbor; Miss West Africa Canada 2010

Shireen Benjamin; Miss West Africa International 2009/10

Shireen Benjamin; Miss West Africa International 2009/10

Shireen Benjamin; Miss West Africa International 2009/10 (Image courtesy of Phil Antony)

Miss West Africa UK 2010 Flier
|
Article source