We will expose Bombers -Jonathan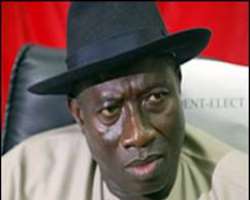 Goodluck Jonathan
Nigeria's President Goodluck Jonathan on Wednesday vowed that everything possible would be done to unearth those behind last week's independence day bomings that killed 12 people.
"Mr President reassured cabinet members that the security agencies will do everything possible to fish out the perpetrators of the car bombing incident," Information Minister Dora Akunyili said after a weekly cabinet meeting.
Responsibility for the attacks which took place a few hundred metres (yards) from an independence parade in the capital Abuja, was claimed by MEND, a militant group operating in the oil-rich Niger Delta.
However, Jonathan has blamed the attacks on "a small terrorist group that resides outside Nigeria that was paid by some people."
He has come under widespread criticism from his political opponents, the media and commentators for openly exonerating the rebel group.
Henry Okah, the former leader of the Movement for the Emancipation of the Niger Delta (MEND), was arrested in South Africa, where he lives, a day after the blasts.
Okah has claimed that Jonathan's aide called to pressure him to persuade MEND to retract its claim of responsibility for the attacks so the blame could be switched on northern politicians.
Jonathan's ruling party, the Peoples Democratic Party (PDP), is divided over whether to support him or a candidate from the mainly Muslim north for next year's presidential elections.
An unwritten PDP policy has long dictated that the party rotate its candidates between the Muslim north and predominantly Christian south every second term as a way of smoothing over ethnic, religious and social divides in the vast west African country.
 
Nine suspects, said to be linked to Okah, have been arrested in Nigeria.
Former military ruler Ibrahim Babangida's campaign chief for next year's presidential elections, Raymond Dokpesi, has also been questioned by state intelligence agents.
Jonathan on Tuesday met with some former militant leaders who told him that they had no role in Friday's attacks, a move the opposition Action Congress of Nigeria (ACN) said was "choreographed to support the president's earlier claim."
The two bombs went off as tens of thousands of well-wishers including more than a dozen African presidents, took part in Nigeria's 50th independence day celebrations.
"Luckily visiting heads of state and heads of government did not know what was happening while we were inside the field," Akunyili said.
ACN has urged people in Africa's most populous country to keep an open mind while investigators work to unravel the perpetrators of the blasts.
This is to ensure that "passions are not inflamed by the claims and counter-claims, in the interest of the nation's stability," it said in a statement.

 


Readers' Comments