OLA BALOGUN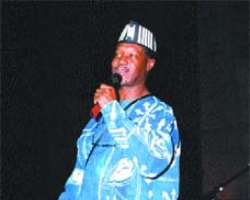 Long before venturing into music about six years ago, Dr Ola Balogun, scholar and writer, was a popular filmmaker and scriptwriter. He belongs to the first generation of Nigerian filmmakers such as the late Chief Hubert Ogunde, Jab Adu, the late Ade Afolayan (Ade Love), Moses Olaiya (Baba Sala) and Eddie Ugboma, to mention just a few.
But having paid his dues in the motion picture industry for over three decades, Balogun discovered his talents in music hence he promptly established Iroko, a musical outfit whose repertoire is rooted in Highlife and which performs at home and abroad to showcase the rich cultural and artistic elements of Nigeria through music. Today, Iroko has come to stay and has registered its presence locally and internationally.
Last December, the band performed in Berlin and Hamburg, Germany and just last Friday at the UNESCO Hall in Paris, Iroko entertained a huge crowd of Nigerians and foreigners in a show tagged: Colours and Rhythms of Nigeria at the instance of the permanent delegation of Nigeria to UNESCO.
Shortly after the show, Daily Sun cornered Balogun who aired his views on the performance, the band, his concept of Afro samba and his sojourn in music and film:
Background
I was born in 1945 and today I like to describe myself as a young grandfather. I am a very lucky man and I have lived a happy life. My parents were Yoruba but till my father's death, he decided to stay in Aba to practice his Law profession. I was born in Aba and my first language was Ibo. I grew up as an Aba boy, but as a Yoruba man. I had a wonderful life staying in Aba. We lived in unity and harmony together with the indigenes.
Colours and Rhythms of Nigeria
I did suggest the theme to the permanent delegation last year when we tried o explore the possiblity of performing in Paris. One of the first options was for the Nigerian Embassy in France to host us on October 1st, the other was for the delegation to host us at UNESCO. But there was no space until Professor Michael Omolewa, the ambasador of the delegation promised to invite us this year. He fulfilled his promise and we eventually presented the show which gave the visual image of both the modern and traditional sides of Africa.
Impressions
I must say that we achieved far more than we ever bargained for. Despite the fact that we never had the needed funding except for the timely widow's mite from the minister of information and the support by the permanent delegation of Nigeria to UNESCO. We also had problems procuring visas for our band members, owing to the misunderstanding exhibited by some officials of the French Embassy in Nigeria. Eventually we managed to bring eight members of the band to France and we were overwhelmed by the response of the audience.
I was personally amazed at the quality of the audience such as the wife of the DG of UNESCO and his representative who also invited my band to the forthcoming show.
Aside top diplomats who graced the show, we also had in attendance Dr Lateef Adegbite, the Seriki of Egbaland, who came with his wife and who has supported Iroko tremendously. It was noteworthy that when we started playing, the audience was so engrossed that a handful of them jumped on stage to dance- we were so overwhelmed and humbled by their response.
Iroko and Nigeria's image
Nigeria's image doesn't need to be laundered. The problem we have is that certain sections of the Western media have monopolised the means of information and as a result distort views of the world in consonance with the strategies of their governments. So, what we've had as African people is the image of a backward people who are facing civil wars, famine, AIDS and other dangerous scourges. The Western media have unfortunately neglected that Africans are a people with long and credible history who had their great civilisations and great empires.
So, a band like Iroko has come to demonstrate the fact that Nigeria has a music that can showcase the values of our cultural heritage. Iroko does not imitate any form of music unlike many younger African musicians who imitate American hip hop. Iroko is proud to present a truly Nigerian music that came out of highlife. So, the aim is to project the image of Nigeria and get people interested in the country and open a window for a positive image of the country in the outside world.
Afro Samba
In my opinion, no serious music can come from Africa-Nigeria, Ghana etc, without having its origin from highlife. Highlife originated simultaneously from the great music traditions in Nigeria, Ghana and Sierra Leone. So, Iroko is concerned with the music that was played in Africa before the advent of European colonialists. We are concerned with the music that evolved in Africa as highlife and which has its variants in other black aces of the world and among Africans in Diaspora in the forms of Jazz, Samba, Calypso among others.
Albums, CDs
Since there is absence of efficient recording companies in the country, we have resorted to raising funds to be able to produce a CD. We wanted to record our music the way we play it live but we could not, until we travelled to the Republic of Benin where we found the proper facilities. But even then, after we succeeded we were again confronted with the task of mass-producing the work as well as marketing it. And this is the area in which government has to play a crucial role and demonstrate its responsibility to the entertainment industry. It is unacceptable that a country like Nigeria should be spending hundreds of millions of naira on football and not have a budget for culture and the arts.
Six years of Iroko
It has been one of the most challenging and interesting experiences in my life. It is interesting because it was later in my life that I realised that I'm also talented in music. But having reflected on my life, I discovered that many things have actually prepared me for the musical career, especially that I have been so friendly with the likes of the late Fela Anikulapo Kuti, who was also my mentor. So, when the hands of destiny prompted me into music, little did I realise that I had been prepared for it long ago. For me, an artiste is not just a free agent. He or she works out of inspiration, so when I receive messages from other powerful forces (ancestors) and translate for the benefit of mankind. So, when I was inspired to go into music, I knew I had a duty to help bring up Nigeria and African music to the forefront and to project our cultural heritage through highlife.
From film to music
I have not stopped making films, but having been inspired into music, I have found it a herculean task. But at this stage, I don't know how to turn back. Going by my family name which is actually a title; Balogun (War general), I hail from the family of great warriors (Esho) in Oyo kingdom. They were ancestors who never gave up in battle until they became victorious or were brought in dead. So, the moment I start anything, I do not stop until I achieve my objective. I am happy that we in Iroko have been keeping the flame burning and I've also been producing documentary films in the process.
Right now, I have something in the pipeline. I'm preparing to produce a major feature film but I need more time to put the band in shape after which I would hand over and move forward.
Reality shows
It's a pity that rather than learn about great Africans like Kwame Nkrumah, Patrick Lumumba, Leopold Sedar Senghor, our youths are being subjected to ridiculous programmes like Big Brother Africa. That BBA is an abomination. It is idle rubbish made by idle people for another set of rubbish people. I cannot comprehend how adults in their right minds can sit in front of the TV screen to watch other people bath or sleep. And for the participants, I want to say they have been totally misguided and I urge the Nigerian government to ban it.