Kano Deputy Governor resigns As Water Commissioner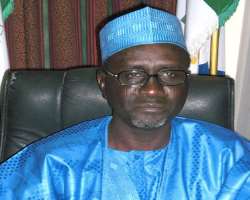 PHOTO: KANO STATE DEPUTY GOVERNOR IBRAHIM SHEKARAU.

KANO, Oct 05, (THEWILL) - Kano State Deputy Governor, Engineer Abdullahi Tijjani Muhammad Gwarzo has formally handed in his resignation letter as the state Commissioner of Water Resources, according to a statement signed and issued to THEWILL in Kano today by Adamu Abdullahi, the Press Secretary to the Deputy Governor.
The statement said the action was in line with the government's policy pronouncement directing that functionaries and appointees of all ministries, departments and agencies wishing to contest for political offices to do so and in view of recent declaration of the Deputy Governor to run for governor in 2011 it became necessary to comply with the directive, the statement said.
Gwarzo extended his sincere appreciation to the state governor Ibrahim Shekarau for appointing him to supervise the water resources ministry and highlighted some of his accomplishments to include construction and commissioning of the new Fada Water Works, conceptualization of the ongoing construction of 75 million liter per day Watari Water Project as well as the rehabilitation of all the 13 regional water schemes in the state.
Other achievements according to the statement include 'the procurement of dedicated generating sets for Tamburawa Water Treatment Plant, the building of a new power sub-station in Kumbotso, construction of two new mini water intakes for Challawa complex as well as the extension of water reticulation system in the metropolitan Kano' amongst many others.
The deputy governor also advised the government to provide additional water intake pumps and install a High Lift Pumps at Challawa to augment the flow of water into the metropolis as well as repairs of intake No. 6 and appraisal of Watari scheme to Kano Water Pipe Line.
He also thanked all the workers of the ministry of water resources and the State Water Board for their support and cooperation, while extending his appreciation to the entire people of the state for their cooperation and understanding.