CHRISANTUS PROMISES MORE GOALS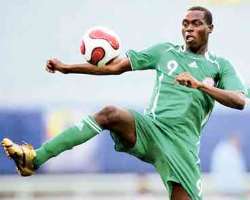 Chrisantus in action
Karlsruhe striker Macauley Chrisantus has promised to score more goals after hitting his third goal in two games in the German Bundesliga II.
The 20-year-old striker, top scorer with seven goals when Nigeria won the U-17 World Cup for the third time in South Korea three years ago, struggled at Hamburg before he was loaned out to Karlsruhe in 2009, but he seemed to have found his goal scoring form again.
He told our correspondent on the telephone on Thursday, 'I am really excited with my form right now and I hope to continue like this. I have set a 20-goal target for myself this season, so it's just three out of 20 meaning I still need to score 17 more goals before the end of the season. I think I am on top of my form and I am ready to deliver for my club whenever I'm on the pitch.
'It is a good sign when a player scores consistently and I was very happy after scoring a brace two weeks ago but I am happier because we have won our games so far.
'I hope to be injury-free because injury scuttled my dream last season. Right now, I am up for the new challenge.'
With his contract at Karlsruhe set to expire in the summer of 2011, Chrisantus hopes his goals will fire the Bundesliga II side to the German top division this season before returning to Hamburg where he aims for a dream partnership with Dutch forward Ruud van Nistelrooy.
Chrisantus added that he was ready to give his best for the country again after a fantastic performance at U-17 level.
He said, 'I hope to keep scoring so that I can return to the national team. I have always wanted to play for the Super Eagles right from my U-17 days. I have been training and working harder than ever so that I can get the nod of the Eagles coaches.
'Coach Austin Eguavoen has been giving young players the chance to play at the senior level, and if I have a good season, I may get a call-up to the Eagles,' he said.