MOZAMBIQUE 'BLOCKED TEXTS' DURING FOOD RIOTS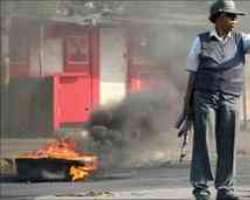 At least 13 people died during the protests over rising bread prices
The BBC has seen a letter apparently sent by Mozambique's authorities ordering mobile phone companies to block some text messages during recent food riots.
The protests were fuelled by text messages urging people to join in.
The letter, received by the newsletter Mediafax, is from the National Communications Institute or INCM.
The INCM has not commented, while the communications minister has denied any knowledge of such an order.
The country's two mobile phone companies – M-Cel and Vodacom – have also not reacted to the reports.
The BBC's Jose Tembe in the capital, Maputo, says the letter bears the INCM's logo, as well as an official signature and stamp.
He says Mediafax is a respected publication, originally set up by investigative journalist Carlos Cardoso, who was murdered in 2000.
The apparent ban only applied to pre-paid subscribers, not those on monthly contracts.
Those using pre-paid vouchers are generally poorer and so more likely to take part in protest over the cost of food, our reporter says.
At least 13 people died and 400 were arrested during the protests over a hike in the price of bread, as well as other basic goods.
The riots led the government to perform a U-turn and promise to subsidise the price of wheat.
The subsidy in effect reverses a 20% hike caused by rising global wheat prices and a drop in the value of the Mozambican currency against the South African rand.