What's special about sex? We all do it - Funmi LAwal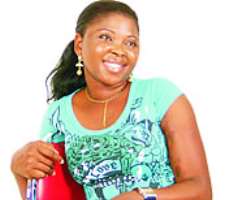 Funmi Lawal, an independent producer and actress, talks about herself, her movies and the Nigerian Film Industry, in this interview with SEYI AKANBI.
It has been noticed that most actresses normally "reign" for a short period and disappear without being heard again, what do think is responsible for this?
It is because life is a stage and we are all performers. No matter how good a man is, at a point, he has to leave the stage for other actors, who need to act out their own roles, to emerge. So, it is absolutely impossible for anyone to be the cynosure of all eyes forever. Whether you like it or not, some other people coming behind you have to fight their way into limelight and break forth into prominence. To answer your question correctly, I will say that these actresses who are not heard again paved way for others to grow up.
As a fast-rising actress and an independent producer, how do you intend to ensure that you do not fade away from the industry in a very short time.
Well, what I can say is that I am trying to make sure I give my audience something that will make them demand more from me. Though, I hardly feature in other people's works there are people I can not let down whenever they call me for any project. I always strive to make sure I don't feature in any movie that my audience would watch and hiss. I want them to watch my movie and help to advertise it. Any actor or actress who desires to stay long in the industry must try to always give his/her best in order to satisfy the thirst of his/her fans.
How do you intend to make a fortune from the industry, if you take part only in your personal production and few others?
I am a businesswoman. I have a big wine shop at a strategic location here in Lagos and I am still putting up another one very close to my house. Besides, I cannot just be taking up all roles that I am called upon to act. If it is not from my caucus, I would go through the script, know who is directing and other actors before deciding whether to accept the role or not. I would not like to watch myself in a movie and not be happy about it. It is not all about money, but being part of good productions. Moreover, I am an independent producer, I have produced seven movies, and the comments and reactions I got from them pointed to the fact that they were my first production , 'Omodara', that was in 2005. I was very skinny in the movie, yet I acted out my role convincingly. Later, I did, 'Gbogbo Aso', 'Ohun Titun', 'Wemmy', 'Eni' and 'Oloku Ada.'
The general belief is that to get this far, you must be having an affair with a marketer?
The truth of the matter is that I have never had an affair with anybody in the industry. Though, I have close associates and colleagues that I work with. People may see us together and form their own opinion about us, that is their opinion. Opinion is a household, everybody has got one. It is God who has been helping me through those who believe in me. A lot of people have been assisting me right from when I was acting in Wale Adenuga's 'Binta' and 'This Life'. I try to separate my career from my personal life.
You sound as if you are not in the industry to make money, so what then is motivating you to continue?
I think what has been my motivating factor is the fact that I want people to laugh at me. When I started, people started calling me for roles, but I would not accept most. They started saying all manners of things that I won't last in the industry. So I want to prove to them that I know my onions and I do not need to sacrifice my core values for cheap fame and popularity that most of them find very difficult to live up to.
Is there anything you do not like about being an actress?
Hmmn, yes! I don't like the fact that men don't like having an actress as a wife. All they want is to sleep with the actress and brag about the number of actresses they have slept with. It is very painful.
Don't you think this is because of the promiscuous life some of the actresses live?
I cannot subscribe to that. Sexual indiscipline is something that is everywhere, and the fact that I am not dating anybody in the industry does not indicate that I don't have a boyfriend. But artistes are famous, they cannot walk as they like on the street, the little errors they make will be magnified by the press and their lives are subjected to daily scrutiny by those who do not even know them.
Is that the reason you hardly go to clubs or social functions, are you afraid of the media?
Capital NO!. It is not just part of me. Not that I am afraid of the press, but I am trying to be scandal-free as much as I can. I do go to occasions, depending on the nature of the event and the organisers. There are some I can never let down whenever they invite me for anything. I can never say no to Bakky Adeoye, Latin, Madam Shaje, Iyabo Ojo and some other people I cannot remember now.
What about the rumours that you dated one stakeholder in the industry and you even aborted pregnancies for him?
You know, I could not stop laughing when I read it in one soft-sell magazine. But I never reacted to it because only a fool will react to rumours that have no element of truth.
Don't you think your silence means yes?
Silence means yes to a question, not to a rumour. The best way to douse rumour is to remain silent about it and the rumour mongers would be put to shame. And it really helped me out.
Are you saying you have never been in a love affair with any stakeholder in the industry?
I wouldn't know why you people are so interested in whether artistes date one another; though, I have never dated any known actor or marketer, but I don't think it is wrong for an artiste to date someone in the industry.
Why do some of your colleagues have to tone their skin to compete relatively with other actresses?
I don't think I need that in order to be accepted. I have produced seven movies without toning and I have featured in several movies with this 'chocolate brown' colour of mine. What else do I need to prove? Apart from that, I am trying to lay a very good example for people who look up to me.
But most of your friends do?
Actually, most of my friends bleach and there is nothing wrong with that. In fact, it is none of my business; whatever anyone feels is right let her do it. They liked it and went for it; and it fits them, so wetin be my own?
That means you don't see them as people who should be imitated?
That is not the point. There are some I try to borrow a leaf from, if I cherish what they do, but I cannot live my life imitating others. I only emulate good virtues in their lives. I don't think there is anything wrong with emulating good things.
Like breast enlargement, can you emulate that?
Ahhh (laughs), why would I enlarge my breast for God's sake? Okay o, I will rather invest that money in my business rather than waste it.
What can you say about the issue of seniority in the industry?
I think it shows our level of immaturity. Calling somebody by her first name does not mean you do not respect the person. Respect is earned, not craved. If I do what will make people respect me, they do not have any option than to accord me due respect even if I am younger than them. When I was the secretary of an association within the industry, one day, as I was reading the minutes of the previous meeting, I mentioned someone's name. She later came to challenge me for not putting "sister" before her name in the minutes. Though, people waded into it, but it really pissed me off because it typifies our level of immaturity.
What about boyfriend snatching?
I do not believe in somebody snatching another person's boyfriend. If I am going out with a man, and he feels he is done with me and moves on, that does not mean the next girl he goes out with snatched him from me. So, if a man who has been going out with a lady walks to me, and I have feelings for him, what stops me from having an affair with him so far he is not married?
What about sexual harassment; have you ever experienced one?
See, I do not believe in sexual harassment. What's in sex? There is nothing special about sex, everybody does it, and so what is the big deal about it.
How fashionable are you?
Waoh! I am not a fashion freak . I always like to be very simple in my dressing. All those 'effizzy' you watch in my movies are for the Tv. I just have to put up appearances that match the character I am playing. This is the real me; I like wearing native dresses . Though, I have a tattoo, it was actually to cover a scar. At least, anytime that part of my body shows, people would see the tattoo and not my scar.
How was your growing up like?
Just like other kids from poor families. After my secondary education, I had to toil a little bit to fend for myself. Thank God, I am better off today.
Your educational career?
After my secondary education, I went to PEFTI; I was one of the first sets. I am now studying Accounting at the National Open University of Nigeria.
Where are you from?
I hail from Kajola at Ifelodun Local Government of Kwara State. Though my mom is from Port Novo in Republic of Benin.