Waiting In The Wings— Sylvia Oluchy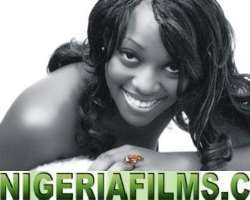 The first time I met her was three months ago at a training seminar organized by the Nollywood Initiative for aspiring Nollywood practitioners in Nnamdi Azikiwe University Awka. Standing at the podium and speaking it was easy to see the whole hall. From that vantage position this young woman stood out not as a sore thumb but as a breath of fresh air. The beauty was undeniable. The full toothed smile lit up the entire auditorium and her few questions asked from a husky voice which was really a cross between Chris de Burgh and Lionel Ritchie was utterly arresting. Nobody could blame me much for wanting to know her. With the nose of a movie director I had smelt out a new star and though I still have not worked with her, I have the believe that this intelligent Abuja girl has her future in Nollywood already mapped out. Let us get to know Sylvia Uche, a graduate of Theatre Arts from the Nnamdi Azikiwe University Awka as she takes her place in Nollywood.
WHO are you and what should we know about you?
I am Sylvia Oluchy. Born in Lagos, raised in Abuja. Last child of six, with 3 brothers and 3 sisters. reside in Abuja. Parents are Dr. C.R Ezeokafor and Late Mrs E.N Ezeokafor. I dream of changing the world for the better not in its entirety but through simply helping those around me in whichever way I can. I love working with children and aspire to be a great mum someday. I want to be an African star by 30, international star by 40, own my own production house by 50 with a clothing line, perfume line, restaurant and magazine called SO! I would want to have foundations dedicated to empowering the African woman and homeless children.
Which movies have you done?
ONE MORE MAN directed by Ernest Obi, SOUND OF LOVE directed by Charles Inojie, IMMATERIAL DIRECTED by Tchidi Chikere, BENT ARROWS directed by Lancelot Imaseun, DETENTION directed by Simi Opeoluwa.
Which one of these movies challenged you the most?
Bent Arrows. The movie spans my character's life for a number of years and shows the transitions in her personality, from naive village girl to wild call girl to a mature and self assured Christian woman.
Why did you choose to study Theatre Arts?
The idea to study theatre arts was actually my mums'. I initially wanted to be a scientist. But 1 have grown to love it and I am still creating things just like a scientist. The difference being that this is even better because rather than make physical inanimate objects, with acting I make people and characters that others can watch, correct themselves through or learn from. It is akin to the powers of God in creation stories of man. Whenever I act I feel like a goddess playing with my characters life like a pawn in my hands, whose destiny only I have say over.
What do you think of the industry as presently constituted?
Honestly the industry is in shambles. I strongly believe we can do better than this. Our characters lack psychological motivation, our plots aren't cohesively constructed and depth has been substituted for length, leaving the movie devoid of emotion. Cinematography is of extremely sub-standard quality. Nigerian musical videos look better than our movies, it is disheartening.
What chances does a young girl have in an industry that is riddled with stories of sexual harassment?
It is a highly competitive and overly saturated business, but I believe that there is enough space in the sky for all stars to shine. As far as sexual harassment goes, it exists in all work places but no one is going to rape you, so if you don't like it simply say no, walk away and wait for another opportunity.
What should be done to correct the anomalies in Nollywood and can we compete effectively with Hollywood right now?
No we can't. Every sector needs improvement. I'd say a good starting place is for guilds to flush out the redundant artistes and to put criteria on who they accept into their guilds. Professionalism should also be encouraged like degrees in theatre arts or diplomas from movie academies like Pefti or NTA film school, Jos for producers, directors, cast and crew.
What would you change about yourself right now?
I wouldn't change anything about my life because it is the mistakes and bad past that make me wiser and stronger. For Nollywood, I would change every single thing.
Where do you draw inspiration from. Who do you admire in Nollywood?
My inspiration comes from watching random strangers on the street and noting their individual mannerisms and what makes them unique, I store it away in my character archives and apply it in different roles when necessary. I like Bimbo Akintola, Genevieve and Mercy Johnson.
What are your favorite things to do?
I do not have a favorite thing. I am not a creature of habit. I like to try new things each time.
What do you look for in a man?
I don't ask for much in a man but he has to have a high IQ, flat stomach and troubles I can tolerate.
If you were president for a day, what would you tackle first?
The electricity issue.
Would you vote Goodluck Jonathan into power again?
Yes and no. Yes, because I think that finally having a south-south president would go a long way in quelling the problems and fights in that area so we can have some peace and make the people of the south feel less marginalized. No, because as a PDP member, he should honor the party agreement and it is still time for the north to rule.
If you were to come to this world again will you still come as Sylvia?
Absolutely, but perhaps just a little richer.
Which book did you last read?
Robert Greene's 33 Strategies of War.
What would you absolutely not leave the house without?
Money.
Where is you favorite hangout?
My room.
Leave a word for your admirers.
I'd say the cliché live life to the fullest and follow your dreams but I want to add especially for youths that they should dream within their own potentials, not everyone can be a rock star or movie star. Those things you enjoy doing for fun or hobbies are your best bets to start your search for something you will excel at. When pushed to the limit also we reveal the true depth of our capabilities and skills, watch out for these things. Don't be a great mathematician dreaming of writing poetry! Practice less violence and more fun now. I love you all. Smile whenever and wherever!
We are smiling Sylvia.