SHINKAFI DEPOSES YARIMA'S BROTHER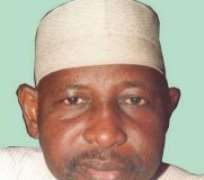 Alhaji Bello Sani was suspended two weeks ago over accusations of misappropriation of funds and gross misconduct, and his deposition came a day after the committee set up to investigate him submitted its report.
In a statement yesterday in the state capital Gusau, Secretary to the State Government, Alhaji Muhammad Bawa, said: 'In accordance with the powers vested on the state governor, the Emir of Bakura has been deposed from the throne.
'The deposition took effect from August 31; the deposed emir has also been restricted from visiting Bakura Emirate without government approval.'
The statement directed the deposed emir to hand over all government property and traditional apparatus in his possession to the secretary of the state's council of chiefs immediately.
'The decision is part of the recommendations of the committee constituted to investigate the petition filed by some people of the area on the alleged misappropriation of emirate funds and gross misconduct by the emir,' it said.
On Monday, the committee set up by the government to investigate the allegations against the deposed emir submitted it report, in which it said Alhaji Bello had failed to appear before it to defend himself. The probe committee was headed by Alhaji Aminu Nahuche.
The state government said the emir's deposition was based on the powers conferred on the governor by section 17 of the Zamfara State Emirate Council (Establishment) Law 2000, and section 3 of the Chiefs (Appointment and Deposition) Law 1997.
Senator Ahmed Sani (Yarima Bakura) has been having running political battles with the governor, and just over two weeks ago their supporters engaged in a deadly clash during a rally by Yarima's All Nigeria People's Party.
Sani's loyalists yesterday said the removal of the emir was an injustice and was politically motivated.
A former commissioner of information during Yarima's administration, Alhaji Ibrahim Birnin Magaji, said the deposition was the 'highest level of injustice, insincerity and politically induced judgment in a state that said it champions the cause of Sharia legal system in Nigeria.'
Birnin Magaji also said Shinkafi was facing a very difficult political moment in the buildup to the 2011 elections, and that 'dethroning Senator Sani's brother will never change the governor's already battered political fortune.'
Sources told Daily Trust yesterday that deposed emir is in Saudi Arabia performing the lesser hajj.