DETECTIVES PROBE HOW 'BRILLIANT PERFORMANCE' EARNED MUSICIAN ARMY UNIFORM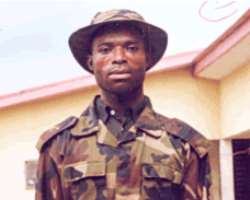 Suspect
Police detectives in Akwa Ibom State, are still investigating the claim by a suspected impostor, who said it was his 'brilliant performance' as musician that earned him an army uniform.
According to him, it was his impressive performance on stage that made a soldier to give him an army uniform he was putting on at the time of his arrest.
Police, however, dismissed the claim, saying the suspect, Felix Smith, acquired it illegally to commit crime.
The suspect, who also described himself as a fisherman, disclosed that he was living in Bakassi Peninsula before it was ceded to Cameroun.
According to him, it was after Nigeria handed over the oil-rich area to Cameroun that he decided to relocate to Akwa Ibom.
'I'm a musician, it was an Army officer who gave me the uniform because of my brilliant performance on stage. I used to entertain them during the Bakassi crisis,' he said.
Meanwhile, the suspect has confessed using the uniform to commit crime, especially, to engage in illegal duties.
The state Police Commissioner, Mr. Walter Rugbere, said the suspect would be prosecuted after investigation.