GLOBACOM, CAF SET TO RENEW PACT ON FOOTBALL AWARDS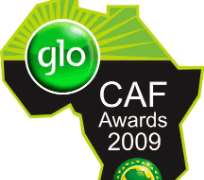 Telecommunications giant, Globacom Limited, and the confederation of African Football (CAF) are set to renew the sponsorship agreement for the annual African Football Awards, five years after both parties signed a historic agreement in Paris, France.
The official signing ceremony for the extension of the partnership will be held at the CAF Headquarters in Cairo, Egypt, on Friday, August 27.
The decision to renew the deal was announced in December, 2009, after both parties expressed satisfaction with the partnership which has seen the awards, known as the Glo-CAF Awards, listed in world football's annual events calendar.
Globacom's investment in the awards ceremony has elevated it to a world class event attracting dignitaries from FIFA, UEFA and other continental football bodies. The 2005 edition which was held in Abuja was attended by the former President of Barcelona FC of Spain, Juan La Porta, who accompanied Samuel Eto'O to the ceremony. FIFA's President, Sepp Blatter, and UEFA's President, Mitchel Platini, were among world soccer personalities who graced the 2008 edition in Lagos, Nigeria.
The event has also attracted government leaders including former Nigerian President Olusegun Obasanjo, former Ghanaian presidents, John Kuffour and John Jerry Rawlings, and former Togolese Prime Minister, Komlan Mally.
Mrs. Omodele Sarafa-Yusuf, Head, Globacom's Sponsored Assets Unit, said the company had invested more than $10m in rights fees and organisation of the award ceremony in the past five years, and succeeded in elevating it to a world class event. 'Globacom has added glamour to this event and our feedback from our guests is that it is an experience they long to enjoy many times', remarked Sarafa-Yusuf.
Summarising the company's involvement in the last five years she noted, 'When in 2005, the Confederation of African Football accepted our bid to sponsor the annual African Footballer of the Year Awards, Globacom made a promise to raise the quality of the awards organisation. We promised to touch lives in Africa , especially those of African youths who find expression for their talents through football. Five years after, we look back with pride and sense of accomplishment that the CAF Awards has become a premium event in world football calendar.'
Globacom also declared that it had succeeded in creating in African players a sense of self worth by elevating the ceremony to an event that has captivated the global football media and stakeholders. 'Through the Glo-CAF Awards, Globacom has made African players proud of their accomplishments in football. This we consider the highest point of our involvement with the awards and we are determined to take the event to greater heights,' she added.
The last five editions of the awards ceremony were held in Abuja in 2005, Accra in 2006, Lome in 2007, Lagos in 2008 and Accra in 2009. The date and venue for the 2010 edition will be announced at the signing ceremony in Cairo .