NIGERIANS NEED MOVIES MORE THAN FOOD – ZACK AMATA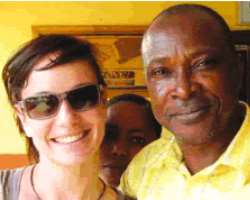 Zack Amata with Sara Tancredi on set for new film
Popular actor and producer, Zack Amata has described his role, Mr. Okonzua in the rested popular soap opera Behind The Clouds as mere make belief rather than a sign of wickedness. He disclosed how Behind The Clouds made him famous, but said it was rather shocking that the same role turned him into a villain.
He recalled how a lady once saw him at the Murtala Muhammed Airport, Lagos and almost fainted when he spoke to her. 'She said she taught I was so wicked, '' Amata told Daily Sun in an interview recently at Keffi, Nasarawa State during Society of Nigerian Theatre Artist's (SONTA) Conference.
'It was not that I was a villain in Behind The Clouds but a lot of people were afraid of me. Mr. Okonzua was a no-nonsense strict disciplinarian which quite a lot of people say I look like. It is the way my father is in the drama. A lot of people identified with me as a father through the role of Mr. Okonzua. It was a nice time I had playing that role.''
How we started Behind The Clouds
My late friend Matt Dadzie who was producing a television drama came to me and said he had a problem. I asked what the problem was; he said he was looking for students who would act in his TV drama. I told him I have students who are very good actors and actresses. I urged him to come along so that we fix an audition; then he would audition them and give them roles to play.
On the appointed date I took the students to the audition. And to help them get into character too I auditioned for a role. Immediately I started Matt Dadzie said that was enough. That he has found what he was looking for as a key role. So after the audition the casting was done and we started Behind The Clouds.
Behind The Clouds made me popular
Except for some shows I have done with Emma Eleanya in Aba when I was serving in Owerri, Laolu Ogunniyi in Ibadan, it was Behind The Clouds that made me very popular. There was a paper delivered by Regina Acholonu during a conference on Behind The Clouds. She said in her study, students in Enugu said they like the character of the villain in Behind The Clouds. But the truth is that because I played the role of a Mr. Okonzua, a villain in Behind The Clouds a lot of people were afraid of me.
I was only living the life of another being for that particular period of time. I can change my whole character as it were; go from one character into another one. However, it is rather ironic that Behind The Clouds gave me the platform through which a lot of Nigerians got to know me. I used my experience to teach the students that acting is absolutely concentrated thinking. In fact the Bible says as man thinketh so is he. So that is the way it is
Behind The Clouds
I played the part of Mr. Okonzua, father of two, a boy and a girl, Nosa and Efe. I think what the scriptwriter Matt Dadzie, Pius Giang, Ene Oloja, Dan Emeni were trying to do was that there are certain values that we have in this country, but because of the laxity that we have grown up with and the apathy towards doing the right thing, people say that I was to strict, that is Mr. Okonzua was a no-nonsense strict disciplinarian.
How I realized Mr. Okonzua
For me, acting is like putting on a shirt. I can wear a shirt and jeans one day, when I remove them, I put on a suit. So I do not really know how I felt that time. At a time when they ask me do this, I transport myself to a different plain and think what the kind of person I am playing will do. Then I transport myself into that plane. When I get into a character, after the production is over and I come out, I forget. That is what I think life is all about. I can remember other productions like After The Storm, I was made to play a scheming uncle who wanted power. There was Blossom; and I cannot even remember many others
Acting in my son's production
We shot the story of Queen Amina of Zaria. It was by my son Jeta Amata. I played Galadima, the uncle of Princess Amina. He wanted to take over the reigns of power. He was a brother to King Bakwua of Trunku. There was much of political scheming in the movie.
Film industry
Yes I did some films with my brothers and one or two other people. I cannot remember most of these films. I think I have to heed to Prof. Ayo Akinwale's counseling that I should start remembering films because they are important.
The movies I feature in
It is wonderful. It is vibrant. It is growing. But the question is what actually is the film industry? It is our people telling stories to ourselves. The truth is that people need stories more than they need bread. Why? This is because stories teach them how to live. When Jesus Christ was on earth he used stories to teach people how to live.
So the Nigerian film industry is teaching Nigerian people how to live. But because we are a nation of people who complain a lot, we are teaching the people how to complain, how to be dependent and be dishonest. That was why at a certain time Nigerians were complaining that there were too many rituals in the films. You cannot blame them, it was because you cannot give what you do not have.
If the people who bring the money for the films are those who complain, who have grown up in a dishonest environment the stories they are going to tell the audience would be stories based on dishonest people. The truth is that as we improve we must come back to the word 'me.' What story is all about is to help me to live better.
Most challenging role
All the characters I have played are challenging. I like the role I played in Queen Amina, because I had to learn how to ride a Horse. There were certain scenes that the Horse had to gallop with speed and I could not do them. We had to get somebody to gallop the Horse. On that set, the Horse threw down Enyinnaya Nwigwe, who got on the Horse nobody knew what he did to the Horse and it galloped with speed. This man had not ridden a Horse before.
What saved him was that the Horse galloped on a tree and he held on the tree. He left the tree and the Horse continued galloping. And Enyinnaya fell from a speeding Horse. He got up, but had serious bruises. This happened in Zaria. I must tell you, I was afraid. Then when we went to Kaduna to shoot other scenes with bigger Horses. In fact the Horses we used in Zaria were Nigerian Horses, but in Zaria, the Horses were as big as Mercedez Benz cars. They are really huge. When they moved the ground shook.