TEJU BABYFACE CHARM LATE NIGHT TV VIEWERS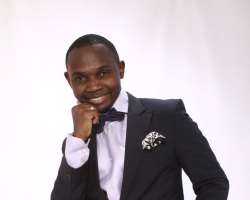 Teju Oyinlakin popularly known as Teju Baby Face is bringing back life, excitement, humor and first class content to late night TV.
The Teju Baby Face show which he describes as "a divine call from God" comes at a time when colleagues Tee A and Alibaba are on the verge of launching their own independent TV shows. And the fans are the beneficiaries as these gentlemen bring back life to late night TV
With Teju thrilling us with a parade of first class guests like KSA, T.W.O, Dele Momodu, Asa, 2face, Pat Utomi, the David Letterman type show is gradually becoming the favorite of TV viewers in Nigeria.
With a fresh new twist to a genre popularized by comic idols David Letterman, Ellen DeGeneres and Johnny Carson, Oyelakin effortlessly mixes humor with life style and personality as he gets up-close and rib- cracking personal with celebrity guest in no-holds barred battle of wits.
A child of necessity, TBFS debuted on May 4, 2010 as an engaging talk show with a difference, and immediately got pundits and critics talking. A Comedytainment, TBFS provides fun and entertainment to TV viewers across the country and beyond.
"We are breaking new grounds; nobody has done this before in our industry, as far as I know. On the show, we bring in some serious issues and present them in a comic way to make people conscious of such issues, as well as entertain them too" Teju who has worked as a stand up comedian for over a decade says
Born Ace Comedian Teju Oyelakin but popularly known as Teju BabyFace has had his hands on a lot of Entertainment materials spanning through acting to modeling, comedy and most recently a talk show. A graduate of the University of Lagos, Mr. Oyelakin has over the years redefined his brand, and giving fans and critics bit and pieces of what he has to offer.