Tatiana & Kaone "Evicted" from Big Brother Africa All Stars then return to the House with "Daggers"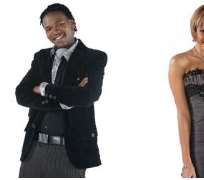 It was the first eviction show of the 'All Star' season of Big Brother Africa. All the housemates were up for eviction and we just knew that 'biggie' had something up his/her sleeve!
Before we get back to the evictions, its been an interesting week in the Big Brother Africa All Stars house all week. The housemates have spent the week getting to know each other and basically getting reacquainted with the Big Brother Africa experience. We've had Munya and Meryl take a steamy shower together (well not really 'together' but at the same time in neighbouring shower stalls), there has been some sizzle between Sheila & Hannington – she seems quite open to the idea, though she warned him that he might not be able to handle her lifestyle. Hannington on the other hand has been warned by Uti who admits that Sheila is hot but 'trouble'. Uti admitted he fancies Jen and asked the other housemates if they "Had Sex in the House"
Finally, the other big news was the Housemates' Revolt. The housemates got really rowdy on Saturday as they were protesting the lack of food in the house. When things got out of hand and guards were sent in by "Biggie" to calm the situation, the housemates took them hostage and didn't let them leave. After discussions between the housemates, Tatiana (Head of House) and Biggie; Eventually, the guards were let go and Big Brother rewarded the housemates with an abundant supply of food.
Back to the evictions, Tatiana and Kaone were evicted because they got the lowest amount of viewer votes. However, Big Brother nullified the evictions and reinstated them into the house. That wasn't all, they were allowed to issue two 'daggers' to the other housemates.
The first dagger this season, makes the chosen recipient dress up like a pig, clean the kitchen, bathroom and toilet three times a day with ear-buds and a toothbrush.
Tatiana chose to throw this dagger at South African Housemate Lerato and explained that it "will be funny to see!" Lerato will have to keep this up for a week.
The second dagger was thrown by Kaone. This forfeit forces a Housemate to dress up in a French Maids costume, remain awake after all the other Housemates are sleeping and make sure that the House is spotless before going to bed. Kaone chose Uti as the unlucky recipient.
The Housemates that have received a Dagger in the Back from the two Evictees will have to perform these duties for an entire week.
An interesting week in the BBA All Stars house. Big Brother also unveiled a mysterious 'barn', we wonder who will be sent there. 'Ekaette' singer Maye Hunta also performed the official BBA All Stars song – African Star at the eviction show.