How guys bend to see my underwear---Cynthia Omorodion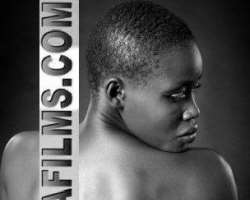 Cynthia Omorodion, Next Supermodel 2008 has sensationally revealed that guys actually bend double to see what models have under when they mount the podium to showcase their talent.
In this interview with NFC, 20-year-old Cynthia, who, apart from signing new contracts and having a change of wardrobe also went home with a brand new Kia Rio car, in a competition where Okai Marcia emerged 1st runner up and Oluwafunmilayo Arabambi, the 2nd runner up also spoke on her parents' indifference to her choice of career, adding that she remained unperturbed with their attitude because her primary aim was to make a success of her chosen career.
Excerpts:
Road to victory
It was based on my performance and the Grace of God because I was not more beautiful than other contestants.
Prizes won as Next Supermodel
I got a Kia Rio Car, a trip to South Africa and a contract with LT Modelling Agency in Paris and Cape Town.
Journey into modelling world
I actually started modelling in 2005. Before then however, while still in the secondary school, some people kept asking me whether I was a model. Then, I had not heard or known anything about modelling.
What I knew about then was beauty pageants and I actually had plans to contest Miss Nigeria pageant. Here I am.
Education
I was a student of the University of Benin, studying to become a lawyer, but had to stop at the diploma level when I won in 2008. As soon as I handed over to the Next Best Super model in 2009, I went back to school.
Reaction of parents
They don't care about it and are neither here nor there. They are indifferent about it but I have chosen modelling as my career.
Flair for fine arts
I like to venture into Fine Arts because I like drawing.
Upbringing
I was brought up in Benin. I came to Lagos in 2005.
Kind of man
I like a normal guy, not holier-than-thou. He must be tall, cute and comfortable and at God's own time, the kind of man I would like to marry will be the one that would appreciate my career.
Sexual harassment
I have never experienced sexual harassment and it will never be my portion. This is because I don't give room for nonsense and I avoid any situation that will make people harass me.
Jobs outside Nigeria
I am presently modelling in South Africa.
Why I opted for South Africa
That is where the business is. The pay is better over there.
Job in retirement
I would love to become a Judge when I retire.
Leisure
I love to dance, because dancing is my hobby.
Coping with stage fright on the runway
I experienced that last as a fresher, not anymore.
Stage malfunction
That is what makes a model. You should expect the unexpected. One should be ready for anything.
Model I admire
A lot of people like Alec Weck, Oluchi Onweagba and some other models.
Boyfriend in South Africa
I don't have a boyfriend in South Africa. I am alone there.
Number of children I plan to have
I would like to have five children.
Job satisfaction
Yes, it pays my bills.
Monthly take-home
I won't tell you that, but it is very okay.
Advice for young Nigerians
Keep your head up. Expect the best out of life.
Firm breasts & models
Anybody can model, irrespective of the size and shape of their breasts as long as you can carry yourself well.
Challenges
There are a lot of challenges. Sometimes, some members of the audience bend down to see what you have under while you are walking down the runway, I don't however care about that because I don't want to be distracted.