I Took A Break From Acting For Fashion –Clarion Chukwura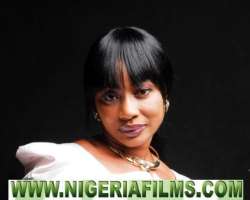 Born into the household of John and Christiana Chukwurah on Sunday, July 24, 1964, Clarion Chukwurah has been able to manage stardom for 26 years. She hit the stage as a keen teenager in October 1979, when she played the role of Lady Macbeth in William Shakespeare's Macbeth and Mary Magdalene in Jesus Christ at her secondary school, Queen of Our Rosary College in Onitsha, Anambra State.
Not long after, she became a semi-professional actor with the University of Ibadan Performing Company and also joined Tunji Oyelana's band "The Kenneries" as a back-up vocal. This voracious reader and lover of historic events, eventually turned professional within the spate of five years and stunned lovers of screen in 1984 when she starred in Lola Fani-Kayode's soap opera, Mirror in the Sun.
Clarion made headlines when she had a brief romance with Juju ace, Sir Shina Peters – the product of the union is the brilliant cinematographer, Clarence Peters – but still held her head up high and focused on conquering the make-believe world.
Twenty-six years after, Clarion has established herself not only as a brilliant actress, having featured in several flicks but has also redefined her purpose in the world of showbiz with the establishment of her company – Jade Production Ltd.
According to her, "Jade was established in 2007 with a vision to be Nigeria's reference point in television/movie production, content provision, fashion, gift/souvenir packaging and production. Jade is the parent company to Clarion Chukwurah Clothing and Clarion Chukwurah Enterprises limited.
"Clarion Chukwurah Enterprises limited handles the retail side of the business. This arm handles gift/souvenir packaging and distribution e.g. gift hampers, party favours etc. while Clarion Chukwurah Clothing (C3) caters to the age demographic 14-50 years. It is a ready-to-wear line, which consists of T-shirts, dress-tops, and jeans etc., and most importantly, it is very affordable," the screen dazzler said of her establishment.
Speaking further on her new vocation as a designer, Clarion said, "Our clothes are made from very comfortable materials designed to cater to the humid nature of our weather and has the signature style of Clarion Chukwurah. The clothing line was launched in July 2010 with the Jubilee Collection designed specifically to celebrate our nation's 50th independence anniversary. The last quarter of 2010 would usher in the Urban collection of the clothing line. We are working in partnership with select stores in Lagos and Abuja for sales of the collection," the actress, producer, philanthropist, director and mother, said.
The actress, who has appeared in several Nigerian stage productions, home videos and films that includes Oduduwa, True Confession, Owo l'agba (Money Power), Glamour Girls 2 and Ogidan, explained that her incursion into the world of fashion designing is a two-year dream that has eventually manifested.
"My hope to launch a high street label became a reality with the onset of my short break from the acting profession to implement a two-year dream of owning a clothing label. Now with the break, I'm committed to experimenting with my strong, lifelong passion for fashion, design and style.
"I strive to redefine work and casual day clothes that suit our humid weather with unique, stand out pieces that reflects a sense of effortless elegance and glamour but most importantly, reverberates the spirit of the Nigerian. I enjoy designing dress-shirts, T-shirts and pants with a penchant for feminine prints and details, but we would also be catering to the men, as well with denim pieces, trendy T-shirts and shirts," she said.