MY HUSBAND IS ADORABLE AND RIDICULOUSLY PATIENT – NIKE OSINOWO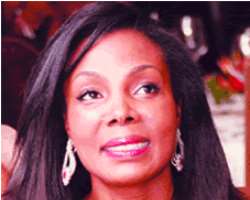 Nike Osinowo
She was once a beauty queen and is currently putting in place modalities to re-launch the Miss Nigeria Beauty Pageant, a project she's been pursuing with so much zeal and passion. Who else is better equipped with the intellect and charisma to organize the pageant other than Nike, the one time Most Beautiful Girl in Nigeria? In this interview, she gives a peek into her marital relationship, her health problems, how she's been coping with life and her celebrity status. Excerpts…
Let's talk about the Miss Nigeria Pageant, which you are working on right now. What actually prompted the idea?
I don't know really because the idea was not prompted but it just happened. Honestly, it quite literally just occurred to me. I was approached and when the opportunity of the Miss Nigeria project came, I literally jumped at it.
I was like whoa! Absolutely I love to run the pageant. Who wouldn't want to run the premium pageant, the very first? Who wouldn't want to run something with such history? Who wouldn't want to associate himself or herself with it considering that this is Nigeria where we never get to keep anything. Nothing of old is of any value so we have very few things that are old. Miss Nigeria has existed since 1957. I was like whoa! Absolutely I'll like to do this.
You are a product of MBGN Pageant and now you are going into Miss Nigeria. How does that work out?
You know what I found out? That is how amazing God works. I'm a product of MBGN and one of its success stories. Ben Murray Bruce and I find it most amusing. He thinks that this is wonderful and that his queen is now running the Miss Nigeria pageant. It is a wonderful thing for both of us. Don't forget also that I'm a former beauty queen and this equips me better really to deal with all the hoopla with the pageant. It equips me better to help whoever emerges as the queen. Besides, I'm a woman.
When is the pageant coming up?
On the last Saturday in September, this year.
What was it like when you were the Most Beautiful Girl in Nigeria?
Hmm! Oh those years back. It was interesting. I say interesting because you would want to say wonderful, but it was not wonderful because there was so much pressure on me and I was young and people forget that you are just a girl.
They imagine that you were born that way but I was not born a queen for goodness sake. I entered the pageant and I was crowned. But my entire life changed thereafter and all that is in the past. Everything about it actually changed the direction of my life because I actually had my life all mapped out. I was about to graduate from the university. I was going to get a job in a merchant bank, because I was interested in corporate finance and the rest but look at what I'm doing now, it's remarkable . I like what I'm doing. It is like saying that man proposes but God disposes. That is what happened to me. I had all this grand plan of what I wanted out of my life, but God changed all that and his own programme ultimately panned out.
Many believe the lives of beauty queens are filled with fairy tales. What is your experience?
You know something, it is filled with fairly tales and all that but have you watched fairy tales? Fairly tales all have sad moments but also happy endings. So, I hope mine has a happy ending. I love what I'm doing, I love my life. I'm not satisfied just waiting for the happy ending. I want that happiness all the way through. I cannot say that I finally have the formula that works for me but I do know that I want more of the better part of the fairy tales. For the young ladies that purchase the form hoping to be Miss Nigeria. I can give them better than a fairy tale. Its not going to be happy ending, it is going to be a happy story with happy ending.
What will the winner of the pageant gain?
Whoa! An extraordinary opportunity of a fabulous future because she gets her whole life changed. She gets the opportunity to get into any institution of higher learning anywhere in the world. She gets the very best education money can buy apart from the usual luxury car, accommodation in Nigeria, fancy clothes; in essence a fairy tale life but I think that the most important thing is the gift of education because that is what we would pay for if she wants it and she is very smart because I remember when I was in the Miss World pageant, Miss India was a nuclear scientist. The year after that Miss India was a doctor, that's how it was.
The Indian queens were phenomenally intelligently intimidating. I think Miss Russia then was an inventor. So, you can imagine she is someone from some village somewhere far away and does not have access to first class education and she wins the Miss Nigeria title. Once the year is over and she gets accepted into a first class university abroad, you can have a first class doctor, lawyer, fashion designer, pilot or whatever it is she wants to study, she gets it.
We have had several beauty pageants in Nigeria through the years, what makes Miss Nigeria different?
You know we say it is usually quite embarrassing that we have had so many pageants; Miss everything that is quite ridiculous. What distinguishes us is the fact that we are the first. The pageant started in 1957. We pre-date Nigeria's Independence. When Nigeria gained independence in 1960, our queen was part of the celebration.
If you look at the definition of the word pageant, it is pomp and celebration. So, it is all about pageantry but we have no swimwear elements to our pageant. There is no swimsuit. We are not interested in the near nudity of the ladies. We are actually not that at all, we are about promoting cultural values, family values. The whole family is involved – mum, dad, Uncle, aunts, pastors and all of them sitting and cheering the girl to win that is what we are about. We want the old world calendar back, an event once in a year, the whole of Nigeria will look forward to the pageant.
Will you be going out?
That is another unique aspect- the fact that our queen will not travel the world to participate in any pageant. So she does not need to be tall and slim. We are looking for more Nigerian-ness. Whatever Nigerians decide the perfect Nigerian woman should look like, that is what winner would look like. Not just a curvy lady, whatever it is they decide to choose because the whole of Nigeria uniquely for the first time would take part in choosing the queen because there is a two-week reality element to the pageant. After the zonal level, girls will be put in the house and that is turned into a reality show and everybody at home can send SMS and vote in or vote out and say what they want or like. We give the girls chores to find out if they can cook. We want to know if they have family values. Also we want to know how intelligent and beautiful not just physical but inner beauty because we are not just interested in the physical beauty of the girls. But they will be judged according to their intelligence, poise, elegance, sense of Nigerian-ness as it were and everything about them. That is what reflects uniqueness about the pageant.
You used to run Skin-Deep sometime ago, what happened to it?
I love what I do and everything I do is within the beauty industry. I didn't close down Skin-Deep. It became too successful too quickly and sometimes they say be careful what you wish for, you might just get it. I wished to participate in the beauty industry and I started off the spa business in Nigeria and it succeeded. I had done everything within it and there was nowhere else to take it and I needed new challenges and had other dreams. I thought I would be able to do that for only 10 years but after seven years I was down because I had done everything one can possibly do with it but I was actually made an offer and I accepted it, so I sold it.
How long did you run it?
I ran it for seven years and it was actually while I was running the business that I realized what I truly wanted to do was to have my own range of products. I didn't want a spa selling but I wanted to be able to put together my own products. So I went about analyzing all my favorite products and what I like about them and so I decided to create my own range of products. Now I am organising the Miss Nigeria pageant; so everything I am doing is within the beauty industry.
You recently talked about your health?
I have a medical condition called endometriosis. It is not a recent thing; I have lived and worked with it and it is a very painful condition. I worked through it and it is very challenging but we all have challenges. You will be impressed that I have been able to get up in the mornings and be able to do my work. I have had it since I was 30 and now I am 45 but nobody knew I had it until I turned 40 and I chose to speak about it.
The reason I spoke about it is because there is an epidemic of endometriosis in the world and we keep things to ourselves. People like me who suffer from it don't talk about it and I think that if I am in the limelight I should address certain things so that young girls shouldn't think they are abnormal but know how to carry on with their lives. There is no perfect being, people look at me and think that I am perfect but I am not but I love and embrace my imperfections and those are what makes me. I am looking for a young girl that has a dream of improving and wanting to achieve and be the very best of what she can. We are humans and not God.
What was it like growing up?
I have fond memories of my early years. It was fun but I spent a lot of time away from my parents because I was sent to boarding school abroad when I was seven. When you grow up with a lot of people your age, it is a whole lot of fun and nice. I have regrets about how I grew up though, it is now I'm traveling around my country that I am so excited because I am learning so much; I feel I missed out. I wish my parents had waited until I was 13 before sending me abroad instead they sent me when I was seven. They thought they were giving me the best; honestly, they did give me the best for a child really but not the best for a Nigerian child. I was a Nigerian child and I love my country.
What is the best for a Nigerian child?
To learn about their heritage and know about where they are from, to have a sense of being which comes from the earth, sand and soil that is Nigerian. It is the very soil I was taught about when I landed in Calabar and I was in awe of the place and when I went to Lokoja, I fell in love. I thought I could fall in love because of the fact that I was from that soil.
What is your fondest memory of your father?
He loved me and used to take me to the Tennis club in Ibadan so I could watch him play table tennis. I remember that vividly. I grew up as a daddy's girl and you know daddies love their daughters totally while they are growing up. I was the first daughter but then you become an adult and all of sudden you are grown up.
Talking about growing up, I read somewhere that the Miss Nigeria Pageant is my newest baby. Strangely, this is true – it is like my child and I am nurturing it and giving it my all. I am learning from the process as well and I love the fact that it is has been taking me around Nigeria and I am learning about my culture, heritage and about the different tribes which is unbelievable.
What was the attraction to your husband?
I don't know because I don't have any idea. I am going to tell you a simple truth, I usually have a plan but my life doesn't usually go as planned. God usually just takes over. I had a certain type of man I had wanted to get married.
What was it like?
My type of man wasn't about physical; I am not into physical attributes at all but I had a certain type of man in my head that I felt was the kind I should marry the same way I had a certain type of career and that was where I was heading and God took over. I didn't choose my husband either my career or life, it happened to me. Once I realized what was happening I yielded because He is the better driver of my life.
So, what makes him so unique?
I learn from him everyday; he is remarkable and ridiculously patient with me. He adores me and I love him right back. He's got a sort of grey hair I find incredibly attractive. He has a wicked sense of humour; he is very smart and clever and I love such people. He is not from my world at all; I couldn't marry someone from my world because it will just be chaotic. He is a doctor so his world is completely different. He comes from a medical family and I think they all look at me with wonder. I think he and his family are all quite amused by the thing I do and they are not quite sure because I don't get up and go to the office and do surgery as they do.
How have you been able to balance your career and the home?
The truth is I don't know but I just make do. I am not a super woman rather I do the best I can. I try very hard to be me because that is what he loves. There are not set rules but we are considerate, I am considerate of his need and requirement and likewise him.
How does he handle the publicity?
I have been Nike Osinowo for 20 years so this is all he has known. I think maybe if I wasn't in the limelight, he will be wondering why. This is what we are used to, this is what it is for us and I am not sure it is ever going to change and we just deal with it and he is used to it. This is all he has known and nothing different. I don't know anything different anymore.
How did you meet your husband?
The first time I met him, I disliked him totally. I didn't think there was anything to like about him. He was with a group of men talking about their cars, money and fancy houses, one contract or the other. I just thought it was horrible. Then a few months later I was on a plane going to Abuja and I was sitting next to him and when I don't like something, it's obvious and I hate having to talk to strangers. Then he started talking to me and I discovered this other human being existed in him, this intelligent person. He was talking about Nigeria and how he was writing his book and I said whoa! So when that plane landed in Abuja I was the one asking for his number and he gave it to me.
How did your husband propose to you?
On the train. I was coming from Paris to London and he persuaded me to wait for him in Paris. He joined me on the train and proposed to me right there on the train.
Did it ever cross your mind you were going to marry him?
First I never thought I was going to marry because I didn't think that I needed to because I felt everything that a husband will give me, I already had and could give myself. Also I didn't feel that I needed that headache. Secondly I didn't want the pressure of having to have children because I wasn't sure I would be able to have. And thirdly I just felt he didn't fit into my head as the ideal man I wanted. He was just so different from this whole thought in my head. So I didn't look there at all for a relationship or marriage or anything. So it took the poor man seven years to open my eyes to see him as a man I could possibly marry.
So, for the competition will you be going to different states?
We have five zones and those zones, we will hold zonals. After the zonals we will then have the reality part. The zones include, Lagos, South East, South West, North East and North West. We are going to have a representation from each state.
If a girl wants to participate in the pageant, what are the requirements?
She should go to www.missnigeriapagent.com to download the form and pay N5550; otherwise you go to any First Bank branch and pay for it, fill the form and return to us. If you live abroad you can go to any of our places abroad which you can on the website. When submitting the form, attach a photograph of you. The criteria have nothing has to do with height or weight. I met a lady the other day and I told her she looked incredible and I hope she will buy the form. She said no, that she is too big. I said I'd crown you today, if I had the chance. Everyone thinks they need to be slim, tall but they don't. In the Miss World pageant, the girls from Croatia are the shortest and usually air hostesses because the most beautiful work is found in their national airline but they are tiny. But we have in our head that we have to be tall to be a beauty queen. No, you are not models and representing your country.
What will you be looking out for in these girls?
We will be looking out for a whole lot of things. How intelligent you are? Their sense of values, what kind of values do they have? Who are they? Do they have any special talents? Do they read and do regular things? It's about beauty and brains. It's not about what your body looks like, which is why I don't need to see you in swim wear to be able to judge that. I don't need to see what your body looks like; I can judge you from talking to you.
What are your likes and dislikes?
I love food and I love sleeping. I could sleep for Nigeria. I don't like silly people. I don't like people who are not serious. For example my love for food is a serious love for food. I like passionate people; I'm a very passionate person. When I talk about food, my eyes light up; every hair on my body stands up. I like people who know what they are doing. I like intelligent people and I think that's one of the first things that attracted me to my husband; he is intelligent, his knowledge. I love knowledge.