NEVER SAY DIE, DEATH REDUCED HER FAMILY OF 12 TO 3 IN A COUPLE OF YEARS, BUT TV PRESENTER/ACTRESS VOWS I WON'T GIVE UP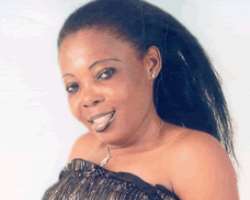 Ngozi
The story of Ngozi Eucharia Udenevo is as pathetic as it is interesting. It is a moving story of the resilience and never-say-die spirit of a survivor. Born into wealth, this beautiful lady grew up to watch calamity befall her family in succession. In the same quick pace, she gradually saw her family diminish. From 12 members, they were reduced to three. Even Ngozi, one of the three survivors, is today living with disability. But the strong willed lady has vowed to carry on.
She has not relented in her pursuit to make it despite the deformity that stunted her growth and the kind of reception she got from people, who see her as someone to be pitied.
The story is best replicated as told by Ngozi to Saturday Sun . Hear her:
I am a street girl. I am from Mmaku in Awgu Local Government Area in Enugu State, but I was born and bred in Lagos. I am from a family of 12. I don't have a sweet story. My story is a very bitter one of 12 children, who died one after the other, including the parents. None of them died at a tender age. They were between the ages of 12 and 25. After the death of my mother, there were seven of us. I didn't grow up knowing my dad, but my mum told us that he died when I was just four. Three of my siblings had died at infancy before I was born. I am the second to the last child of the family; the third female. I have two younger ones who are twins.
My dad was a successful businessman. He had shops in Onitsha and Enugu. Then, my state was not Enugu but Anambra. He usually travelled from Lagos to the East twice every week. Maybe he did some business with some people who wanted to kill him, but I don't know much about the story and as a Christian, I don't want to say something I don't really know much about. Some say his death was from a poison. That was the story I got. But when I was still young, my mum was handy. She had many shops in Ojota and Ikorodu in Lagos. She was a dealer in fabrics and also had restaurants across the state, and life was sweet.
When I was in primary three, I used to represent my school in athletics. I played football, I ran, and I jumped. So when we moved from No. 25, Aina Street, in Ogudu, Lagos to where they call barracks in Ikorodu, into my mother's building, I used to run for the school – Army Children Primary School. When the barracks was demolished in 1985, I was part of those that were transferred to Zurato Pioneer Primary School, Odoguyan. When I got there, because I already had some fame, it was easy to key in and everybody loved me. So I started competing for the school. There was a time they took us to Kwara State, to represent our school. I was like 8 or 9 years then and we returned with trophies.
When I was about 10 or 11, my school hosted an inter house sports, where I participated in almost everything. I jumped, ran and played football.
I was still resting after the race when they called for the high jump team. I jumped and I fell. People were still cheering but the ones around me noticed that something was wrong. They didn't want to blow it out of proportion so that the inter house sports would not come to an end. They took me to the headmaster's office. Because my mother was rich, she was one of the school committee members. So she witnessed the incident but thought it was just a normal thing until after some minutes when I could not come out.
When she noticed the school arranging for a vehicle, she stood to know why. Before she got to the office, they had already driven me out of the school. It was her shout that made people to know that something bad had happened. I was hospitalised for about one week and nothing happened.
People speculated that it was caused by some mysterious factors. Nobody said anything in the medical line concerning bone. So my mother believed people's suggestions and went everywhere with them to find a solution. At a point, my mother took me to the village to my father's family. Later I was brought back to Lagos when there was no noticeable improvement. Like a joke, I got bed-ridden for one year and six months.
I can't walk, talk or eat. Mum was the only one that fed me with pap and cleaned me up because I could not get up to ease myself. The room I shared with my sisters became strictly for me.
One day, she came back from her business and discovered that the care home she put me wasn't really taking good care of me and she took me back home. She remained my strength and kept encouraging me to survive it all and get back on my feet.
On a particular day, as my mother left for work, I suddenly regained my strength and consciousness. As I got up, I walked around and did not see anybody at home. Because I had not been conscious of the fact that I had lived alone that way for 18 months, I went into frenzy, thrashing and hitting to attract the attention of my family members.
People who heard the noise of my hitting ran to alert my mum that robbers had invaded her home because they never knew that there was someone locked inside. By the time my mother got home with two policemen, who forced the door open, they found out I was the one. Immediately my mother saw me on my feet, her fears turned to shouts of joy. She couldn't contain her excitement, as she ran in all directions in the house and at last held me. That day, she killed a fowl to celebrate my return to life. It was a celebration in my house. We could not sleep till 2am.
Just about five days after I came back to normal, my elder brother, Jude, who was a musician, came back from the University of Lagos (UNILAG) to see me.
He and I ran around the home playing football. At a point, he sent me to pick the ball and when I bent, he noticed a lump on my back and asked if I had shown it to my mother. But I wasn't feeling any pain.
When my mother eventually heard of it, she thought it was a boil that would soon go down. Nobody thought of any bone dislocation or spine problem. All the while I was on sick bed, that was what I was suffering from, but nobody knew it. It was after it had formed that I got up. Nobody administered any medication again. Some people suggested that I be operated upon, but my mother decided against it, with the belief that her children never came back alive from the hospital. Even when one of her wealthy customers volunteered to take me out of the country for treatment, she refused.
In 1993, during the Abiola crisis my mother died because hospitals were not working. She was bleeding from her nose and it was like breast cancer. These days, with the awareness, I understand what breast cancer is. One of her breasts was swollen and discharging pus. At LUTH, they refused to attend to her.
Considering the problem with my father's family, the only thing they could do was to assist in taking her corpse home for burial.
Three months after the burial, the family sat to know what to do with the children. Meanwhile, the lump on me was growing. There was a time I could not even walk. Before my mother died, she had adopted a medication. Every night, she would ask me to lie down, and then she would force the bones to straighten.
The children were not babies. When my mother died, I was about 14 years old and the twin boys behind me were 12. Only the eldest was married. The family asked her if she was comfortable with taking any of us to stay with her. She replied that it wasn't necessary because we had a house in Lagos. She advised that we lived in our house while anyone who felt like assisting us would reach us there. That was not agreeable to them. They dismissed her suggestion as just part of her late mother's stubbornness.
My immediate elder sister, who was in her second year in LASU then, later died in 2005, and our brother, a musician, had died three years after our mother, in 1996. He had visited our town, for the first time since my mum died, for the New Yam festival with other young men. He had started attending shows and he was beginning to make little money and he thought all was well already. He innocently went to the village for the festival and when he came back to Lagos, he attended a show and came back with fever. And before long, he was gone.
The five of us that remained decided to survive and that involved packing out of our father's house in Lagos so that those after us would have it and leave us alive. As we left the place, some changed church from our traditional Catholic.
My immediate elder sister, who had graduated, got a job in Port Harcourt with a plastic firm.
On January 31, 1995, I gave my life to Christ, while my eldest sister, who was married joined the CAC. My immediate elder sister refused to change, but she was becoming successful and she refused to leave Catholic. She was a supervisor in the design department of the company.
In December 2004, she came home to tell us that she was getting married; that her spouse was coming a week after to see us. We were happy. My younger brother suggested we would not go to the village but would rather handle all the marriage rites here. The man actually came, as planned and told us that the wedding would take place in April 2005.
My sister, who was planning her wedding, used to send me money for my birthday every February. But in 2005, I waited, as usual and got to response from her. Just two days to my birthday, there was no message, and I got worried. I called her and later got the usual response.
But on March 3, somebody called me to come to Port Harcourt immediately. I didn't know who called, but I called back to find out what happened. I met my eldest sister and told her what happened and she too was alarmed and volunteered to go. We left the following morning to Port Harcourt and met the lady who called me. She told us that my sister was in hospital. She couldn't talk, and couldn't move. She took us to the hospital. We were told she got to work the previous day, only to sit down and suddenly collapse. That was all. I prayed till my voice cracked. When she opened her eyes she couldn't recognise us. But one of her arms was already paralysed. She also narrated the same thing we were told earlier.
I left Port Harcourt that evening and came back the following day because I had missed a day already at work. The following Sunday, I was happy that I gave testimony to thank God and we prayed. Two days later, there was another call that we should come but with two elderly people from our family. It dawned on me that she was gone and I told my aunt that I wouldn't go because I knew she was dead. The night she died, I saw her in my dream in chains. She was tied to a tree and was stretching her hands towards me to help her and was saying that I should try harder. I was urging her also to come out repeatedly till I woke up.
I called her phone number and that of her husband-to-be, to no avail. She died a month before her wedding scheduled to hold in April.
After that incident, I withdrew into my shell. Considering the kind of environment we were in, when I walked past, people looked at me with pity. So it got at me. I got admission into Olabisi Onabanjo University, but after I came home for one of the holidays I refused to go back. I don't know whether it was the money or the pity that affected me most . I found out that I have passion for writing, and decided to put it to use. That eventually brought me into the entertainment sector.
When I newly joined the entertainment industry and wanted to shoot my movie, I met one Lebile who promised to help. All I worked for in Nobel Carpets and F&G was committed to that project. I gave him N380,000. But on getting to location, it turned into long story. The movie was never shot and my money was not returned. I managed to collect N60,000 from him till date.
The first time I sold a story to another producer in 2006, he cheated me because I was a novice. He bought my story for just N10,000. For me it was big money. At last, I could not make it in the movie world because when you are auditioned for a movie, they tell you that you are good and natural but when you go, they say they would call you to location. Those that came for the audition will always commend me but I never got any phone call again because the story was not written for somebody like me and they can't tell you that they can't use you. I get calls from everywhere when they see my picture on facebook. But I stopped going to movie auditioning because of an incident. A director saw my picture on facebook and automatically promised me that I would get the role he was looking for and invited me to the auditioning. We kept talking on phone, as if we had known ourselves for ages. When I finally got there in Festac Town, Lagos he was not at the hall,
I called him. The way I placed my phone on my ear, he noticed me and asked if I was the one on red top, I said yes. He told me to sit down that he would get to me. From our discussion before I got there, I was expecting a more friendly welcome but when he saw me, he just shut me out. Throughout the audition, I kept sending text messages from 10am till almost 6pm. I found out that he was just discriminating. He was indirectly telling me that I was not the kind of person he could use because I have disability.
He did not give me transport money and did not even want to stand with me in the crowd. I decided to make it against all odds and affect my generation. That day I got home at about 10pm and cried till morning, asking God why? I have faced so much discrimination but that one was the height of it. Another one was when Denrele, the weird Soundcity presenter, was celebrating his birthday and one of the birthday photographers showed an unpleasant attitude towards me. Tuface walked into the venue; he came in the company of Chidi Mokeme and Mokeme is somebody I have been trying to feature in my TV programme. I greeted Tuface and was expecting him to say hi and pass but he bent and hugged me and I said don't go and he was happy and held my hand. I waited for the camera man to take the shot; he just squeezed his face. He said he won't take it. I told him to take the shot. He asked if it was to take a shot of Tuface and I and said: Abeg go sit down. I gently left Tuface's hands. As if noticing what happened, Denrele, from wherever he was, jumped over to me and put me in front of Soundcity photographers and they started snapping.
Denrele and Efe Omorege are the two people I met in the industry that have given me hope. Within one year I knew Efe, I had met many celebrities. It was through Denrele that KC Presh was able to say hello to me; it was through him that Timaya shook my hands for the first time; it was through him that I met Owen G and now I have Owen G on my programme.
The day Denrele invited me to his office, within two minutes, he introduced me to everybody in Soundcity and also told them about my programme. I met Harris Chuma who happened to be the first person to put my face on the screen.
In movies I have featured in 'Arise Africa', 'Blood in the Sand' and also a movie that Chuma's friend produced. But since I am not that popular, I decided to do my own thing. Efe and I spoke online. He arranged for us to meet. You know that Ruggedman has attitude problem and because I was determined, I gave it back to him immediately and since then, he changed. We still communicate well.
Through a dint of hard work and determination, I launched what I termed, 'The Idea' and it was presided over by Mrs. Oluremi Tinubu, the former Lagos First Lady on November 24, 2007. The idea is how to attack the stigma of people living with disabilities.
I plan to shoot a movie on the plight of disabled people. Able-bodied persons will tell the story but not like someone who is affected. Even if it takes 100 years, I will make the movie any day I make money. After the First Lady stepped out of office in May 2007, it was not easy getting her contact again and that movie is still pending. But for my rugged background, I would have resigned to fate. But I have resolved that people will one day watch me and decide to do something meaningful with their lives no matter the setbacks.
In the next five years, I want to give hope to those living in disability. I want to be a role model. I have met a lot of celebrities who discriminate and go on TV claiming to support one NGO or the other. They are all fake, especially a certain popular Nollywood actor who claims to have an NGO. His is outright fraud.
Most of the NGOs these celebrities put up are just to make money. I wrote to the Lagos State government to assist me in the production of the movie. With persistency I met Hon. Bamidele, who took me to his office and spoke to me kindly; he told me that the money I requested was much but that the state would give me something. There and then, he signed and approved it. But the people in charge have not released the money to me. Since I have not got it yet, I decided to go on cable. I kick-started that last year. I have hosted Tuface, K-Solo, She Baby, Obiwon and many others, but since it is not on public TV it is not known much. It is called, 'Look Out With Naija Girl.' The little money I saved is what I used in starting the show. I thought before six months, I would have got sponsors but over a year now, I don't have any sponsor, that is why I am broke. It is not easy. I want to take it to the public TV. It is a whole lot of money.
There are three of us left in the family today. We sold our house. I am now a tenant. Since 2005, I have not been to my village, but I don't give up hope because I know I will live and conquer and be great because I am sure God wants to prove Himself through me.