BIGGEST HAIR COMPETITION IN NIGERIA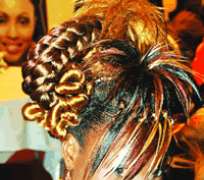 Kanekalon recently presented its first ever hair braiding competition recently. The Lagos regional competition was held at the Sheraton Hotel and Towers, Lagos. The spectacular and awe-inspiring event celebrated hair and beauty at its best.
The Kanekalon Corporation, a popular fibre manufacturing company based in Japan in collaboration with its Nigeria Partners, Ayman Enterprises, Linda Manufacturing company and Venus Nina Company Limited, decided to pay tribute to Nigeria at 50 with a hair show tagged: Naija braids parade. Hair braiding has greatly evolved in Nigeria through the help of Kanekalon products, which have enabled hair braiders to achieve their desired creation.
The competition had 12 competitors. Two women, however realized their dreams and had a success story to tell. Evelyn Okosuns of Salon'd'eve created a complicated avant -garde style which tells the story of a water fountain while Maria Diallo a Senegalese from Miacoiffure salon, created a graceful unique bridal hair piece that could also go from day to night. The festivities included carting away of attractive prizes by winners and consolation prizes for every participant.
Judges of the event included Susan Eyo-Honesty, style editor City People, Chidi Anaba of Down-town salon, Grace Akamgson, Sequence Hair Beauty saloon and Bolaji Adedimilehin of Unisex salon. Other regional competitions will hold respectively in Abuja, Port Harcourt and Enugu with the Grand-Finale holding in Lagos.