EVIL PASTOR, USES CANCER PATIENTS TO DUPE NIGERIANS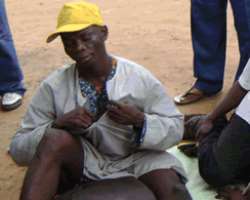 A fraudster who specializes in exploiting poverty-stricken cancer patients and people with other medical ailments to enrich himself by duping innocent Nigerians of their hard-earned money with the assurance of providing adequate medical service for the sick has been nabbed by officials of the Abuja Environmental Protection Board (AEPB).
The supect,, simply identified as C.Y. King, an indigene of Ebonyi State, claims to be the pastor and general overseer of Welfare Rescue Mission International Helpless Sick Home in Abuja. And his area of calling is to go into the villages not for evangelism to win souls for the kingdom of God, but get very sick people who cannot afford to go to the hospital and bring them to Abuja, with a promise to take them to the National Hospital in the federal capital.
The self acclaimed pastor, who had been in the business of exploiting poor and sick people for sometime now, is said to have a way of convincing the families of the sick patients in the village with a promise to bring them to Abuja for treatment without them paying a dime. The families immediately jump at the free offer by releasing their loved ones to him without asking the name of the hospital he is taking their wards to, provided they will come back hale and hearty. However, upon their arrival to Abuja, Pastor. King instead of taking them to the hospital, he commission them to become beggars and takes them to strategic locations and junctions in Abuja, displaying their terrible medical condition to passersby who are deeply touched by their plights and give their widows-mite in a special offering bag produced for the illegal business.
He also has a team of young boys and girls on his pay roll who carry the offering bags around the road wearing purple T-shirt branded with the name of his so-called ministry to make his dubious business look real. Apart from that, the young man who is always well-dressed and looking good, equips himself with a microphone, preaching and quoting scriptures and calling on people to donate generously to save the lives of their fellow brothers.
Sadly, after using these sick people, some of who cannot walk on their own from morning till evening, under rain and sun, this pastor allegedly pays them a meager of N200 and put them in a vehicle to his hideout in Kubwa to prepare them for work the next day.
He does not care whether they eat and does not provide drug for them not even the cheapest pain killer to ease their suffering .
Luck however ran out on him when the news of his illegal act got to officials of the AEPB by concerned residents of Abuja asking the board to intervene and rescue the sick people from the self-acclaimed pastor.
The AEPB raised a panel to investigate the matter. During the investigation, the beggars were spotted around the AYA, Nyanya axis of Abuja but when the officials attempted to arrest them, they were physically attacked by pastor CY Kings and his lieutenants, forcing them to run away.
Not only that, they seized the digital camera and mobile phone of the Public Relations Officer of the board when he attempted to take their photographs.
Narrating their ordeal and how they were eventually arrested, the Director and Chief Executive Officer of the board, Dr. Abubakar Yabo, said the AEPB, which is charged with the responsibility of cleaning the streets of Abuja and eradicate them of beggars, hawkers, lunatics, among others got wind of the news of the beggars shortly after they arrived in Abuja.
He said 'We got to know about them about three weeks ago when they just arrived Abuja. I think they were not more than three days old in this city when somebody called to tell us that they saw them around the popular AYA junction. And then after two days, I was told they have moved to Dutse Alhaji and yet another call came that they had moved to Lugbe, along the airport road. So I concluded it is an organized thing and sent my staff out to go and study the situation. I said let us have a proper study of the auditing of the system. Let me know who they are because I want to get them from the root. I want to see their officials, I want to arrest their officials not only the victims and that was exactly what we did. So I sent my staff, distributed them to exit and entrance highways and all the major junctions that we are expecting to find this kind of people.
During our operation, one of the victims, the one with cancer was arrested and brought to the AEPB office at Area 3 while the people using him to beg ran away and abandoned him. 'But at about 9pm in the night, I got a call from my officials the boy was crying that he was about to die what shall we do. And I said the best thing for you to do is take him back to the exact point where you picked him and drop him there so that his people can take him. But to their amazement, the boy said he did not know them that they only brought him from the village and they use him for the whole day and at the end of the day, they give him only N200 or N500. That is extortion. When I heard that, I felt very sorry for the boy and I said okay I don't want him to die there since we don't have medical facilities and from that moment, I made up my mind to go after those behind this wicked act at all cost.
'So the next day I asked some teams that went out including my Public Relations Officer (PRO), to Nyayan and AYA area, and some others went to Dutse Alhaji while I left and went for a live radio programme. While I was on the programme, I had a call of these beggars at Dutse Alhaji and in Kubwa and before I knew what was happening, my PRO came and met me at the radio station looking haggard to tell me that he was attacked and I asked what happened. He told me he was trying to take a photograph of them and they snatched his camera, they collected his mobile phone and gave him and other members of his team the beating of their lives and I said no, this cannot continue.
This is a lawabiding country and we are an enforcement arm of government and there are laws that stipulates the rules and guidelines and whoever wants to live in peace must obey the rules. I said nobody will come to Abuja and do what he likes because 'everything is being guided by law so what we need to do is let's chase them out, find where they are, get their masters and arrest them and not the victims because these people are being used. Let's arrest all of them and take the sick people to the hospitals and that was exactly what we did. We found out where they live and I personally led the team to arrest them. We found out that they have a house in the very remote part of Kubwa called Byazhin at the extreme end near the hills and their building is almost second to the last house. It is a deserted area. So when I went, I interviewed the neighbours who told me the hell they have been going through living with those people and the fact that they cannot complain because sometime they come with policemen to the house. So I just entered the house because, according to my environmental law, I have the right to enter into any premises between the hours of 6am and 6pm.
So I went inside with mobile policemen that came with me into the house and arrested all of them and I took them to our office. When we came here, I called the social development secretariat because I went along with her and told her what we need to do is to take the sick people among them to the hospital because they need medical attention because these guys were just lying to them. They brought them from their villages because this boy went and lied to them that he has a cure for their ailments. He went as far as Akwa Ibom to bring one of the victims after telling his family members that he has a way to cure him and that he is going to find him some money and that he is going to do this and that for him. He did not stop there, he proceeded to Abia and Ebonyi states to bring some others and add to his number.
You can imagine how wicked some human beings can be. How could you go and bring somebody who is living very happily in his village despite his medical condition among his people to Abuja and tell him that you are going to help him while you are just here to extort him because of his conditions, is that fair.?
'The man behind this terrible act is from Ebonyi and his name is CY King. When we interviewed him, he was just using God's name to lie that he is a pastor, but we know that these are not the ways of a true pastor so he is only deceiving himself. But we have taken the matter to court and we are calling on the public to look before they leap.
'We are not saying it is bad to help a fellow human being who is in need. All we are saying is that we can do this kind of donation to help these people directly through genuine outlets that we have set up at various strategic locations in Abuja so that people like Pasto Pastor King will not reap where they did not sow. Or better still anyone that wants to help such people can do so by taking them to the hospital themselves that way you can be satisfied that you have fulfilled one of God's law of loving your neighbours'.