SKY CLEARED OVER CAMPBELL TV ROW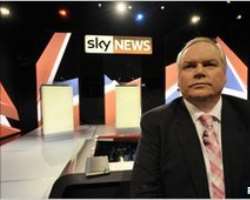 Ofcom has rejected complaints about an on-air clash between Sky News political editor Adam Boulton and former Labour spin doctor Alastair Campbell.
More than 1,000 complaints were received by the media watchdog, with some viewers describing the exchange as "horrendous" and "offensive".
The pair were seen arguing about coalition options following the general election in May.
But Ofcom found the debate was "within the requirements of due impartiality".
"While the conduct and manner of the discussion was certainly unusual, in terms of impartiality we consider that relevant views and issues were aired," Ofcom concluded.
The watchdog said that since Campbell had "effectively accused" Boulton of "wanting a Conservative Prime Minister" during the discussion, it was "not unreasonable" for Boulton to "defend his position".
Ofcom also said it should be noted that the "discussion at no time resulted in any abusive language or gratuitous insults."
At one point, Campbell told Boulton: "This is live on television. Dignity. Dignity."
Boulton responded: "Don't keep telling me what I think… This is what you do. You come on and say no-one won the election, and you clearly did worse.
"I'm fed up with you telling me what I think."
The regulator dismissed separate complaints about Sky's coverage of its leadership debate before the general election.
Ofcom received 671 complaints about the 22 April broadcast – many felt that a reference to an unfavourable Daily Telegraph story about Nick Clegg were unfair.
Ofcom also rejected more than 1,000 complaints regarding an interview between Sky News presenter Kay Burley and David Babbs, executive director of campaign group 38 Degrees, two days after the election.
It was alleged that Ms Burley was rude and aggressive during the interview, about the UK's voting system, but the watchdog said Sky News had not been in breach of its rules.