OBAMA TO HOLD KEY TALKS WITH NETANYAHU IN WASHINGTON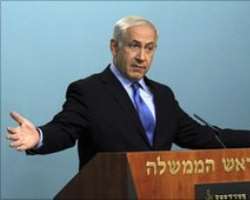 US President Barack Obama is due to meet Israeli Prime Minister Benjamin Netanyahu in Washington.
They are expected to discuss a wide range of issues, including Iran's nuclear programme and efforts to start Israeli-Palestinian peace talks.
The meeting comes a day after Israel said it would allow more consumer goods to enter the Gaza Strip.
But it said items including weapons and materials that could have a military use would be barred or limited.
Hamas, which has been controlling Gaza since 2007, dismissed the concessions as of no use and said the blockade should be fully lifted.
Israel says its blockade of the Palestinian territory is needed to prevent the supply of weapons to Hamas.
Israel came under international pressure to ease its four-year blockade of Gaza after nine Turkish activists were killed in a 31 May Israeli raid on a flotilla that was trying to carry aid to the Palestinian territory.
The international Middle East envoy, Tony Blair, told the BBC he believed the international outcry which followed that raid persuaded it to accelerate the easing of the Gaza blockade.
"It is true to say that the Israeli government, I think, were moving towards a different policy anyway, but of course what happened has hugely accelerated the idea," he said.
'Better atmosphere'
The BBC's Middle East editor Jeremy Bowen says that Mr Obama and Mr Netanyahu will have plenty to talk about: what comes next in the gathering storm over Iran's nuclear programme; the changing strategic picture in the Middle East, epitomised by Turkey's public falling out with the Israelis; and how to establish a credible peace process with the Palestinians.
Last week Mr Netanyahu said he believed that a main part of the talks "will be focused on how to start direct peace talks between Israel and the Palestinians right away".
The Palestinians broke off direct peace talks after Israel launched a military offensive on Gaza in late 2008.
The start of indirect negotiations in March was halted after Israeli municipal authorities approved plans for the construction of new homes in a settlement in East Jerusalem, which Palestinians want as the capital of a future state.
Under the proximity talks, Mr Obama's Middle East envoy, George Mitchell, will shuttle between the Israeli and Palestinian leaders to try to narrow their differences.
When the Israeli premier last visited the White House in March, he was snubbed by President Obama, who refused even to allow a photo of their meeting to be released, our editor says.
That was because of a row over an Israeli settlement plan in East Jerusalem.
Both sides want the atmosphere this time to be much better, our editor says.
However, he adds that – unlike his predecessor – President Obama is prepared to accept that some of Israel's actions are part of the problem in the Middle East. This continues to create irritation – and nervousness – on the Israeli side.