Nollywood Movie Premiere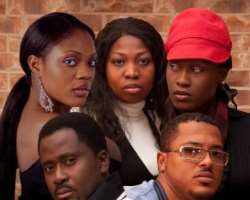 "REBOUND' World movie premiere Tomorrow July 03, 2010 at alamo draft house cinema at 7pm…CONFIRMED ADDITIONAL LIVE APPEARANCE; RAMSEY NOUAH ! in addition to Desmond Elliot, and Uche Jombo.. Don't miss this Red Carpet experience..tickets going fast..
EYECON MEDIA PRODUCTION presents the highly anticipated Nollywood USA movie of the year "REBOUND" starring NOLLYWOOD superstars Desmond Elliot, Van Vicker, Uche Jombo, and also staring Jessica Isiguzo and Bhaira Mcwizu
Movie [email protected] Alamo Drafthouse Cinema | West Oaks Mall.
SPECIAL APPEARANCE: Desmond Elliot, Van Vicker, Uche Jombo, and also staring Jessica Isiguzo
SATURDAY, July 3, 2010.
7.00pm (NO AFRICAN TIME).
Executive Producers': Blessing Isiguzo
Directed by Desmond Ellio
In 2009, a film production outfit "EYECON MEDIA PRODUCTION" emerged from the multi-cultural city of Houston Texas, a company owned by Mr and Mrs Blessing Isiguzo. They both decided to diversify into the business of producing universal movies in a grand style fashion with strong global network.
The shooting of their debut film production "Rebound" started in Nigeria in Nov, 2009; and ended in March, 2010; when three major Nollywood Stars "Desmond Elliot, Van Vicker, and Uche Jombo" were chattered exclusively straight to Houston to complete this movie project.
The story line and idea for this movie, Rebound, was birth in the mind of Jessica Isiguzo, written by Emem Isong, and directed by Desmond Elliot.
The story line is about a lady "Kim", who lost everything she had including her face, and later on found herself falling in love with the man that rescued her in a foreign land. Will her past affect her present love? This is for you to find out during the premiere in July 2010.