WAR CRIMES COURT AGREES TO CALL NAOMI CAMPBELL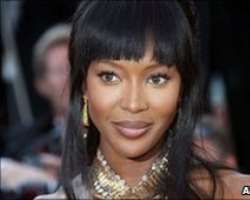 A war crimes court has ruled that model Naomi Campbell can be called to testify in a case against former Liberian President Charles Taylor.
Prosecutors for the UN-backed court for Sierra Leone say she was given a "blood diamond" by Mr Taylor in 1997 at Nelson Mandela's house in South Africa.
Mr Taylor is accused of using such diamonds to fuel an insurgency in Sierra Leone that cost many lives.
Ms Campbell had previously refused to provide testimony to prosecutors.
The Special Court for Sierra Leone, sitting in The Hague, also agreed to a prosecution request that it be allowed to call actress Mia Farrow and Ms Campbell's former agent Carole White to testify.
Ms Farrow – who was also at the Mandela dinner – has said Ms Campbell told her about the gift of the diamond the morning after the dinner.
Ms Campbell said she had been visited by representatives of Mr Taylor during the night, and that they had given her a "huge" uncut diamond, Ms Farrow told ABC News in April.
Ms Farrow and Ms White were both willing to testify, the prosecutors' request to the court said.
Mr Taylor is accused of selling diamonds and buying weapons for Sierra Leone's Revolutionary United Front (RUF) rebels, who were notorious for hacking off the hands and legs of civilians during the brutal 1991-2001 civil war.
He has pleaded not guilty to 11 counts of war crimes and crimes against humanity stemming from the war.
He has also dismissed the claims he presented Ms Campbell with a diamond in 1997.
"Blood diamonds" is the name given to diamonds mined in areas of conflict that are sold to fund warfare.
Mr Taylor's trial opened in June 2007.
In their request to subpoena the three women, the prosecutors said they did not know about the alleged Campbell diamond until June 2009, by which time they had already closed their case.
Mr Taylor had sought to prevent their bid to reopen the case against him. Defence witnesses are now being heard.