MY MOTHER-IN-LAW OFFERED ME DIAMOND RING TO HAVE A FOURTH CHILD – LADY D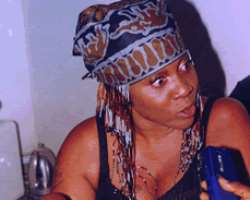 Lady D
As a parent, how would you feel if your young daughter goes off with her boyfriend to a strange land and what was meant to be a week holiday turns almost a year?
You'd go crazy, call the cops or would kill the guy if he turns up with your daughter later?
All these were what an American couple had to contend with in the hands of a Nigerian guy.
A young girl was going on vacation from her American roots for just a week or so with her boyfriend to an unknown country but she ended up spending more time than required.
For her parents, this was unimaginable. It was such a confusing time for her family. Daddy was weeping. Mummy was calling the Embassy to find out what had happened to her daughter. Telephoning wasn't easy. The few times her mother would get through, mum would yell at her and ask her to come back because no one understood what she was doing in a foreign country
Everyone wondered why she would just abandon her only sister, her family and took off without a trace. Whether she was being held against her wish or not, bothered them like hell. There was no word from her for so long. It was crazy and too much for her parents to bear.
During the crisis, the adventurous young woman was busy going places with her prince charming, having the fun of her life as well enjoying the sweet company of her future family.
Thirty years down the line, she has make a home from a country that was hitherto considered to be foreign land. Her own immediate family ties are firmly rooted here now with three grown up kids to show for her adventure. She only visits her original country of birth because her association in Nigeria has yielded her great fruits than anyone could imagine. And she can confidently say that she is a Nigerian as well
That is the captivating story of Diane Oputa, Charly Boy's American-born spouse popularly known as Lady D
She took a trip down memory lane recently with Daily Sun in her Ogudu GRA residence. She spoke on her coming to Nigeria and her journey into marriage. She also revealed her mother-in-law's assessment of her, the woman's fears and how she tried to lure her, Lady D into having a fourth child with a gift of diamond ring.
Excerpts:
Give me a sense of how you have adapted since you came to Nigeria.
'I would say that my background, (I am from the South) has helped me a lot to adapt into the society pretty well. Our cultures are similar and so that has helped me too to understand the Nigerian culture.
'Many people have been to Nigeria and they are gone back because they couldn't adapt and change into the system but I have been here now, for the past 30 years. I think that for me, it is the right place at the right time of your life. I see myself now as a Nigerian. Although, I don't speak Igbo as well as I should but I can say that my husband's people and the people in the village have accepted me. They love me. They come to visit me when I go to the village. They even want to give me a traditional title this year.
'I think that above all, I have also managed to find that blend or chord that has enabled me fit into the society properly. In fact, a lot of things have enabled me fit into this society after these decades. Although, I don't speak Ibo but I can speak a bit of the broken English for whatever that is worth and it makes me proud and happy.
Could you recall your first meeting with your mother-in-law?
'I remember when I was coming to Nigeria. My mother in law went to mention it to my family. To get permission for me to travel to Nigeria, it was a big thing because they didn't quite understand. Although, I was coming for a vacation just to spend a week or so but I ended up spending about a year here and they just couldn't imagine it. It was great for me because I was enjoying every bit of my time.'
What was their reaction?
My father was weeping. My mummy wasn't happy one bit. She was calling the Embassy because she was worried. It was crazy. And again, the mobile telephone network wasn't available then, so, it wasn't a funny experience for them at all. But here I was having the fun of my life.
Yes, anyone could quickly say in that circumstance, but your family could have just called you on phone but it was a little bit more difficult for them to call me.
They couldn't understand what was happening. They were confused
You know then, it was NITEL, and it was really difficult to get through. When my mother would get through, the few possible times, she would yell and say to me, you have to come back. Please, can someone tell me what's happening? Diane, just come home. How can you just abandon your room, your sister and all of us? Are you crazy? Are you being held against your will? It was just too much for them to bear.
But when I went back with my kaftans and head tie, they were so happy. It was just like seeing me all dressed up in an attire they have never seen before. I think it was cool. Eventually, they became more relaxed.
Could you compare both cultures i.e. where you came and Nigeria?
Yes, I say we have similar culture but what is not is the extended family system. I am so happy about it is that our families are one. My parents in law love my parents. My husband takes care of my parents. You know this is very rare. That's one of the issues. If you say extended family, the family isn't extended. It is even closer. But there in America, it is a family unit. They are just there with no one wanting any kind of interference. Nobody has much say about what you do in your house. But here, your mother in law tells you she doesn't like what you do, for instance and you say, yes, mama and all that. That deep sense of respect and mutual lifestyle in the family trips me to no end. I wish this pattern of life is a little bit more possible in our lifestyle over there as well because it is a little bit lacking in that area. You know, children talk to their parents without much regards or respect. I can't really spank my nephew or niece if they misbehave there. So, those are some of the similarities and differences.
Would you say you are happier that you are married in a culture where there is much more respect than maybe the Western world?
You see, raising the children is the job of the parents. It is a function of who you are. I can say that respect is a very important value and I cannot say that it would have been like this or that it couldn't have been if I had been married in a different culture, maybe where this deep respect thing is not much of the culture but I can say that I love the way elders are respected here and everybody has a deep sense of value for each other.
It is a very important part of the culture here and I admire it a great deal.
Another thing I see here that is different from when I come from is that people are not wasteful. It might be seen as just something small, but it means a lot to me. People keep the least of everything.
When I came to Nigeria and I cut bread and eat the whole thing but like my people over there, they would just slice it at both ends and throw away the two ends. But here, you keep those ends because it is useful. Why would you throw it away? You know, we keep everything from nylon bags to containers. It is amazing how much we keep things. Here, we are not as wasteful as people over there
Don't you think that it is the function of the economy?
Maybe, they would say maybe the poverty level. But again, I am not starving. I just like to preserve things. I don't like to see things being wasted. It is a personal preference
But even in overseas now, they are trying teaching and encouraging people to preserve things. They are realizing the need to recycle materials, too.
Could you tell us how you have coped for 30 years in Nigeria?
I think that the biggest gift is that it is just the sheer grace of God. That's the secret. I cannot say that I have done anything more than anybody else. Secondly, it is the compatibility. Thirdly, it is both parties want the same thing. They want things to go on no matter the difficulties. You want to go on. You want the same thing. . I can't say that there is anything unique that I have done but I could say that I am also given the room to grow. I am also happy with the people I have come to marry. I have been carried along in everything they are doing and I have support from my husband in whatever I want to do.
So, I think that when you both agree that this marriage must work, it will certainly work. I feel sad when I see married young men say that their wives say they can't do this or that, I can't seem to understand why. I just conclude that the girls are not serious.
This is new age. Things have changed dramatically. First of all, a man wants a wife who is independent and who would respect them too. You need to be able to also contribute. Women need to be empowered. You need to give them the lee way to support the family. I think that my husband has done that with me but I am happy so anything, even if it is like since morning, there is no light, the generator has packed up. And I say, why should all these problems be? But then, again, these are the challenges I have to cope with as one who is willing and ready to be here if I have chosen to be, then, I must accept whatever problems I see.
And so if I say that I love my husband, I must also love the environment he comes from, no matter the challenges. If his environment demands that I buy diesel to run my generator everyday, so be it, and I accept it. However, it doesn't make it right.
How did your mother -in -law receive you when you came to Nigeria?
She first me met me, we met at Boston. She had come with my father-in-law for a programme. I met her for the first time. She is very receptive. She loves her son. She wants the best for him. But when I came close and I came to Nigeria, it now began to look like we were serious; she was like ok, no problem. Her scrutiny became serious.
First of all, can this girl be able to have a child because she is too thin. That was her first worry. She wanted grandchildren like every other mothers and wanted the best wife who could cook for her son. That was the bottom line.
Aside from that, she would think that when I had children, I might just run back to America with the children which would be a problem for the family. In fact, so many things ran through her mind.
And I don't blame her.
My husband would insist that this woman would want you to do whatever she wanted. She began to adapt towards him. We didn't have much problem.
I think what she really liked about me was my bluntness. We talk about everything. We talk about marriage. She says this is what you should expect from the men and there is nothing we don't talk about.
And she would go through her own life story, how she married her husband. She would tell me her expectations of me. We disagreed to agree. She always wanted me to see her side of the issue. I admire her a lot for this.
We call her the General in the house because she controls. Even on her wheelchair now, she controls. And that is the kind of strength I needed. And they help me because she helps to panel beat my husband
Not many people have this. My parents-in- law are enlightened. They have travelled wide and can truly appreciate other cultures. They are opened-minded and loving. They accept people. It is not all about money. So, all these things are things that have helped me in these 30 years of my marriage.
What was her reaction when you had your first child?
Ah, that was the final seal of our relationship. And when it came that my first child was a boy, I said ok, thank God. She treated me like an egg. She was just everywhere, happily babysitting, helping nurse and doing all kinds of stuff.
She was too happy and when I had my third child, she still wanted me to have the fourth. After my first child, my husband came into the labour room for the third child.
Was your husband ever present with you in the Labour Room with you?
No, he used to bring me and leave with the nurses. He would tell the nurses to take care of me and that he would be back. I think it was fear. He was just a bit scared, sort of. Even though he appears bold, I think it was fear that he was never able to stay up in the labourroom
So, for my third child, I said, you must stay with me. You need to be here. I want you to experience what it means. So, he stayed. You could see him sweating. He was hot and I think he was so fearful of the whole thing.
When I look back now at all those things, I would just laugh.
Then, after my third child, my mother in law wanted me to have the fourth one but I said mama no. I said I have tried now.
She said ok, but you know I have this diamond ring. I am going to give you this diamond ring only if you would do the thing you know that I want you to do for me. That for her is that I have the fourth child. Now, I say mama, please, you can keep your diamond ring. I would buy a diamond ring for myself if I want to but I can't go through this thing again. And till today, she still teases me about it.
But would you want to do it for her?
No, no, I won't do it
Not for two, three, or even, ten million naira. The kids are all grown up now.
Maybe at the beginning of the marriage because l think like it is said already, it is something that my husband and I had decided that this is what we wanted. You can't make it by yourself. It is not what you employ force to achieve. This is the decision I have made. I mean, I have everything that there is for me to do and I had to tell him that you know I have been here, I have had my first child. I have been with you this long but I needed to know what I was doing with my life. You know, he jokes about it now that I asked him to marry me or that I proposed to him, well, if that's a proposal, yes, but it wasn't that I asked him to marry me. I needed to be able to know where we were in our relationship. See, I had dedicated everything I had.
I had given up on many things back in America to be with you. And we had been around for such a long time without any legal binding. So I needed to be sure of where we were headed. I had had your first child, I was being called your wife in the house, we needed to finalize this thing and put it on paper. I wanted to have some kind of security. Even though, it is a paper but it means a lot. Legally, the paper is obtainable as a proof of our marriage so if that proposal, well, I think it was ok for me.
My parents did it. His parents did it. It is the norm and the proof or legal binding of a marriage. So that was how we did it.
When was that?
Ah, I think maybe 1979, 80 or so. But it was after my first child.
What about your siblings back in the USA?
No, I have just one sister. No brother. Just the two of us.
What was it like leaving your only sister?
Ah, leaving her was pretty tough. Yes, what happened was that I think just about a year of my going back and forth from Nigeria, she got married. So, I was happy because she now has somebody that she can focus her energy and time on. And she would not be alone. I was happy for her but initially, it was very sad when I would be leaving. You know, she would normally see me off to the airport and we would exchange some tearful goodbyes, I was always heart broken. Not even because of my dad or mum but because of my sister. My parents have each other. It is like that but now, everyone is used to it. My parents have visited me here in Nigeria. I am happy about that. Now, things are easier. You could call them regularly on phone, send them messages by mail.
When I had my first child, I was so happy. I would say so I am a mother now. Because what care had I before, I was just gallivanting but now it is a lot more different.
Tell me about motherhood
Motherhood is a great experience. It is a unique, different, awesome and exciting thing.