THERE ARE STILL OPPORTUNITIES IN NIPOST – MORI BABA, PMG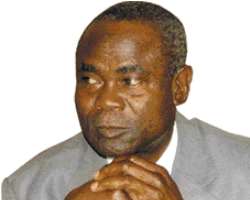 Mori Baba
The Post Master General of the Federation, Alhaji Ibrahim Mori Baba, has lamented the spate of sharp practices in the courier industry. Part of this, he said, was the regime of inadequate tax assessment and even outright tax evasion on the part of the operators.
Baba blamed this unwholesome development on under-regulation of the industry as a whole, and disclosed that his office has sent a bill to the National Assembly that sought to establish a commission in the mould of the National Communications Commission (NCC) that would regulate and restore sanity in the industry. He also spoke on the declining habit of letter writing among Nigerians and other related issues.
Excerpts:
Declining habit of letter writing and its presumed negative impact on the patronage of post offices
Let me first of all thank you for the interest you have in this organization and coming all the way to interview us to know what we are doing for this country. I want to say that I am not worried because you cannot do anything about an advancement in human endeavour. It is not retrogressive something. It is a development in the human mind, in the human intellect. And that is what brought about the decline in letter writing in this generation. And I want to say most importantly is that there should be a need for you to do something. If that desire is not there, certainly there is nothing you can do. Let me give you an instance, if I have the desire to take water, may be I should take two of this glass.
If I don't have the desire, if you offer me, may be I'd just sip it as a way to respect you that you offered me something. What I am saying is that in this generation, there is not that desire to write letters. In those days, you don't have any other media of communication other than writing letter through the post. But now you have the internet, the cell phone that you can pick and tell somebody that Oh! I left yesterday, I have arrived safely.
That's what I meant when I talked of the development of the human intellect. There is nothing we can do when there is an advancement in human life. Let me, however say that it is true that it affects our revenue generation, let us not forget that when there is a closure in one window, several other windows of opportunity are likely to open . May be if you do the comparison, you may find out that you are not losing anything.
New windows of opportunity in the industry
Those windows have to do with the development in the Information Communication Technology (ICT) and because of this, there are less emphasis on letter writing. So this ICT is making us to be in a position to give better service, you know, an improvement on how we give our services.
Taking advantage of technological advancement
We are taking the advantage because when we are through with the automation of our counters, it will not only give our officers the joy, it will also reduce the number of hours our customers will have to wait before getting service. It will also reduce the number of people we will be needing on the counters. So, therefore, they will be deployed elsewhere. So you can see that there are positive things that can be derived from the development of ICT.
Emergence of courier service as a challenge to NIPOST
Not at all. I have always believed in allowing people to choose who they want to give them service. And that is why since we were given the responsibility of registering courier companies, we have registered up to 300. So, if I see their emergence as a challenge or as a competition certainly I will register two, three or five. What I see in the courier companies, apart from the fact that they do things outside what we registered them for, I see them as complementing what we do.
You and I are not the same in size and whatever. It may also be the same in economics. If I don't have much, then I should depend on the government agency to deliver my service. But if I know that I am buoyant, and I want UPS or whatever, I will go to them. But I keep on telling people when I have the opportunity that UPS, DHL, FEDEX and so on can only operate in places where there is airport. Other than that, they use our system because they don't have my reach and I challenge them. If they have, let them come and tell me. I also challenge them that I do their last mile.
Challenges as a regulatory agency
We are really having a lot of challenges. The challenge starts from the authority given to you. This authority is not exhaustive in the sense that it does not have room for sanctions and penalties. If you do this , this is what will be the consequence. The absence of this is one of the challenges. I am not blaming anyone. Rather, I would blame the system from the Nigerian Postal Service because we were the ones that drafted that bill. It went and it was signed into law. But as human beings, as we develop, we now see the challenge. When crafting that aspect of the courier regulation, we did not take into cognisance of the need for sanctions and penalties for contravening the rules.
Reviewing the regulation
Certainly yes. Actually, it has been sent to the National Assembly and public hearing had also been held by the House of Representatives and we will be very pleased if that bill was passed soon so that there will be separation of responsibilities so that we become the National operator of the Nigerian Post and then there will be an independent regulator not only regulating the courier companies but also the postal industry as a whole including the national operator which is the Post.
What is the title of the bill?
The bill to separate the operator from the regulator to establish an independent postal commission.
The courier companies at one time were alleged to use their services to perpetrate fraud and create image problem for the country, the 419 letters and all that. How real was the problem?
Honestly, I won't be the right person to answer that question because I have not done or conducted any search to find out that they are into this kind of illegal business. And since our responsibilities are so restricted, that they should operate within the guidelines which means that they should not carry any letter that is less than 500grams even though we are not pursuing that seriously.
You should also not partake in the courier business if you are not duly registered because there are some of them that are not duly registered and also carrying the courier services. They are also supposed to have all kinds of gadgets, equipment that will be able to screen letters and items through their system so that if there is any one that is carrying anything suspicious, powder, heroine or any other substance they are supposed to alert the relevant agency and that is what we do.
To be honest with you, it will be very difficult for me to answer this question as far as the courier companies are concerned. But what I do know is that some of them are not registered but are performing courier company functions. There are some that are registered but are not doing what they should be doing. The best we can do for now, and that is why I am talking about sanctions, is just seal off that office and that's all until they come to us and do the correct thing.
But for the nitty-gritty of checking them on a daily basis, we don't even have the staff to do it.
We don't have the personnel, we don't have the manpower to do that in the first place. Secondly, even if they are caught, like I said, the sanctions are limited. So, therefore, you get them, you seal the place the following day they come back and say okay, please forgive me and you open it again. So, we think that by the passing of this bill, the correct thing will be put in place and the government stands to benefit in the sense that both ways, one, the citizens will get value for their money, the correct fares and services and two, the taxes these courier companies are supposed to pay to the government will be collected.
Taking undue advantage of the non-existence of the appropriate laws
Definitely. What they are now paying to us is meagre amount. We register them with only one million naira and the renewal fee is a mere N250,000. I don't know how much they pay to government in terms of taxes. If there was a commission like the NCC they will make sure you either pay by the turnover and that turnover, knowledgeable and experienced people in accounting from the revenue service will ensure that if you are paying by turnover you pay by turnover and it is not something you go and cook up your balance sheet.
Incidences of postal fraud
Let me try to understand what you mean by postal fraud. Postal fraud, may be, a generic thing. If you do something that is contrary to laid down regulations, may be, I want to believe, that is what you mean by postal fraud. If you send letters that are not supposed to go through our system with the intent of defrauding. Maybe that is what you also call postal fraud. With the exception of these 419 letters inviting and offering you mouth watering deals and for some of us who are greedy, we fall prey of that. What we are having within our postal system, for instance arms and ammunition, all sorts of intoxicants, financial instruments, checks these are the things we have been intercepting in our system.
Estimating the penetration of NIPOST nationwide
Actually, we have not gone to the level we are expecting because there are still 237 local governments that do not have a post office. So, I want to say that those local governments that do not have post offices are being deprived the opportunity to be served by the post. And the thinking of government now is that you don't have to travel too far before you can get these services particularly when we are talking about social inclusion, health inclusion , financial inclusion. In all these, the post has a role to play. We are talking about e-services, we are talking about e-government. So, 237 local governments out of 774 local governments do not have post offices then it means that those people are being deprived of the opportunity to get this service.
In that case, I will say that the penetration is still not to our own satisfaction. But government is doing everything possible to ensure that people actually get these services and that post offices are actually put in these places so that they can meet those objectives of social inclusion, financial inclusion, digital inclusion.
NIPOST and ICT compliance
If you are talking about the Post as a whole, I would say that we have not reached the level which we desired to reach. If you are talking about individuals within the Post , we are quite in line as far as ICT is concerned and I made it a point since I assumed office as Post Master General that being ICT compliant is one of the basic requirements for promotion for the senior officers and everybody is aware of that. But what we are doing is to ensure that in the next one and one a half years quite a number of post offices will be automated. Now we are targeting all the post offices in the state capitals plus a few others in Lagos making about 40 to ensure that before the end of this year they are all automated.
Challenges you met on ground
The major challenge was that of change. It is not easy for you to accept change. But incidentally, that is the constant thing we have. Let me look at challenges from two perspectives. The death of the former Post Master General was sudden and therefore since nobody prepares for death, this was something that also came as a challenge to us.
So, for people to begin to accept that there is a change in leadership was a challenge. Two, even though all the programmes he put in place which I was also part of the planning, we are going to make sure we did not drop any. Though we assisted him in putting those plans in place, he had his own ways of achieving them. So, those posed their own challenges for us to now device means of achieving them.
Those are the kinds of challenges that I had on assumption of office. God so kind, there was understanding from the general staff and we were able to overcome them.
Insight into those challenges
No specifics beyond what I have told you about people's attitude to new situations. The other thing is that at a time we were talking about changing from paper money (postal order, money order) transfer to electronic. It became a challenge because you needed to put a few things in place. The post offices and those other places we wanted to use as centres needed to be computerized. At that time they were not. We also needed those places to have power if not 24 hours at least 18 hours for six days that if we are not now operating on a Sunday. These were the specific challenges I would say that I encountered in the implementation of those programmes that were on ground.
Manpower challenges and staff welfare
I didn't see them as challenges because a new leadership was coming. I see them as a general challenge. We will continue to have the challenge of manpower development and unless you are very focussed and proactive, you may find yourself wanting because you needed to be sure that your staff are regularly updated where they have the requisite qualification may be a minimum of ND, NCE, degree or HND.
They need to update themselves on a regular basis. The challenge of welfare, the human person will continue to ask for more. As long as he believes that you can give, he will continue to ask. So I see those as challenges that are continuous in nature, not necessarily because there is a change in leadership.
Resource constraint as part of the challenges
Resource constraint will always be part of the challenges because there will never be a time that you will have enough to meet your demands and desires. So, at any point in time, you will have that kind of challenge. But all you need to do is to ensure that you have a priority list so that those priority that will come will be part of the things that will generate the revenue that you will continue to use to expand on the things that you need for your services.
Delay in the envisaged coverage of the 237 local governments
Finance is also part of the delay. Government also has its own priorities. Today, if you ask me as the Post Master General to decide, you want to choose between a health centre and a post office, of course, I will choose a health centre even though a post office has its own advantages, but I do know that a health centre will come as a priority. That is why the government has not yet been able to cover all the local governments.
But I was also quick to mention in some quarters that states or local governments or even communities that are always desirous of having a post office and they build a post office and donate to us , we appreciate it. This is already happening in the south east. For instance, Anambra alone has 86 post offices. About 50 percent of these were built and even furnished and donated to the NIPOST. We expect that other areas that do not have one can borrow a leaf from this example and before you know it, each local government headquarters will have one.