Why do women drive without their shoes on?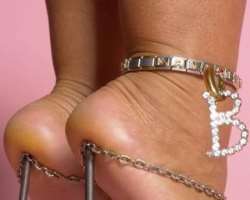 Gone are the days, when Olufunmilayo Ransom-Kuti made history as the first Nigerian woman to steer the wheels. Today, women pilot planes, boats and drive all manners of engines.
One unique thing is that when a woman is on the driver's seat, check her feet and you will notice that most times, they are without shoes.
That is one peculiar thing with women, apart from the fact that most of them begin to learn driving all over again after leaving it (driving) for a while.
Hardly will you find a man driving without his shoes on. Why don't women drive with their shoes on?
Memuna, who drives a Toyota Carina, says "I can't drive with my shoes on because I did not learn driving with shoes". Atine owns a Honda Hala: "I don't drive with shoes because I wear very high heels. I remove them while driving and wear them when I alight the car, she told Women Scoop.
Tatiana likens driving her BMW to peddling a sewing machine. "I learnt how to peddle and sew with the machine before driving. Since I cannot sew with my shoes on, I find it very difficult to wear shoes while driving too, not even when I put on slippers", she explained to Women Scoop.
However, Mariam, who controls a Mercedes Benz and a Toyota, says it is not only women who drive without shoes. "My former husband, up till this moment, does not drive with his shoes on. And I can still give more examples", Mariam, who, herself does not drive with shoes, pointed out.
Driving with shoes on, for some like Chinasa, can make one lose the feel of the right object to press. "Without shoes, I know what the clutch, tottle or break feels like. I am afraid, if I put on shoes to drive, I may mistakenly step on the wrong thing", she stressed.
Esther, a lecturer, who drives Toyota also says "driving with shoes makes me feel I am not the one controlling the car".
The reasons are similar for Nana, Obum, Teni and Susan, who are all learners. For them, it is comfortable driving without a foot wear.
Women, for what they are when it comes to fashion, wear various types of shoes including platforms, wedge, stilettos, straps and soles which could discomfort the feet not to talk of wearing them to chauffeur an automobile.
For whatever reasons women drive without shoes, as long as there is no law against it, the most important thing is caution, safety and concentration. Avoid picking calls while driving. And remember if you don't wear shoes, wear your seat belt while driving for safety reasons.
It is for the sake of such safety for the nation that one expects Patricia Olubunmi Etteh to step aside in the lower Chamber's driver's seat until the Idoko panel report is done with. Guilty or innocent, Etteh should realise that a kingdom divided against itself cannot stand. It is high time the House of Representatives moved forward.