NOLLYWOOD DISOWNS UCHE ODOPUTA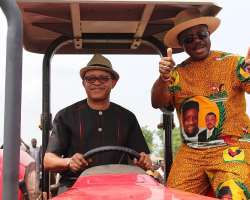 The Association of Movie Producers (AMP) and the Directors' Guild of Nigeria (DGN) have disclosed that Uche Odoputa, who was recently arrested by officials of the National Drug and Law Enforcement Agency (NDLEA) for alleged drug trafficking, is not a member of their associations.
Speaking with journalists last Tuesday, president of the AMP, Madu Chikwendu, reiterated that whenever issues relating to scandals about Nollywood are to be reported, journalists should endeavour to specify whether such victim is an actor, producer or director.
"But if you just say 'Nollywood,' then you are referring to everybody in the industry. As the president of movie producers, I can only talk on behalf of my members because we don't indulge in such activities. Look at the scandals that have been rocking the movie industry for the last five months, did you discover that any of those people involved were producers?
"So what I'm saying is that, if something like that happens, the blame should go to the right quarters and not everybody in Nollywood," Madu said.
Also speaking on the issue, the president of DGN, Felix Duker, stated that the accused actor has not acted for the past five years, "so he can't really be referred to as a Nollywood actor.
"The last time I saw him was in the U.K., and he was a taxi driver there. So, can we still call such person a bonafide Nollywood actor?" Duker queried.
They, however, urged journalists to be more specific when reporting stories that have to do with the indiscipline of some practitioners by stating in the headlines whether the person in question is a producer, director or an actor.
Duker reiterated that since Odoputa does not belong to either AMP or DGN, it will be unfair to refer to him as a Nollywood personality without laying emphasis on the segment of the industry he belongs to.
"He (Odoputa) was doing very well when he was still acting. In fact, I was stunned by the news because we know he was being paid well. I don't even want to talk about the issue but what I think is that an actor of a certain status who is worth his name may not have done that kind of thing.
"Actors are well paid in Nigeria, we just want to clear this because whenever things like this happen, you just drag everybody inside. We are businessmen, and if things like this continue, people who want to give us money will think we want to use their money to invest in drugs.
"In the last four years, we would say Nollywood has gone very international, and this issue will affect a lot of things. Many of us who want to renew their visas will be having problems. So I think everybody should go to his or her own tent," he said.