Bankole: Uncertainty As House Resumes Plenary Tuesday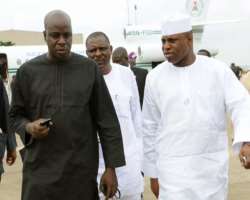 PHOTO: HOUSE OF REPRESENTATIVES SPEAKER, HON. DIMEJI BANKOLE (R) WITH MEMBERS OF HIS ENTOURAGE ON THEIR RETURN FROM THE THE PARLIAMENTARY CONFERENCE IN RUSSIA LAST WEEK.

ABUJA, June 21, (THEWILL) - There are palpable fears and anxiety as the House of Representatives resumes plenary Tuesday following last week's verbal war between the Progressives and the leadership of the House over allegations of financial impropriety leveled against the Speaker, Dimeji Bankole.
Some members of the House of Representatives under the aegis of the progressives had demanded the resignation of Bankole for allegedly spending N9 billion under two years and also his alleged involvement in the car purchase scam worth N2.3 billion.
THEWILL reliably learnt that the camps of the progressives are ready to face the leadership on Tuesday with documents purportedly used by both the Speaker and the leadership for the alleged fraud currently tearing the lower chambers of the National Assembly apart.
THEWILL also gathered on good authority that the leadership of the House who before now had dismissed the allegations as both weak and unfounded is making good its threat of dealing with the progressives for bringing the Lower Chambers into disrepute for utterances that are unbecoming of members in the last two weeks.
However chairman House committee on Media and Publicity, Honorable Eseme Eyiboh who was overheard speaking with a member Monday said the move by his colleagues (Progressives) were misleading and the developments so far showed selfish tendencies masquerading as protecting public interest.
He said that on resumption of plenary the true picture of the progressives would be unveiled and their untoward attitudes and delinquent nature made public to serve as deterrent to others who are bent on causing confusion as elections draw near.
THEWILL recalls that Dino Melaye who spoke on behalf of the progressives said last week that "The House received a total sum of N11 billion naira for 2008 and 2009 and expended the total of 9 billion naira. Majority of House members have no clue on the details of the expenditure purportedly made from this colossal sum.
"The Hon. Speaker authorized a spurious, vexatious and reckless expenditure profile at a time when there is so much economic hardship, massive unemployment and neglected infrastructure in the Country," Melaye claimed.
But reacting further to the allegations, Eseme said "they ought to know that as members of the National Assembly, they have the constitutional power of oversight that means that they could have invited the Clerk of the National Assembly and other officers to find out. Because the National Assembly is also an arm of government, just like the Ministries, Departments and Agencies (MDAs)", he said.
Eseme also said that instead of going to the press to make a show of their worthless pursuits, they should have gone to any of the anti-corruption agencies to present their case adding that when the House resumes plenary, the "boys will be separated from the men."