'Eclecto Chic' – Tiffany Amber evolves for A/W 2010-11 Collection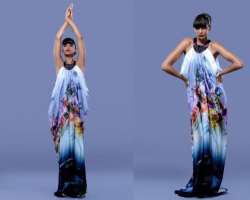 The new collection by Tiffany Amber can only be described as awe-inspiring. We got a first look at the collection at the ARISE L'Afrique-À-Porter exhibition in Paris and even then we were swept away. If that was fashion lust at first sight, now this is true love.
The lookbook for Tiffany Amber's Autumn/Winter 2010-11 has just been released and one is for sure, Tiffany Amber has evolved yet retained its timeless classic essence.
We are drawn by the richness of the luxe fabrics in brilliant colours juxtaposed with black and other muted tones. Traditional African tie-die methods have been applied to lush silks to create a dazzling results. We also love the versatility of the separates like the Daria skirt (photo 7) and the Zola trench (photo 11). In true Tiffany Amber style, we get the draped dress which has been modernized for a sexier look. The draped jumpsuit is a new addition to the Tiffany Amber family and we are so loving it!
According to Folake Folarin-Coker, Lead Designer and Creative Director of Tiffany Amber, she was challenged to push the envelope when presented the opportunity to show in Paris – "I had to think of la Parisienne style was like…she picks here and there that which makes her look fabulous, she's unfaithful to fashion and its designers, leaving her to remain faithful to that which is most important to her: her style. The modern African woman is the same way, she is immensely confident, fashion savvy and cosmopolitan with her own unique style. The new Tiffany Amber collection is guaranteed to make any woman feel truly special - regal and beautiful".