WHY I SPEAK PIDGIN ON RADIO – SMART OSHOKO, PRESENTER NA SO I SEE AM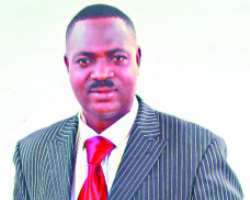 Oshoko
Having listened to his pidgin English radio programme, one would think Smart Oshoko can't speak Queen's English. In this interview, Oshoko who is a presenter and musician, spoke about his experiences in tourism, art, culture and broadcasting.
How I started Na so I see am
I didn't not start the programme in 2007. The old Daily Times and Lagos Weekend had severally published my stories since the 1980s. There is nothing really special about me. I am an ordinary Nigerian, may be more Nigerian than most Nigerians because of my vast interactions and relationships with people from different ethnic backgrounds in Nigeria.
As for my programme, Na So I See am which comes up on Star FM 101.5 every Saturday from 3.30 pm and on MITV by 9.00 pm on Fridays, people love it because they see their true reflections in it. It is about their culture, their music, and their language. Pidgin English is the language of the ordinary Nigerians who form majority of the population. So Pidgin English, the language of ordinary people, is part of what makes Na So I See am special. It is about our culture. It is about people's identity.
About Na So I See am
We are not just praising any government. We are highlighting the good works some of them are doing. Take Fashola of Lagos State for instance. Who does not approve of, or extol Fashola's government? However, I do criticize government when they are wrong or are not performing. Some governors are doing well, and Na So I See am is happy with them. Nevertheless, I am naturally a very positive person. I look for the good in everything or person I meet.
Focus of the programme
Some people think that the ordinary people are not important when talking about development in a country. But this is a wrong notion. The ordinary people are as important as the leaders. That is why wise leaders stay close to the ordinary people and carry them along in every important thing they do. Other leaders only come close to these people only when it is election time, but that is not a good strategy.
My own contribution to nation building is to help forge a friendly and sustainable relationship between leaders and the grassroots population. That is why I am inviting all the 36 governors in Nigeria to come one after the other to Na So I see Am to speak to the people in the language they can best understand. And that is done in pidgin English.'
My accent and background
When I speak, I want people to know I am an African. I don't speak like Oyinbo (white people). I don't know how to pretend to be what I am not. I am from Obalikwo in Bebilisang near the Obudu Cattle Ranch.
Tourism and me
I am a tourist because I travel a lot. Often I travel to Niger Republic, Libya and other West African countries. I see giraffes in their Game Reserves right in the deserts. I see antelopes too. During hot season when people are suffering from heat, in Obudu my hometown, people always feel very cold. Ice blocks even fall there. The Ranch is right in Obalikwo my village. Everyone who loves nature and tourism should visit Obudu. It is a wonderful place.
Place of birth
I was born in Kaduna. I grew up there too. I had my primary education there. Kaduna people are quite friendly. Never mind the religious crises around the area, which is usually instigated by some politicians.
Languages spoken
I speak Hausa, Yoruba, Igala, Bishiri, and I am learning to speak Igbo too. My wife is teaching me Igbo. She is from Cross River, but she speaks Igbo fluently. When I go to Niger Republic, I communicate with the local people in Hausa.
I compose the jingles, sing and produce them. It's not about the size or amount of noise a company makes. It's about talent. It's about achieving results. I create new things each time my programme is on air. And as a musician, my talent always rubs off on my programme.
Vision
I want to use Na So I See am to put Nigeria on the world culture and tourism map. My second aspiration is to get all state governors in Nigeria to sit down with me on Na So I See am and speak to the ordinary Nigerian people in Pidgin English.