FCT Minister Gives Automatic Promotion To Six Teachers, 30 Students Get Scholarships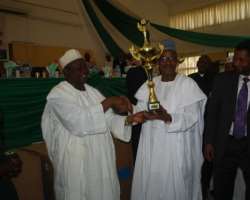 PHOTO: FCT MINISTER, SEN. BALAMOHAMMED (M) RECEIVING A TROPHY WON BY STUDENTS OF GOVERNMENT SECONDARY SCHOOL, JIKWOYI, WITH HIM ARE SECRETARY FOR EDUCATION, ALHAJI HUSSEINI HALILI PAI (L) AND FCT P.S, DR GOKE ADEGOROYE.

ABUJA, June 17, (THEWILL) - Six post primary school teachers in the services of the FCT Administration were on Wednesday given automatic promotion to their next levels for making Nigeria proud.
The FCT Minister, Senator Bala Abdulkadir Mohammed announced this automatic promotion at a Grand Reception in honour of 2009 Student's Advancement for Global Entrepreneurship (SAGE) World Champions at the Education Resource Centre (ERC), Abuja.  
According to the Minister, the six teachers have merited this automatic promotion because of their uncommon sacrifice for training the students who have in three consecutive times won the World title; defeating countries like United States of America, Russian, Japan and Taiwan.
Senator Mohammed also announced automatic scholarship up to the University level for the 30 students of Junior Secondary School Jikwoyi and Junior Secondary School, Yangoji who participated and won the competition for the country.
The Minister reiterated that the promotion and scholarship were given the teachers and students respectively are meant to spur them to greater productivity and efficiency.
He directed the Departments of Land Administration as well as the Urban and Regional Planning to allocate a befitting plot of land for the building of an edifice for SAGE in Nigeria.
The Minister however, regretted the dilapidated classrooms in some schools in the Federal Capital   Territory and promised that his administration will aggressively embark on its construction as well as capacity building for the teachers.
Senator Mohammed implored spirited individuals and the corporate organizations to invest in the sub-sector to exploit the potentials that are abound in our children.
The Minister expressed hope in the performance of our students; reiterating that there would surely be light at the end of the tunnel.
Speaking earlier, the FCT Secretary of Education, Alhaji Hussaini Halilu Pai said that there has been consistency in the performance of the FCT Schools as "our students always record commendable results at all international contests they have entered for".
He however called for more private sector participation in the funding of education as government alone cannot bear the cost.
The 2009 edition of SAGE took place in Brasilia, the capital of Brazil.