IROHA REJECTS YOBO, SHITTU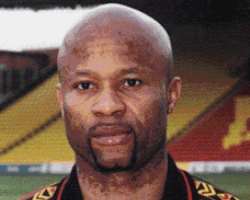 Ben Iroha
Ex-international Ben Iroha says the Super Eagles stand a better chance of keeping a clean slate in South Africa if coach Lars Lagerback decides to play Sparta Rotterdam's Dele Adeleye and Salzburg's Rabiu Afolabi ahead of Everton's Joseph Yobo and Bolton's Daniel Shittu in the centre of defence.
Iroha told our correspondent on the telephone on Wednesday that the defence would be stronger if the duo were complemented with Olympique Marseille's Taye Taiwo and CSKA Moscow's Chidi Odiah.
He said, 'We have equally good players as Argentina but the problem with our team is that the players have not been paired well to achieve the best results.
'In all our recent games, the defence has always been the major problem. This does not mean the players are bad; it only shows that the defenders lack perfect understanding of the strategy adopted by the coach.
'Lagerback should consider using Adeleye, Afolabi, Odiah and Taiwo in his first team. These players had an almost perfect game against North Korea on Sunday and we saw their fluidity.'
Adeleye did not play in the match against North Korea but played the entire duration against Colombia in London. Iroha said his exclusion could have meant that Lagerback was satisfied with his performance in the earlier games and needed to assess the others.
'Adeleye is very smart on the ball and he rarely makes faulty passes,' the former Iwuanyanwu National left – back said. 'He had a wonderful game against Colombia even though the defence was yet to get things right.'